Super Bowl 2012: Rob Gronkowski and Patriots Dance Shirtless After Giants Loss
February 6, 2012

Win or lose, NFL stars still booze.
Or, at least, that would appear to be the case for the New England Patriots, whose postgame gathering morphed into a flashy sulkfest after a 21-17 loss to the New York Giants in Super Bowl XLVI.
Not that everyone in attendance let the disappointment of defeat keep them down. Per Deadspin's Luke O'Brien, Pro Bowl tight end Rob Gronkowski and tackle Matt Light were among the present Pats who got down at the afterparty.
Which, as the photo evidence would suggest, was a "shirts optional" affair.
Light led the chest-baring charge while sharing an intoxicatingly intimate waltz/Jersey Shore-style fist pump with Gronk: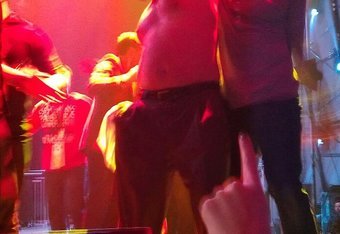 By the time LMFAO took the stage at Victory Field, Gronkowski was busy party rockin' with his shirt off.
Either that, or all of these incriminating pictures were pulled from a Dane Cook fantasy.
Or they were simply auditioning for Dancing With the Stars.
Gronk's bum ankle may have been a problem during the game, though you'd have hardly guessed he was hurting if you had seen him boogieing in Indy. If only he'd put forth that sort of effort on the Tom Brady pass that got picked off by Giants linebacker Chase Blackburn in the fourth quarter...
In any case, there's little fault to be found in the revelry enjoyed by Light and Gronk. What were they supposed to do, go back to the hotel and spend the rest of the night weeping?
After all, not everyone can be so fortunate as to have a Brazilian supermodel wife to cuddle with in times of weakness...or rely on to berate his teammates for him.