UFC 143 Results: Will St-Pierre Be Motivated for a Fight Against Condit?
February 6, 2012

Before UFC 143, Georges St-Pierre mentioned how he hoped Nick Diaz would beat Carlos Condit so that the two could fight each other.
In an interview with MMAJunkie.com, St-Pierre admitted he wanted to fight Nick Diaz as badly as when he wanted a title shot.
He also admitted how dangerous Condit was in the article. St-Pierre knew that there was a possibility that Diaz wouldn't win the fight.
He lavished praise on Condit as a fighter and a human, but in the end admitted that he wanted him to lose. St-Pierre is usually a stoic professional, so the admission is a bit of a shocker.
St-Pierre didn't get his wish, as it turned out. Condit was able to convince the judges that his leg strikes and attacks from the outside were the more effective method of attack.
Before the fight, when the article was published, St-Pierre even stated that Diaz would bring out the best in him.
Instead, Condit won, which brought a question with it. Can St-Pierre find the same motivation?
St-Pierre is one of the most successful champions in the UFC because he is a professional and is one of the best at what he does. History shows that he has been able to find the motivation to take on all comers and succeed.
History also shows that he has lost when he has faced an underdog opponent.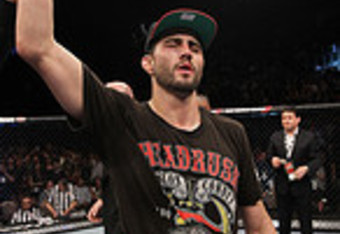 When St-Pierre had his first run with the title, he faced Matt Serra, who had been a contestant on The Ultimate Fighter. Few gave Serra a real shot at winning, which is why it was such a shock when Serra came back and knocked St-Pierre out in the first round.
St-Pierre let himself get lax in the fight for just a moment, and it cost him.
Serra isn't considered to have been on the same level as Condit is currently, but the fact is that St-Pierre had a certain fight he was hoping to get, and it eluded him.
How he handles that disappointment will affect his motivation for the fight with Condit. It should be enough for him to want to keep the belt and defeat a fighter like Condit.
But St-Pierre did state that he wanted Diaz as much as he wanted a shot at the belt. It might mentally weaken him to the point where he gets caught again.
When St-Pierre comes back, he will have to face a serious opponent who earned the right to face him. It just won't be the one he wanted.
Life is filled with disappointment, but if St-Pierre doesn't take Condit seriously, it might include St-Pierre also being disappointed with his performance.
Matthew Hemphill writes for the MMA and professional wrestling portion of Bleacher Report.  He also hosts a blog elbaexiled.blogspot.com that focuses on books, music, comic books, video games, film and generally anything that could be related to the realms of nerdom.