Oregon Football: 7 Players Due to Come Up Big for the Ducks Next Season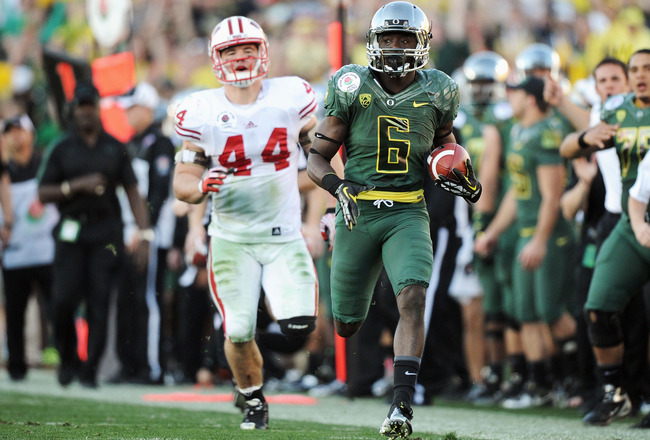 Oregon star De'Anthony Thomas
Harry How/Getty Images
In order for the Oregon Ducks to win their fourth consecutive Pac-12 championship in 2012, seven returning players must have big seasons.
Under the leadership of head coach Chip Kelly, who spurned the Tampa Bay Buccaneers this offseason to stay in the Pacific Northwest, the Ducks have become one of the most explosive and dangerous teams in college football.
With a solid recruiting base all over the country and top prep players lining up to wear green and yellow, the future looks very bright in Eugene, Ore.
With eyes set on the 2012-2013 college football season, Oregon looks like a solid preseason top-10 team, even with the losses of standout juniors LaMichael James and Darron Thomas.
Here are the seven Ducks who look ready to have big seasons while leading the University of Oregon to another big year on the gridiron.
7. Colt Lyerla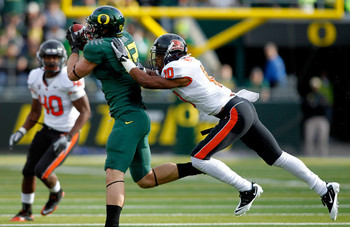 With David Paulson now graduated and trying to make a living as a tight end in the National Football League, the position belongs to talented sophomore Colt Lylerla.
The 6'5", 240-pound former U.S. Army All-American didn't disappoint in his freshman season. He ranked fourth on the team with five receiving touchdowns and appeared in all 12 games for the Ducks.
He is one of the most explosive and athletic players on the Oregon roster and is capable of having a breakout season in just his second season on campus. Don't be surprised to see a big jump in statistics from the Beaver State native in 2012-2013.
6. Josh Huff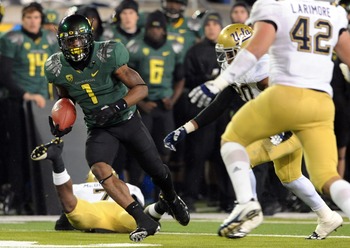 Steve Dykes/Getty Images
The 5'11" wide receiver is ready to shine in the Oregon Ducks spread offense this season. With the departure of senior Lavasier Tuinei, there will be plenty more opportunities for him to showcase his skills.
Last season, he caught 31 balls for 430 yards, and it's widely expected those numbers will greatly increase as he becomes one of the main targets on the team in the coming year.
He possesses the physical tools to be a star, as he is the most physically impressive wide receiver on the team, being both the strongest and fastest athlete.
Look for him to assume more of leadership role in 2012-2013 while also creating his fair share of highlights on the field.
5. John Boyett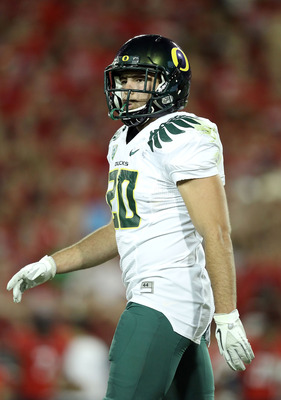 Christian Petersen/Getty Images
One of the main anchors of the Oregon defense next season will be 5'10" free safety John Boyett. In 2011, he was an All-Pac-12 second-team selection according to the conference coaches, and he should make a jump to the first team as a senior.
He was the team's leading tackler for the second time in three seasons wearing green and yellow, accumulating 108 tackles with 67 of them being solo.
While he didn't quite live up to the hype this season created by the buzz of the media, he still had a phenomenal year, and his last season in Eugene should be a thrilling one.
4. Dion Jordan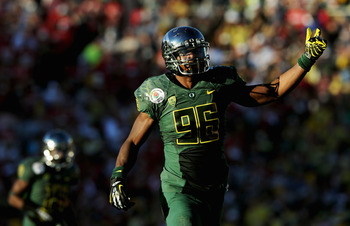 Harry How/Getty Images
Dion Jordan looks primed to have a huge senior season on the gridiron for the Oregon Ducks. The defensive end looks ready to showcase his overall game to NFL brass before departing for the big leagues.
In his junior season, he was named to the All-Pac-12 first team by the conference coaches, and justifiably so. He led the team with 7.5 sacks, while tying for fifth in the conference with 13.0 tackles for a loss.
The 6'7", 240-pound Arizona native has all the tools to become a dominating force for Oregon, and in his senior season he will be putting his entire game on display.
3. Bryan Bennett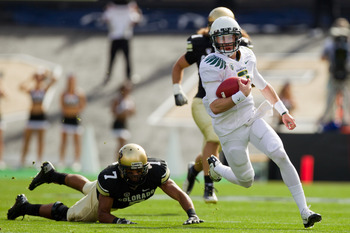 Justin Edmonds/Getty Images
With the loss of Darron Thomas to the NFL after just his junior season, the pressure of living up to enormous expectations at quarterback has fallen on Bryan Bennett.
The 6'3", 205-pound soon-to-be sophomore showed a lot of promise in his short amount of time on the field this season. He completed 25-of-46 passes for Oregon, while tossing six touchdowns and throwing no interceptions. He also rushed 23 times for 200 yards, a very impressive statistic for a quarterback.
He is an ultra-athletic quarterback, one who will give the defense fits because of his ability to run the ball better than most at his position. He will need to show he is a capable passer, and he should this upcoming season.
2. De'Anthony Thomas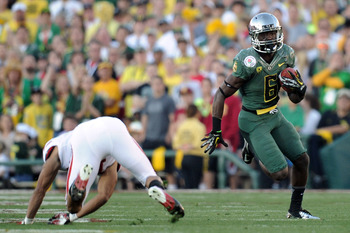 Harry How/Getty Images
The 5'9", 175-pound electric running back De'Anthony Thomas took the entire nation by storm in his freshman season in 2011-2012.
He played multiple positions for the Ducks, including running back, wide receiver and kick returner. He set an Oregon freshman record with 16 touchdowns, while always being a big-play threat for the team.
In 2012-2013, he looks to build on his initial season in the Pac-12. He is now being looked at as one of the most impressive players in America and will most certainly creep onto Heisman Trophy watch lists as the season gets underway.
1. Kenjon Barner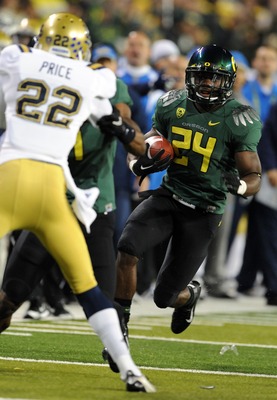 Steve Dykes/Getty Images
No player on the Oregon roster is more important to the team's success next season than senior running back Kenjon Barner.
The 5'11" powerfully built runner was a key ingredient in the Ducks' potent offense last season, racking up 939 yards and 11 touchdowns while playing alongside the best runner in the country, LaMichael James.
This season, it will be Barner's turn to shine, and he is ready for his closeup. The explosive back is capable of lighting up the conference for more than 1,500 yards this year and could lead Oregon to a national title in the process.
Keep Reading

Oregon Ducks Football: Like this team?