Cleveland Cavaliers Making Big Mistake Not Trading Anderson Varejao
February 6, 2012

Christian Petersen/Getty Images
Marc Stein is reporting that various teams have approached the Cavaliers about the availability of Anderson Varejao but Cleveland isn't looking to trade him.
They should be open to it. The Cavaliers should ask themselves three questions. 1) Are they a championship contender now. 2) Will Varajao be a part of their future and 3) Can his trade value get any higher. 
If the answer to all three questions is no—and I believe it is—they should trade him now. 
Varejao is having a very good season, averaging 10.8 points and 11.9 rebounds and playing stellar defense. Some have even mentioned him as a potential All-Star. His numbers across the board are career highs. 
At the same time his age, 29, is an indication that they're not likely to get much higher.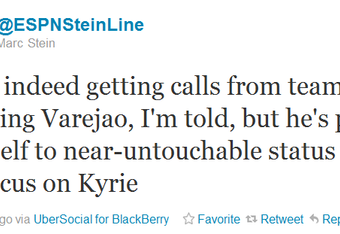 While they have some remarkable young talent in Kyrie Irving, a player that has enough ability to possibly bring home a championship some day, that day won't come with Varejao playing at the level he is now. 
At a pretty reasonable $7.7 million due him this year Varejao has an attractive contract. That also means the Cavs would not have to take back a huge contract in return, but could probably get an expiring contract or a younger player in a trade. 
They could also net a first round draft pick in return, with a monster draft class upcoming.
This is a team that is building, not built. They need to be more concerned with the value of what they can get three or four years from now, not right now. Varejao's trade value is the best long term value he has to offer the team.