NHL Trade Rumors: 5 Reasons Evgeni Nabokov Won't Come to the Detroit Red Wings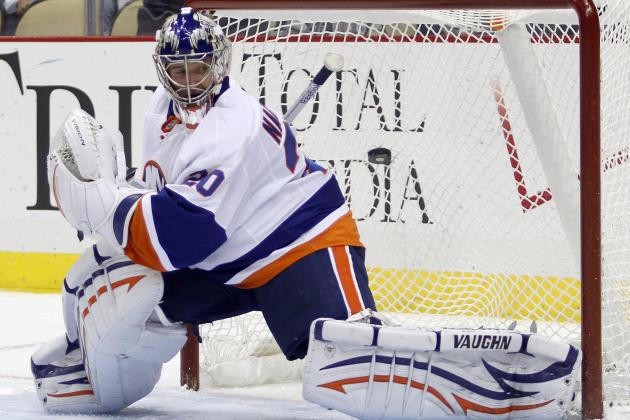 Justin K. Aller/Getty Images

When I heard the news, I felt it right in my gut.
A knotted-up, anxious feeling, the kind you get when you got on the phone with your mechanic and he leads off with, "Well...how long were you planning on keeping this car?"
Jimmy Howard has a broken finger that could keep him out of action from four to six weeks.
Now, Jimmy himself has said he thinks he can shave that off to two. But as good a goalie as he is, I sincerely doubt he's got Wolverine-like regenerative powers.
Howard's finger will heal when it heals and there's no way he or anyone else can speed up that process.
That sinking feeling I, and a good deal of other Red Wings fans, felt in my gut wasn't just the loss of an All-Star goalie, but the fact that the starting duties were now going to rest with a struggling, seldom-used backup in Ty Conklin.
Conklin's previous stint in Detroit in 2009 was a triumph, the best of his career.
Conklin's performance was so good that season (25 wins, six shutouts) that there were legitimate questions about whether or not he should start in goal for the playoffs instead of an aging and struggling Chris Osgood.
When Conklin was brought back to Detroit this summer, it was viewed as perhaps the best of all available decisions available to GM Ken Holland.
However, Conklin has struggled mightily this season. He has posted just three wins in eight starts and an obese 3.40 goals-against average.
As such, the growing fear in Detroit prior to Howard's injury is that the team would have to make due with Conklin's services for an extended period of time.
That fear, for now, has become reality.
Still, with the NHL trade deadline swiftly approaching, many are suggesting that the Red Wings make yet another play for veteran goalie Evgeni Nabokov.
The Wings actually signed Nabokov last January in an attempt to bring him back to the NHL after his stint in the KHL spiraled into the ground.
However, the New York Islanders took advantage of his re-entry waiver status (the required process for Nabobov to re-enter the league, contract or no) and there he has since stayed.
With the playoffs once again a very far-fetched possibility on Long Island, the popular chatter amongst rumor-mongers and fans is to make a trade that would send Nabokov to Detroit for some amorphous player, pick or combination of the two in return.
This just doesn't seem likely and here's five reasons why.
Begin Slideshow

»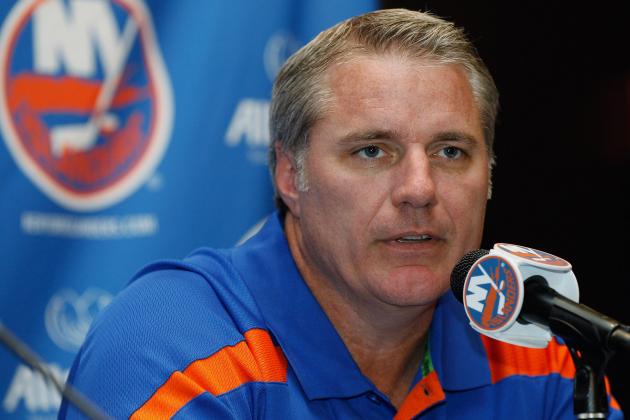 Mike Stobe/Getty Images

This has nothing to do with pride; Holland is just too damn smart of a GM to put a fellow executive like Snow in a position of strength.
Snow knows what he has in Nabokov and knows that several teams are going to be interested in acquiring him.
This means Snow is holding all the cards when it comes to opening negotiations and he'll use that advantage to pry as much as he can away from a team seeking veteran goaltending depth.
If Nabokov is moved, it will likely be to the most desperate team Garth Snow can find.
That team will not be the Detroit Red Wings.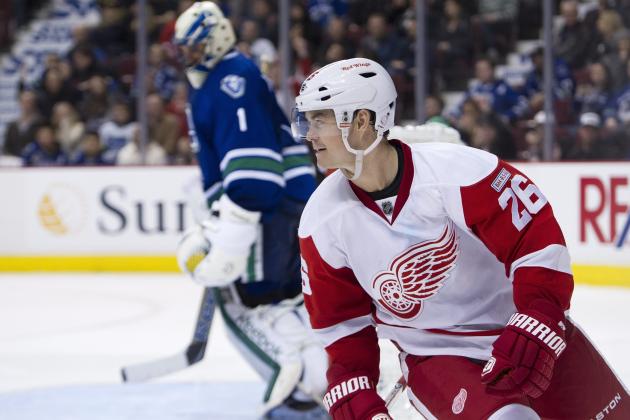 Rich Lam/Getty Images

There was a time, not all that long ago, that I myself was a proponent of trading Jiri Hudler for anything valued at or above a bag of pucks.
His atrocious season last year and $2.75 million salary meant something, anything, was better than having this guy on the team.
I'd like to officially reverse my opinion.
Hudler has been rejuvenated this season and should end his year north of 20 goals and 50 points—he isn't going anywhere.
However, looking through Detroit's roster, it's difficult to find any player that is worth parting with for nothing more than a veteran backup goalie.
Some may say Jonathan Ericsson is movable. However, though he's not had a stellar offensive year (just nine points in 53 games), his size and much improved defensive-play is going to be invaluable in two month's time.
Depth players like Drew Miller are often considered tradeable assets, but his value to Detroit's bottom six is worth far more than any insurance policy Nabokov could provide.
At the end of the day, the Wings have too many "tradeable" players playing too well to be traded.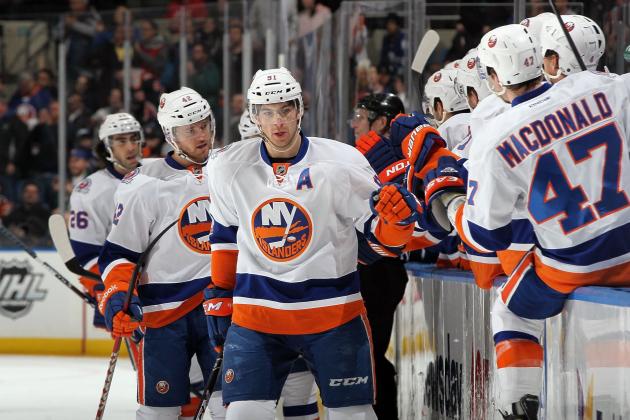 Jim McIsaac/Getty Images

Deluded as it may be, the Islanders still have hope that they'll make the playoffs.
To be fair, though they sit 12th in the Eastern Conference, 10 points out of a playoff spot, the competition above them in Washington, Winnipeg and Tampa Bay isn't insurmountable.
With All-Star center Jonathan Tavares in the midst of a sensational offensive season, the hope that the team could ride his play into an eighth spot finish isn't all that crazy.
Trading away Nabokov, their de facto starting goalie, would essentially be throwing in the towel on the Islanders season.
The over-ripe Al Montoya may still prove promising in net as a starter; but if the team feels it's got the skaters to make a serious push for the postseason, there's no chance they'll rest their goaltending hopes on him.
In the end, Nabokov may not go anywhere, including Detroit.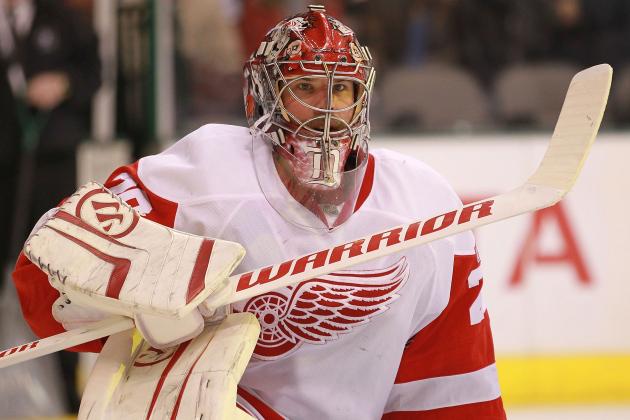 Ronald Martinez/Getty Images

To date, Conklin has played in just 11 games this season and has only started eight.
Though he's got only three wins, two of them—his season-debut shutout against the Colorado Avalanche and gutsy OT win against the Chicago Blackhawks—suggest there's still some fight in the 36-year-old yet.
Conklin flopped in his first start since Howard's injury, a first period three-goal downer that got him yanked after 20 minutes. But an extended stay in net may prove that, given ample opportunity, Conklin can still deliver when needed.
The margin for error is slim, but should Conklin help the Wings string a couple of wins together, the good bet placed on him in the summer may look well on its way towards paying off.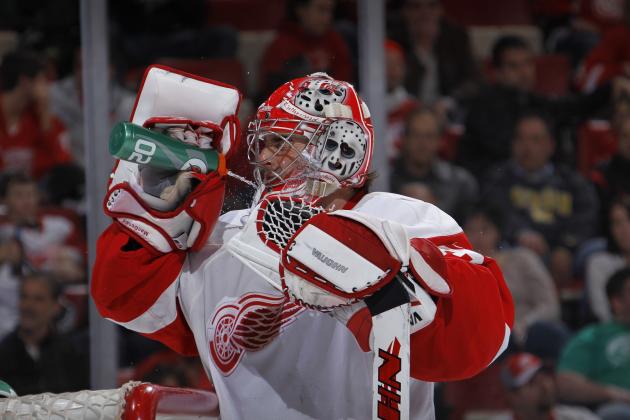 Gregory Shamus/Getty Images

Some forget that Ken Holland actually made two goalie moves last summer that were intended to provide some insurance should Jimmy Howard fall to injury.
Joey MacDonald went 5-5-3 last season in Detroit as there was a time when both Howard and then backup Chris Osgood were unavailable.
He posted one shutout in that stretch and, though he didn't exactly cause a goalie controversy, he provided remarkably steady play in net when the team needed it most.
He's played just 40 minutes this season, but that calm, steady demeanor he showed last season looks to still be intact.
Thought of as a career AHLer, MacDonald has played most of his professional career in the Detroit/Grand Rapids organization.
That loyalty between player and organization is why Holland wanted to keep MacDonald in the fold and why he ultimately decided to stay.
It's times like these that prove, when it comes to goaltending in the NHL, you cannot have too much depth, or too many old friends, around when you need them.
At some point over the course of the next few games, MacDonald or Conklin will emerge as perhaps the most compelling reason that Evgeni Nabokov won't be wearing a Red Wings sweater this season.
Follow Matt on Twitter: http://twitter.com/MAhutter12