Golden State Warriors: Monta Ellis and 7 Baddest Men in Franchise History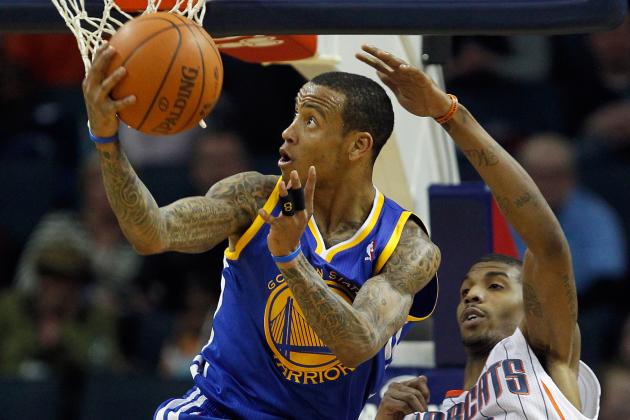 Streeter Lecka/Getty Images

By "Bad"... I mean the sort of player that is so good it makes opposing fans cringe.

From ankle breaking to dominating blocks, "Bad" can be categorized as the simple demoralization of another team or another team's players with outstanding ability.

Monta Ellis has been just that for the Warriors for the past several years, but who else in Warriors' history simply embarrassed their opponents?

follow me on twitter: @sportsmanboy
Begin Slideshow

»
The two-time slam dunk champion of the "We Believe" Warriors, Jason Richardson enjoyed his brightest days in Oakland. Spearheading the raucous, historical upset of the Dallas Mavericks in the 2007 playoffs, Richardson's name will always be associated with the mid-2000s renaissance of the Warriors.
All scooter accidents aside, Monta Ellis can score and he can score in a hurry. Monta fails to ascend this list at the moment because despite the occasional yet magnificent flash to his game, Ellis has yet to achieve greatness in the NBA. If you want to see a great pure scorer who was a bad, bad man, jump ahead to number three.
One of the most underrated shooting guards of all time, Mitch Richmond averaged more than 21 points per game for the first ten years of his career. Despite few years with the Warriors, Richmond made his impact with "Run TMC," revitalizing the franchise.
Recently inducted into the hall of fame, Mullin brought excitement back to the Bay in the late '80s as the lynchpin of "Run TMC" with Tim Hardaway and Mitch Richmond.
Rick Barry was Kobe Bryant before Kobe was. With a beautiful jump shot and an array of mid-range moves, Barry was an unstoppable force over his entire career.
One of the original proponents of the ankle-breaking crossover, Hardaway thoroughly embarrassed defenders who didn't bring their A-game.
Don't give LA the creative rights to Wilt the Stilt, as the majority of the man's greatness rested with Philadelphia and later the San Francisco Warriors. Scoring 100 points in a game... averaging 50 points per game in a season... regular 20-30 rebound games...
Men don't come nastier than Wilt Chamberlain.