Why J.J. Redick Deserves to Start over Jason Richardson for Orlando Magic
February 6, 2012

J. Meric/Getty Images
Orlando has been desperate for a legit shooting guard for quite some time now. The last household name to play the position was Vince Carter, but he was not the scoring threat during his younger years. Before Carter, there was Tracy McGrady from 2000-2003. Courtney Lee did an admirable job in his 2009 rookie and only year in Orlando. That was the year Orlando went to the finals. 
Currently, Jason Richardson is playing the spot, but J.J. Redick is making a strong case to overtake the role.
Statistically, Richardson and Redick are very similar. So far this season, Richardson is averaging 10.8 points per game and shooting 42.6 percent from the field while playing 28.4 minutes per night. However, Redick is scoring 11.2 points a night, shooting 42.3 percent and playing 26 minutes a night. 
While these are not stats to be thrilled about, it shows that Redick is giving offense production that could warrant a starting role. Also, since the minutes are virtually split, Redick could be given the nod to be on the floor at tip-off instead of off the bench.
Redick's offensive prowess also fits Orlando's offensive scheme well. He is shooting an impressive 43 percent from three-point range, which is amongst the top 25 in the NBA. This allows head coach Stan Van Gundy to keep his scheme effective. 
Redick has also shown that he can put the ball on the floor and create. While he is no Kobe Bryant or even as athletic as Jason Richardson, his shooting is a true threat and must be played tight on the perimeter. He has really developed a pump fake, accompanied by a quicker first step. By Redick pump faking, it makes a defender think and gives him the split second his athletic ability cannot create.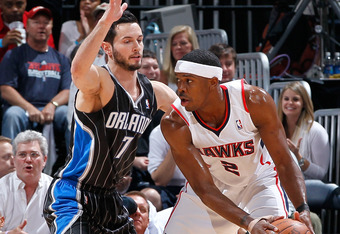 Kevin C. Cox/Getty Images
Richardson is not having a quality season, especially for a team that is be contending. His points average, thus far, is the lowest of his 10-year career. We can only hope that this is a strategic effort to keep the veteran fresh for the postseason. The only issue with that is the team chemistry will be somewhat affected.    
The small slight on Redick is his defensive skill set. While he is not the true shut-down guard that the Magic need, his effort is unquestioned with his willingness to work on the defensive end. Redick has progressed each year and has a firm understanding of how the rotations are to work. 
With Redick's progression the past three seasons, both offensively and defensively, he can be turning out to be a viable option to start for the Magic. Since Richardson and Redick basically splitting minutes, Redick will only output more production given the opportunity and extended minutes.