Syracuse Basketball: The Return of Fab Melo Completes Jim Boeheim's Fab 10
February 6, 2012

Chris Trotman/Getty Images
The Syracuse Orange travelled to Madison Square Garden to face off against its long-time adversary, St. John's.
Syracuse (23-1, 10-1 Big East) fell behind early, 7-2, but would go on a 16-4 run and never look back. The undersized and overmatched Red Storm (10-13, 4-7) fell 95-70 in front of a sellout crowd of 19,979.
As was expected, the game was a virtual home game for the Orange, which enjoyed a sea of orange adorned revelers.
The 25-point victory could have been much worse for St. John's, which has now lost six of its last eight games and was without coach Steve Lavin, who is recovering from prostate cancer surgery.
The return of Fab Melo, who was absent from the Syracuse lineup for three games due to an academic issue, was the prevailing story. Melo scored a career-high 14 points (5-6, 4-4), blocked two shots and pulled down three rebounds. His presence, however, went far beyond his three boards as he freed up Kris Joseph and Rakeem Christmas to grab eight and seven balls off the glass respectively and helped the Orange enjoy a 38-25 rebounding edge, a stat Syracuse was getting bullied on in his absence.
The Orange played with energy and confidence, two things it was missing without Melo. Melo played his usual 20+ minutes and spent his time altering shots, moving players and re-establishing his ownership of the lane. His return allowed for the rest of the Syracuse roster to go back to its regular-scheduled duties, which included creating turnovers and running, running, running.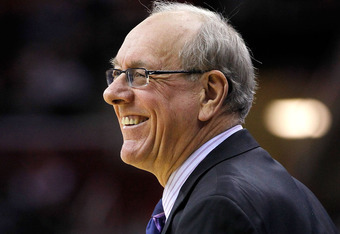 Gregory Shamus/Getty Images
Save for a weird moment involving James Southerland attempting to steal the ball with less than a second to go in the game, Syracuse played the perfect game.
This was the type of basketball Orange fans have enjoyed throughout the season. The Syracuse bench outscored the starters with a 53-point performance, led by Dion Waiters and C.J. Fair who both scored 14 points, and blue chip freshman Michael Carter-Williams who scored 13 including a monstrous dunk in the second half.
One of the greatest strengths of Syracuse is its roster depth, which it showed off by having 10 players score. The Orange passed the ball well with 24 assists, shot a respectable 33 percent from beyond the arc and went 10-14 from the free-throw line.
While St. John's is not currently and elite program, Syracuse displayed all of the elements of why it is one of the favorites to win the NCAA Tournament.
Coach Jim Boeheim was the other story, gaining win No. 879 and tying Dean Smith for No. 3 on the all time Division 1 wins list.
Boeheim and his Fab 10 will look to Georgetown on Wednesday to pick up win No. 880.
With Melo back in the lineup, the Orange should be ready.