2012 Tour de France
Is It Fair That Alberto Contador's Been Banned for Two Years, Stripped of Title?

Bryn Lennon/Getty Images
February 6, 2012
Alberto Contador has been banned from cycling for two years and has been stripped of his 2010 Tour De France title after testing positive for clenbuterol during Stage 15 of the race.
The ban has been backdated, meaning that Contador will be back in action later this year. The ban runs out on August 5th, meaning he will miss this year's Tour.
The nature of the ban may be called into question. Contador will only miss just five months of racing. While his wins from 2011 have been taken from him, the results will never seem like actual wins for those promoted above him.
If he has cheated, then the worst affected are the likes of Andy Schleck and Michele Scarponi, robbed of their chance to step onto the top step of the podium for the greatest moments of their careers; they will instead receive their trophies in special presentations.
Hardly the way you would want to win a Grand Tour.
His future in cycling could be in some doubt however, as last year he declared that he would retire if he lost his appeal.
He becomes only the second man to be stripped of a Tour De France title, following American Floyd Landis into ignominy.
This means that runner-up Andy Schleck will be promoted the winner of the 2010 tour, a race that he controversially lost by just 39 seconds.
During Stage 15, Schleck, riding in the yellow jersey, suffered a chain malfunction and in a move that many saw as unsporting, Contador attacked. The Spaniard gained 39 on the stage, the exact margin by which he would go on to win the tour.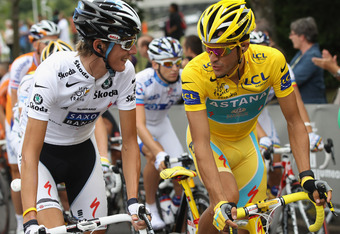 Andy Schleck now replaces Contador as 2010 Tour De France winner
Bryn Lennon/Getty Images
All of Contador's subsequent wins have also been wiped from the records. He loses his Giro d'Italia title, which will now be given to runner-up Michele Scarponi.
The announcement by the Court of Arbitration for Sport (CAS) finally brings the ongoing story to an end for now, but how fair is the verdict?
The banned substance clenbuterol, reputed to promote both weight loss and muscle gain, is one of the most controversial performance-enhancing drugs and has no consistency when it comes to bans.
The drug does not occur naturally in the body but is often ingested accidentally, as farmers give it to their livestock to promote high protein which results in more profitable meat.
Contador's defence has hinged on the fact that he ate a beef steak that had been bought just over the border in Spain by the Astana Team chef.
In October of last year, WADA withdrew appeals to CAS relating to Contador's fellow cyclist Philip Nielsen and five Mexican footballers after they tested positive for clenbuterol.
They were cleared on the grounds that they has unknowingly ingested the drug from tainted meat, seemingly setting a precedent for the Contador case.
WADA issued the following statement in September.
"It is possible that under certain circumstance the presence of a low level of clenbuterol in an athlete sample can be the result of food contamination. However, each case is different and all elements need to be taken into account, along with the context of the case."
In similar cases, WADA has erred on the side of caution. Lainer Bueno of the St. Louis Cardinals and various other sportsmen have been cleared on the grounds of tainted meat.
It has to be assumed that Contador could not provide sufficient proof that he had unknowingly ingested the drug, but it does seem harsh.
The amount of the substance found in Condator's sample was just 50 picograms per millilitre—40 times below the minimum requirement of detection capability required by WADA.
Contador's lawyer Andy Ramos, speaking to Telegraph Sport, said,
"The amount of clenbuterol found in Alberto Contador's urine offered no performance enhancement at all. The International Cycling Union (UCI) and the Spanish Cycling Federation (RFEC) both stressed that the amount of clenbuterol found would not have improved his chances of winning the Tour De France."
That doesn't matter now, as Contador's stellar career is just as tainted as the steak that caused all the trouble.
Like the new article format? Send us feedback!