Syracuse Football: Orange Can Redefine Program with One Player in 2013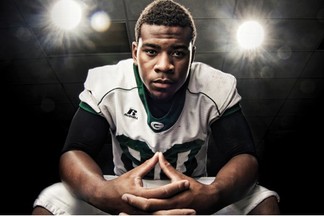 http://a.espncdn.com/photo/2011/1213/espnhs_nkemdiche_espnhs_2_576x324.jpg

There has been many a critic looking to the Syracuse Orange recruiting class of 2012 and saying that it lacks the pop necessary for the big-time program athletic director Dr. Daryl Gross and coach Doug Marrone want the Orange to be.
The class is ranked 53rd in the nation and sixth in the Big East, and some long-time fans say this is a step in the right direction while others think the lack of major improvement over Marrone's now four years is a sign of permanent mediocrity at best.
Regardless, there is a clear sense that this will not be a great season for the Orange. There is a strong likelihood the Orange may not have any success next year, but remember, Syracuse plays in the Big East which every year manages to shake up the notion of predictability week-in and week-out.
If Doug Marrone really wants to turn the corner with the Syracuse program, he can do it with one player: Robert Nkemdiche.
Nkemdiche (pronounced Kim-dee-chee) is the No. 1 overall recruit in the class of 2013 and is already drawing comparisons to Reggie White and Lawrence Taylor.
According to ESPN, Syracuse assistants have swung by his Georgia high school to catch a glimpse of a guy who could single-handedly dominate a game.
So how does a player who has offers from Alabama, LSU, Florida and Auburn help the Orange?
Georgia has become a Syracuse pipeline state in recent years, thanks to the recruiting talents of Greg Adkins, and the basic recruiting rule of thumb is that a team should have a shot with great players in these pipelines.
While Syracuse may be a little late to the Nkemdiche party, Syracuse could still try to use their pitch of academics and future glory on the prized defensive end. But that's not all the Orange should do.
Bring back Dwight Freeney and the Jones brothers to help pitch the school. Bring in Mike Tirico, Bob Costas, Donovan McNabb, Marvin Harrison and anyone else who makes Syracuse and its football program look appealing.
The odds of Nkemdiche choosing Syracuse? Slim to none at best. It is not smart to invest all assets in one player who will probably not chose your school, but it would make a huge point for Marrone to Gross.
A D-1 school with a national championship and the pedigree Syracuse has (no matter how far removed they are from it) should be in the running for the top prospect from a pipeline state.
Syracuse has not invested enough in the football program to keep up with the new modern era of collegiate sports. The No. 1 area where this is most painful is facilities.
What the school did with the Melo Center has helped the Orange attract the level of talent that they have (although a Hall of Fame coach helps too). The school has devoted a new football wing of Manley Field House to the sport but as the above link shows, it is no comparison to other schools of Syracuse's stature.
Nkemdiche will not chose the Orange, even though his addition to the team would make the Orange Big East or ACC players. Just calling it now.
However, he can be used by Marrone as the perfect example of why Syracuse Football desperately needs a face lift if it wants to return to former glory.
This article is
What is the duplicate article?
Why is this article offensive?
Where is this article plagiarized from?
Why is this article poorly edited?

Syracuse Football: Like this team?