Northwestern Takes Down Illinois in Champaign, Waltzes Back into Tournament Talk
February 6, 2012

Jamie Sabau/Getty Images
In a narrow 74-70 win, Northwestern notched its first victory in Illinois' Assembly Hall since 1999.  To the backdrop of fans chanting, "Chicago hates purple," Northwestern fought to defend its title of "Chicago's Big Ten Team."
The game featured an evenly matched first half in which the Illini were led by Meyers Leonard who did not miss a shot until 6:43 left in the second half.  Reggie Hearn led Northwestern with 4-of-4 shooting from three-point land in the first half, and the 'Cats held a 36-33 lead at half.
The second half witnessed a Northwestern hitting a quick layup and then experiencing a scoring drought that lasted 7:32.  Illinois held the lead for 8:18 in the middle of the half, but the Wildcats stayed one step ahead of Illinois in the last five minutes of the game.
When Illinois was forced to start fouling, the 'Cats began hitting free throws and stunned Assembly Hall.
How each player looked
John Shurna has not stopped scoring this year.  He leads the Big Ten with per-game averages of 19.6 points and 2.6 three-point shots made.
He dropped another 24 points on Illinois and surpassed Evan Eschmeyer for second place on the all-time Northwestern scoring list.  Five of those 24 came when he stepped up and nailed two big shots in consecutive possessions to end Northwestern's scoring drought in the second half.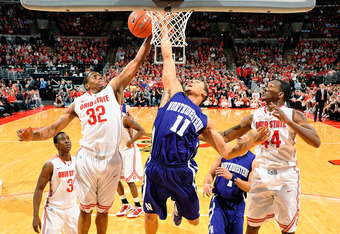 Jamie Sabau/Getty Images
He has also showed versatility in the past several games, putting in minutes in the inside while Davide Curletti sits.  On his drives and off-balance shots, Shurna has mastered using his length to get away from defenders and creating easier shots.
Aside from Dave Sobolewski and his transition from high school to Big Ten play, no one has stepped up even close to as much as Reggie Hearn.  Formerly a walk-on, Hearn is one of only three players to start every game this year.  Sobolewski and Shurna are the other two.
He missed only one shot all game and added 20 points, including 12 from behind the arc.  Hearn is one of the main reasons Northwestern's postseason hopes are still alive.
Drew Crawford's athleticism shined against the Illini.  The best athlete on the team, Crawford is averaging 17.4 points per game this year and scored a hard earned 13 in Champaign.
Although he had two turnovers from out of control drives in the paint, he is stepping up and trying to be the spark on offense Northwestern needs to get out of its long scoring droughts.
Dave Sobolewski is doing the little things right.  He is showing the confidence necessary to drive the basket more, and he added 14 points in this contest. More importantly, he recorded zero turnovers and spent the entire game fighting with Leonard, the center who is listed as a foot taller and 60 pounds heavier than Sobolewski.
Alex Marcotullio did not add an offensive presence, but he pulled in seven big rebounds and helped the 'Cats win the rebounding contest, something they do not often do.
Curletti slowed down Leonard with his tight defense, but he needs to begin making more of a difference on offense.
What still needs to improve
Even a good win is not perfect, and Northwestern continued troublesome trends of scoring droughts, consistently weak interior play and spotty free throw shooting.
After Sobolewski set off the second half with a beautiful drive around an Illini defender, Northwestern went the next 7:32 of game play without a score.  In this stretch, the Wildcats missed two free throws and five shots, four being three-pointers.
Having to settle for threes is a result of weak play in the paint that has been a continuing problem for the 'Cats.  Again Luka Mirkovic did not play, and Curletti took zero shots from the floor, grabbed zero offensive rebounds and added only one point off a free throw.
With so little offensive production from the interior, coach Bill Carmody once again started a small lineup with no center.  Shurna is a consistent enough scorer to continue adding buckets from the post, but when a guard subs in for Curletti or Mirkovic, Sobolewski and another guard end up dealing with other teams' giants on the defensive end.
While the 'Cats only shot five free throws before 0:42 left in the second half, they missed every one of them.  Even though they buckled down and went 8-of-10 in the closing seconds, their usually dead-on free-throw shooting has been shaky recently. 
Tournament chances
With two straight conference wins, an ailing team suddenly received a much-needed injection of life.  However, with eight games left, Northwestern needs to finish 5-3 in order to claw back to .500 in the Big Ten.
Thursday's game is huge against a Hawkeye team that is showing more promise than Iowa has seen in years.  Both Iowa and Northwestern are riding two-game winning streaks and are fighting to keep postseason hopes alive.
If the 'Cats can find a true home-court advantage at Welsh-Ryan Arena and pull off a third straight Big Ten win, they will have the momentum necessary to face a tough road trip through the Hoosier State at Purdue and Indiana.
A win on this stretch would pay huge dividends for the Wildcats, and an upset in one of the final three home contests—Minnesota, Michigan, Ohio State—could make dreams of Northwestern's first ever bid to the NCAA Tournament become a reality.