Real Madrid vs. Barcelona: Why Each Loss to Barcelona Has Made Madrid Better
February 6, 2012

Denis Doyle/Getty Images
El Clasicos, the great matches between Spanish giants Real Madrid and Barcelona, are the most watched club soccer matches in the world.
It's no wonder the rivalry is deep, and the hatred between the two teams is unmatched anywhere in the world.
The games are also fantastic. When speaking of Madrid and Barcelona, you are talking about arguably the two-best teams in the world. You immediately evoke comparisons between Cristiano Ronaldo and Lionel Messi, two of the games most prolific scorers of all time. You force debate about who is a better manager, Jose Mourinho or Pep Guardiola. No other rivalry in the world really compares.
Each year both teams are in a constant power struggle, and the focus in La Liga is rarely who is winning the league, but more often who is winning El Clasicos. La Liga is a two-horse race, so it's not surprising that when these clubs meet—the world watches.
For the past few years, Barcelona has been the superior team. I'm saying this as an avid Madrid fan. Barcelona has been phenomenal. The fact that many sports experts are considering this Barcelona squad as the greatest of all time is testament to their incredible ability. 
In meeting with Madrid, Barcelona's tactics are better. Their tiki-taka play is almost unstoppable.  The work of players like Messi, Xavi, Iniesta and Puyol have been noticed on a world level, and their names carry much weight in discussions about the world's best.
For the past few years Barcelona has also had a better manager. Guardiola is an excellent manager. We can argue about whether the team's success is more a result of the individual's talent or Guardiola's engineering. But in the end, he has brought the team to much glory—collecting unheard of amounts of silverware.
In 2010, Real Madrid had decided it was time to address their issues at manager, and more or less purchased Jose Mourinho from Inter Milan. "The Special One" is widely regarded as the best manager in the world, finding success with Porto, Chelsea and Inter. He was a great addition to the team.
His first season, Mourinho must have learned a lot. For one of the first times in his career he finished second best to a rival club in almost all competitions. He has played Barcelona before, but now the threat was much closer to home
This season, Madrid's luck hasn't been much better. Although they have looked sharper against Barcelona, they haven't been winning. Their draw (and elimination) in the Copa del Rey was praised widely as a triumph for Los Blancos. They played extremely aggressively in the second half—and it paid off.
Cristiano Ronaldo revealed in back-to-back matches that he can show up in big matches.  Madrid as a team was to discover weaknesses in Barcelona's play (i.e. Dani Alves constantly being out of position defensively) and exploit them. The Copa del Rey matches were almost experimental.
Madrid fans everywhere, though, were ultimately upset with the draw and subsequent withdraw from the Copa del Rey. But if anything, the lack of success against Barcelona has benefited Madrid far more than it has Barcelona.
The most important piece of silverware in Spain in the La Liga title—the Copa del Rey pales in comparison. If Madrid (currently seven-point leaders) can hold the lead, they will pick up the best trophy Spain has to offer.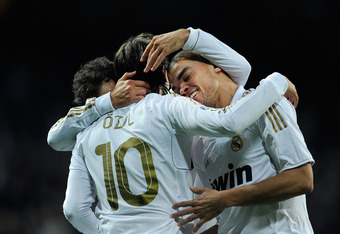 Denis Doyle/Getty Images
But how have El Clasicos helped them here?
It's simple. Madrid hasn't really won the lead they have—Barcelona has given it to them. I'm not saying Barcelona would be or should be first in La Liga, however, if it were not for Barcelona's sporadic play in the league—the gap would be much smaller.  
Barcelona has settled for draws on six occasions this season. Those draws are to the following teams (table place in parenthesis): Real Sociedad (14), Valencia (3), Atletico Bilbao(6), Espanyol (5), Sevilla (11) and Villarreal (16).
While some of these are excusable, the draws to Villarreal (one point above relegation) and Sevilla (four points above relegation) are appalling—not to mention the loss to Getafe (10).  Barcelona has fallen asleep. They have grown complacent.
Meanwhile in Madrid, there is a team that uses El Clasicos to gauge their progress. They recognize that they are not the best in Spain yet. But if they want to be, they must play every outing like they are the best. No matter how weak the competition might seem, Madrid has shown up and played well. 
With losses only to their Catalan rivals and a Levante side that looked like contenders at the start of the year, Madrid immediately looked to be in better shape. A draw to Racing Santander (17) is the only real blemish on their season. 
Madrid has used their results against Barcelona as fuel. They have driven well into the lead in La Liga. If their good play continues, they need not to worry about losing first place. With only one more game against second-place Barcelona left, Madrid looks like surefire winners. They, like Barcelona, have the players needed for success, and unlike Barcelona—are keeping their focus.