Purdue Basketball: It's Time for Matt Painter to Be Radical, Bench the Seniors
February 6, 2012

Jonathan Ferrey/Getty Images
Purdue Basketball is coming off a loss to Indiana and has a lot of questions to answer if they plan on making this season a successful one. 
On a Saturday evening in Mackey Arena, it was loud. Loud actually doesn't do the environment justice—it was rowdy and one could feel the energy in the building. Unfortunately for Purdue, it didn't have a profound effect, as the team came out flat and sloppy.
When asked after the game about the performance Purdue coach Matt Painter said:
To me it looked like it meant more to them, just right from the start. You could see guy's facial expressions, guy's body language; it just looked like they(Indiana) were more engaged.
This should be alarming to Purdue fans.
Purdue is known for being tough, gritty and playing hard all of the time. Since Gene Keady took over the head-coaching job at Purdue, players have had the obligation to give 110 percent all the time. "Play Hard" is the program's motto.
To not be ready mentally following a week of anticipation and buzz around campus, means there has to be a serious issue somewhere. 
This team is flat, and needs a change of pace. 
After the loss against Indiana, Purdue has the daunting task of heading to Value City Arena, where the Buckeyes have been undefeated since Purdue defeated them in 2010.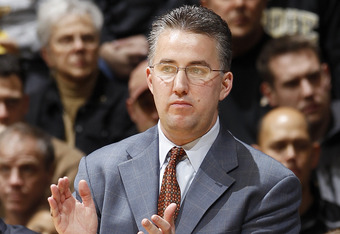 Joe Robbins/Getty Images
Although many will question this bold statement, Painter really should consider a new lineup that features no seniors.
This team's poor performance may not be a direct result of the seniors this season, but as the leaders of the squad, a statement should be made. 
Robbie Hummel and Lewis Jackson are two Boilermakers that are fan favorites, but they haven't been able to practice this season. That has been a key to Purdue's lack of chemistry during games along with the poor starts.
Maybe starting a lineup that plays a lot together in practice would be beneficial to this team.
As for Ryne Smith, he has hit a cold streak and would be better off coming off the bench right now. He doesn't seem to have a rhythm out there at the moment, but could catch fire anytime. 
An intriguing lineup for Matt Painter would be Kelsey Barlow, Terone Johnson, Anthony Johnson, D.J. Byrd and Travis Carroll. 
This would be very interesting with both Johnsons playing well right now and Byrd being the lifeblood of this team. 
Matt Painter is one of the best coaches in the nation. He has a great basketball mind and will make the decision that is best for his team. Right now however, it wouldn't hurt to change it up a bit, including the starting lineup.
With a team that is having an identity crisis at the moment, the only place to go is up. Maybe some change will help.
Going into Ohio State may seem like a very daunting task. Anyone can see this team has talent; it just needs to use it.
With Purdue in a slump, it is only a matter of time before the team catches fire and clicks. When they do, they could be a very dangerous team.
This Purdue team is very reminiscent of the 2006-2007 Boilermakers that were led by Carl Landry and David Teague. The team went on to lose a close matchup against eventual national champion Florida.
Both teams were awfully inconsistent; one of the few differences being that Landry was an NBA talent and a great post player.
The clock is ticking on Matt Painter's Boilermakers. The only question is, will someone step up and turn it off?