Sacramento Kings: 3 Reasons to Believe Jimmer Fredette Will Be the Real Deal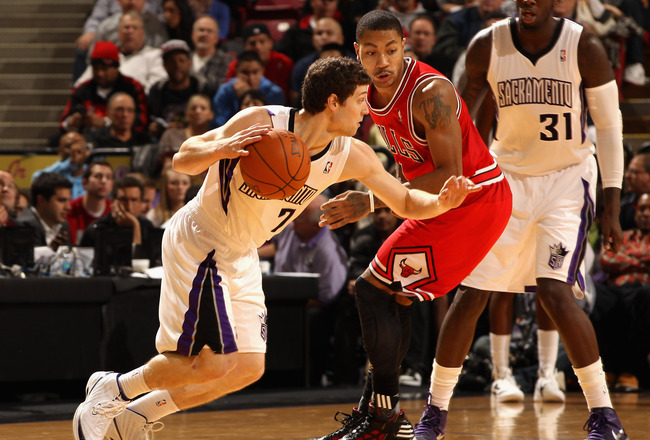 Ezra Shaw/Getty Images
Jimmer Fredette has an uphill battle to become what one would consider "the real deal" in the NBA. Last year's Naismith award winner, Fredette has struggled so far to translate his game to NBA success.
Though he's averaging 8.6 points a game, Fredette looks unnatural playing point guard in the NBA. According to 82games.com, Fredette turns the ball over 3.5 times per 48 minutes. To make matters worse, as Grantland writer Sebastian Pruiti pointed out last week, Fredette has been terrible in pick-and-roll situations.
Fredette's defense has also been a problem. He wasn't a good defender in college, but his offensive game was so fabulous that it didn't matter how good of a defender he was. In the NBA, there's no place to hide his defensive inefficiency.
Because of Fredette's size (6'2", 195 lbs.), he's too small to guard most shooting guards in the NBA. This is why the Kings have been playing him at point guard. The problem is Fredette has found it difficult to stay in front of the fast point guards of the NBA.
Fredette is one of the best shooters in college basketball history. In the NBA, however, Fredette's been below average, shooting just 36 percent from the field.
Though he's struggled so far in his NBA career, Fredette has proved that there's a spot for him in the NBA. One just has to wonder if that spot is on the end of the bench of a sub-.500 team or as a valuable role player on a championship contender.
Here are reasons to believe that Fredette will eventually become a solid NBA player:
Rookie Blunders Are Expected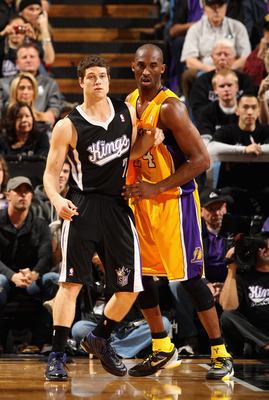 Ezra Shaw/Getty Images
Fredette's early struggles in the NBA were predictable. A year ago at this time, Fredette was playing in the Mountain West Conference—not exactly an NBA talent factory. Playing against inferior college competition, Fredette was a star. He won the Naismith award his senior year, averaging 28.9 points a game.
Fast forward to this year, and Fredette is now playing against the best basketball players in the world. He can no longer hide his defensive inefficiencies. He also can't simply "pull up" whenever he wants to anymore.
NBA defenders are too good. He's shown difficulty using screens to get himself open shot attempts—something that is key to becoming a good NBA shooter. Ray Allen is still a good NBA player because he has mastered the art of using screens to get himself open shot attempts. Fredette must do the same to improve his game.
The lockout-shortened season hasn't helped Fredette, either. With the condensed schedule and barely any training camp, Fredette has had to learn the NBA game on the fly. A player like Fredette needs as much practice as possible, which isn't possible with a condensed schedule.
Even worse for Fredette, the Kings fired head coach Paul Westphal after a disappointing 2-5 start. New head coach Keith Smart has not felt obligated to play Fredette. In the Kings' last two victories over the Portland Trail Blazers and Golden State Warriors, Fredette hasn't seen the floor.
Fredette has never been on a team where he wasn't the best player. Going from the "go-to guy" to "role player" is easier said than done. Just ask Chris Bosh. His early-season blunders should have been expected.
As Fredette gets more NBA coaching, more experience and a real offseason under his belt, one has to expect that his game will improve.
There Have Been Some Good Signs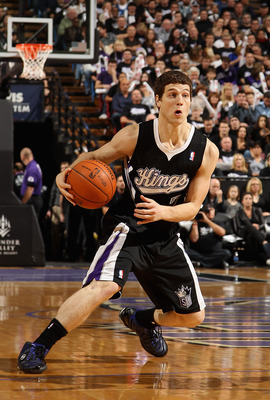 Ezra Shaw/Getty Images
If Fredette was going to be a bust, we would know already. Basketball is a sport where you know right away if a guy can play or not.
While he may not ever be a star player, Fredette has shown he is capable of developing into a strong role player. He's already scored in double digits eight times this season.
Though he hasn't shot well consistently in the NBA, Fredette is still a shooter. Every shooter goes through cold streaks.
Eventually His Shot Will Fall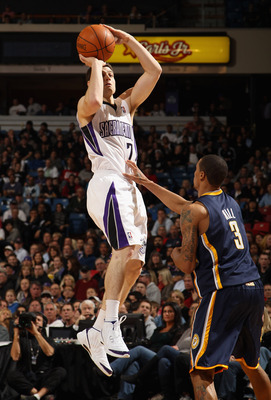 Ezra Shaw/Getty Images
The Kings drafted Fredette with the 10th pick in the 2011 NBA Draft because they saw his potential as a valuable NBA spot-up shooter. So far in his young NBA career, Fredette's shooting percentage has been lackluster. He's shooting 36 percent from the field—far from his 45 percent during senior year of college.
Fredette looked like he was gaining steam, scoring in double digits four games in a row in late January. Then, Fredette air-balled a potential game-winning three-pointer against the Utah Jazz and has played very little since.
The worse thing Fredette can do is doubt himself. Fredette didn't forget how to shoot. He's just going through a cold streak. It happens to every good shooter in the NBA.
As the season goes on and Fredette learns more about the NBA game, his field-goal percentage will increase. Since he's not the fastest NBA point guard, Fredette must improve as a catch-and-shoot player. That takes time and practice, which this shortened NBA season does not provide.
Kings fans can only hope Fredette will eventually find his shooting touch. Adjusting to the NBA has been a difficult task for Fredette, but I believe it would be a mistake to write him off as a valuable NBA player. After Fredette gets some NBA mileage under his belt, I expect him to develop into a strong role player in the NBA.
Sharpshooters are hard to find. Fredette has the tools to become a good spot-up shooter. He just has to go through the NBA learning experience before he becomes "the real deal" Kings fans expect him to be. Once he learns how to use screens to his benefit, Fredette could become a dangerous weapon for the Kings.
Keep Reading

Sacramento Kings: Like this team?