Notre Dame Football: The Biggest Recruiting Needs for the Class of 2013
February 5, 2012

Gregory Shamus/Getty Images
By most accounts, National Signing Day was a disappointment for Notre Dame. To paraphrase an old Bill Parcells analogy, they got enough groceries to cook dinner, but forgot some key ingredients.
They won't reach the college football version of a checkout lane again until next February. When they do, its class must be significantly improved, both in numbers and in fulfilling needs.
Brian Kelly was hoping to land four or five wide receivers. He got two (with Davonte Neal still on the board).  Signing three cornerbacks was crucial with two senior starters graduating and a lack of elite talent behind them. He got one.
While the Irish closed like Mariano Rivera in 2011, this year's finish more resembled the Texas Rangers' collapse in Game 6 of last year's World Series.
As the class of 2013 begins to take shape, Notre Dame must avoid a repeat of 2012. Two things are working in its favor. The program will have more scholarships with which to work, and there is more elite talent in the Midwest this year than last.
Even with the ability to potentially sign at least 20 players next year, the overall limit of 85 scholarships will factor into which positions receive the most attention. From least important to most, let's look at where the Irish need to focus their recruiting efforts over the next 12 months.
7. Defensive Line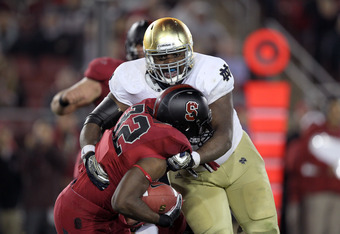 Ezra Shaw/Getty Images
The keystones of the 2011 class were the additions on the defensive line. The Irish followed that up by landing a pair of elite tackles in this year's class in Sheldon Day and Jarron Jones, and appear to have finally stabilized the position that has been a weakness for much of the past two decades. Another 2012 signee, linebacker Romeo Okwara, could play defensive end as well. The Irish would like to add a defensive end or two to develop in 2013 in case Aaron Lynch and Stephon Tuitt leave school early after that season. In terms of numbers, it should be a small defensive line class with more pressing needs elsewhere.
6. Quarterback
Ideally, you want to take a quarterback every year. However, Notre Dame has four quarterbacks on its roster, all of which will still have eligibility in 2013. Certainly, the Irish won't land anyone as highly-rated as Gunner Kiel, but with the large number of scholarships available, Kelly could try and bring in a developmental quarterback. Whether all four quarterbacks are still on the roster in the fall after Kelly establishes a pecking order should impact whether or not the Irish pass on a signal-caller next year.
5. Running Back
Adding William Mahone, KeiVarae Russell and USC transfer Amir Carlisle in addition to shifting George Atkinson III to the backfield stabilizes a position that was rather thin during this past season. The importance of having two capable running backs was evident this year with the production of Cierre Wood and Jonas Gray, but there's plenty of youth and depth at the position. Theo Riddick will be the only true senior at the position on the 2012 roster (Cierre Wood is eligible for a fifth year), so this isn't a major concern for 2013. They'll likely land one running back, but this position has made major strides from where it was this time a year ago.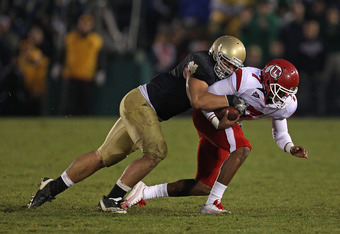 Jonathan Daniel/Getty Images
4. Linebacker
The Manti Te'o era will have one final act in 2012, but then the Irish will have a major void to fill in the middle of its defense. 2011 recruit Jarrett Grace has star potential at the position, and is likely the heir apparent to Te'o at the Mike position. Dan Fox and Carlo Calabrese, who will likely again platoon at the Will position, both could return in 2013. Notre Dame will need to add depth at both inside linebacker positions. The outside linebacker position is fairly stable with rising sophomores Troy Niklas, Ishaq Williams, and Ben Councell.
3. Offensive Line
Losing Taylor Decker to Ohio State last month really hurts. Ronnie Stanley should be great and Mark Harrell has plenty of upside, but the offensive line wasn't a strong point in this year's class. Both centers, Braxton Cave and Mike Golic Jr. will be gone after 2012, but the only other loss should be tackle Lane Clelland. Either Harrell or 2011 recruit Matt Hegarty will be groomed to take over for Cave in 2013. Getting instant impact from a freshman on the offensive line is rare, so the Irish should be looking to add four to five players in next year's class to learn  and prepare for 2014.
2. Defensive Back
This could be the No. 1 need, but in reality, the Irish are fairly well-off at safety with Elijah Shumate and Nicky Baratti coming on board in the fall. Losing Jamoris Slaughter and Zeke Motta after next season won't help, but Eilar Hardy should be back at 100% after a knee injury cost him the 2011 season.
Austin Collinsworth gives the Irish a tough and intelligent back-up for the next two years. Cornerback is a different story. Tee Shepard should be great, but there are still plenty of questions about rising juniors Bennett Jackson and Lo Wood, as well as Jalen Brown and Josh Atkinson, who redshirted this past season. The Irish took some chances on the recruitments of Yuri Wright and Brian Poole, and it came back to bite them. You can't miss at a position like cornerback two years in a row.
1. Wide Receiver/Tight End
Kelly likes to have seven capable receivers for his offense to run the way he would like it. That won't be happening anytime soon. Losing Deontay Greenberry, Michael Floyd's projected replacement, to Houston was the national story of Signing Day. Rising junior T.J. Jones and 2011 signee DaVaris Daniels are the only returning players with any big-play potential.
Robby Toma should be an effective slot receiver, but he has limited ability and is gone after 2012. The Irish were able to land Chris Brown and Justin Ferguson in this year's class. Ferguson is more polished in a complex offense than Greenberry, but doesn't have as high of a ceiling.
Ben Koyack should be the starter at tight end in 2013 with Alex Welch also still having eligibility, but Notre Dame must add its tight end of the future next year. The Irish generally look east for tight ends, and Camp Hill, Penn.'s Adam Breneman, already with over 25 scholarship offers, is an ideal fit.