Washington Nationals to Philadelphia Phillies Fans: Your Money's No Good Here
February 5, 2012
The Washington Nationals may be a middling baseball team, but give them credit for making history. For the first time since baseball clubs began charging fans to attend games, the Nationals have decided against selling tickets to all those who want them.
Specifically, the Nationals are holding a pre-sale for their May 4-6 weekend series against the Philadelphia Phillies. Only season ticket holders and those with credit card addresses in the District of Columbia, Maryland or Virginia can buy tickets.
Any unsold tickets for this "Take Back the Park" initiative go on sale to the general public in March.
To explain why the Nationals are bucking more than a century of first-come, first-served practice, Nationals Chief Operating Officer Andy Feffer said:
"For several years now, our fans, everybody, have been screaming about the number of Phillies fans that invade our park when we have a series here at Nationals Park. Frankly, I'm tired of seeing the Phillies fans in our ballpark in Washington more than anything.

"We sat down as a group and we said, 'You know what? It's time to take our park back in Washington and get our fans in this park.'"
Obviously, this is a rallying cry, a plea to the Nationals fanbase. It's as if Feffer is saying, "We're not going to allow thousands of marauding Phillies fans to burn and pillage and run off with our women! We have to defend our city's honor!"
In reality, the Washington front office cannot be too upset to see their ballpark packed with Phillies fans. The Nationals first, second and fifth most attended games last season occurred during the Phillies lone weekend series in D.C.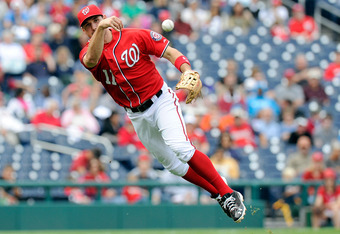 Greg Fiume/Getty Images
Only a July 2nd single-admission doubleheader with postgame fireworks (third) and Opening Day (fourth) prevented the Phils from taking all top three spots.
Also left unspoken is the reality that if the Nationals drew well, there would not be so many tickets available for Phillies fans to buy.
It's not like the Nationals are a bad ballclub. They are moving in the right direction, increasing their win total since 2009 from 59 to 69 to 80 in 2011. They have several solid players and potential stars in Ryan Zimmerman, Gio Gonzalez, Stephen Strasburg and Bryce Harper. They also have a World Series-winning manager, Davey Johnson.
Feffer is surely trying to draw attention, but it is still a rather remarkable concept when you consider that the Nationals averaged 24,877 fans in 2011, putting them 20th out of 30 MLB teams.
Furthermore, Washington, D.C. has already failed twice with baseball, losing teams to Minnesota and Texas (somewhere out there is a U.S. city vying to be Washington baseball's Callista Gingrich).
It would be a shame, too, for the local economy if the Nationals' attention-seeking stunt kept Phillies fans away. You have to believe a decent number of them would stay over at least one night, spending money on food, lodging and tourist attractions.
But Andy Feffer remains adamant:
"Someone asked me, 'What do you think of Philly and Phillies fans and the series?' I couldn't be more direct. I said, 'Forget you, Philly. It's our fans, our time, our park and we are going to fill it with Nationals fans.'

"We are going to do everything we can to ensure our fans here in Washington that first opportunity to make that happen."
There's just one problem with Feffer's call for a gang war—the Nationals and Phillies share the same colors.