New York Rangers: 10 Reasons They Won't Drop Their Eastern Conference Lead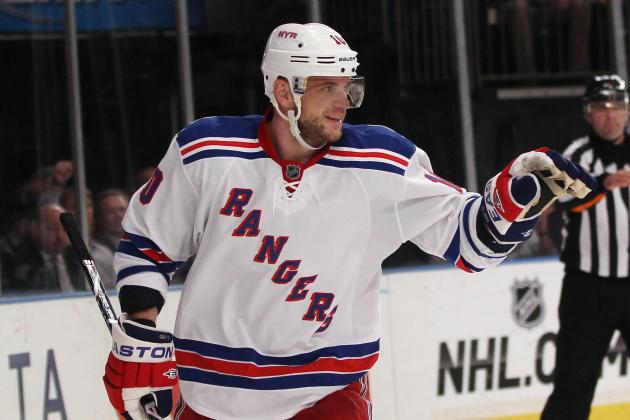 Bruce Bennett/Getty Images

The only time the New York Rangers have won the Eastern Conference was in 1993-1994, when they won the President's Trophy and Stanley Cup as well.
50 games into that season, the Rangers' record was 33-13-4.
50 games into this season, the Rangers' record is 33-12-5.
Granted, the third number in the 1993-1994 season was ties, not overtime losses, but otherwise the records look quite similar.
Here are ten reasons New York will not let go of their lead atop the Eastern Conference and will earn home ice throughout the Eastern Conference playoffs.
Begin Slideshow

»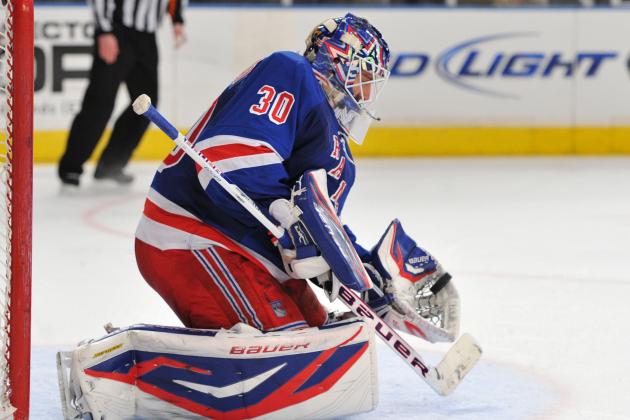 Christopher Pasatieri/Getty Images

Through the first 50 games, Marty Biron and Henrik Lundqvist have combined to allow a league-low 102 goals.
Lundqvist has been responsible for 38 starts, earning a 24-10-4 record, a 1.82 goals against average and a league-best save percentage of 93.9.
The pair has earned eight shutouts, six by Lundqvist.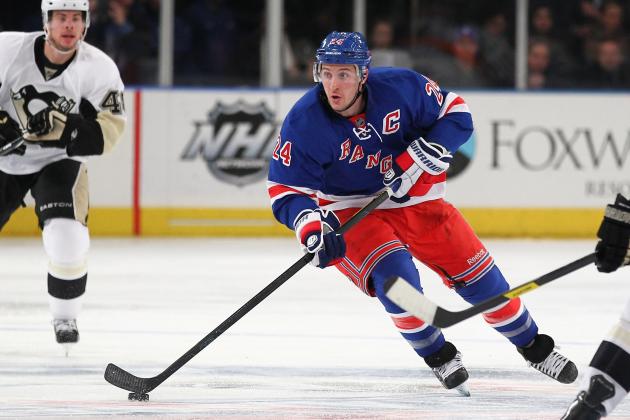 Al Bello/Getty Images

Ryan Callahan has provided his team with excellent leadership thus far this season.
He has a 36 points, which is best for second on the team, and at the young age of 26 has still been able to earn the respect of his teammates.
Alternate captains Marc Staal (though he's dealing with a head injury) and Brad Richards (though he's been slumping recently) also give the team locker room stability.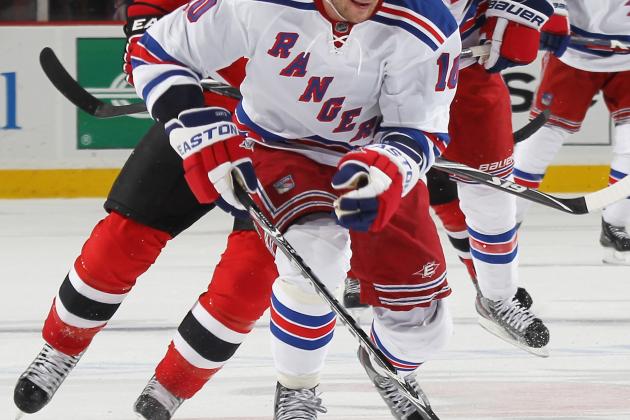 Bruce Bennett/Getty Images

This stud has put together a fine first 50 games.
He has scored 26 goals and assisted on 17. He has a plus/minus of plus-16, which actually is only fourth-best on the team.
Though he's scored only four goals since December 26, Gaborik is still a threat that can pop up at any time.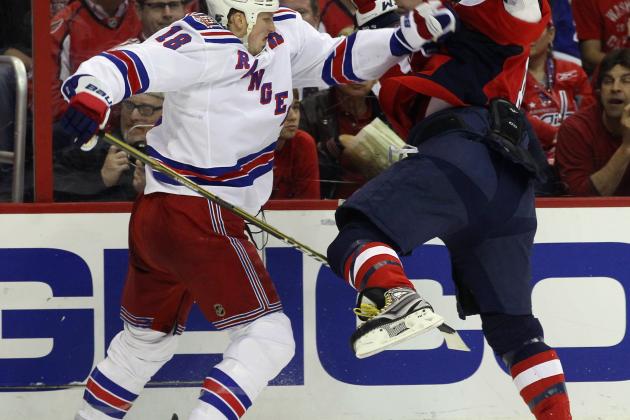 Bruce Bennett/Getty Images

Before December 31, the Rangers were allowing 29.8 shots and 2.13 goals per game, getting out-shot in over 58 percent of their games.
Since then, New York are allowing only 28 shots and 1.79 goals per game, and are out-shooting opponents in most games.
This is partly due to the return of Marc Staal, but I think the whole defensive unit is picking it up.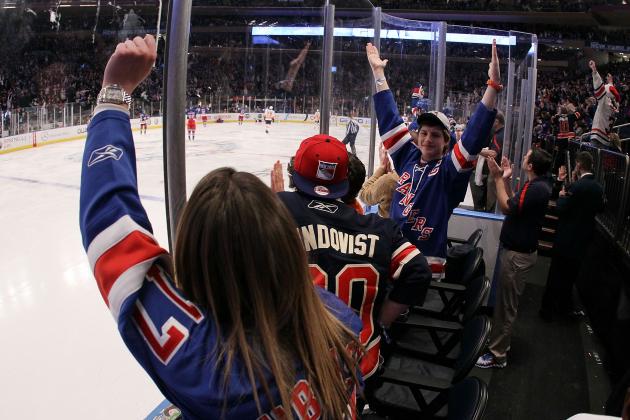 Jim McIsaac/Getty Images

The New York Rangers are getting an average of 18,184 people at Madison Square Garden for each home game.
This is the highest average since 2007-2008, when they averaged 18,200.
This is not only a good sign, but also helpful to create an atmosphere where the team feels the support.
Victor Decolongon/Getty Images

Many people are speculating what moves the Rangers will make before the trade deadline, which is February 27th.
It seems clear that New York will make an offensive move, hoping to put more goals in the net on power plays in particular.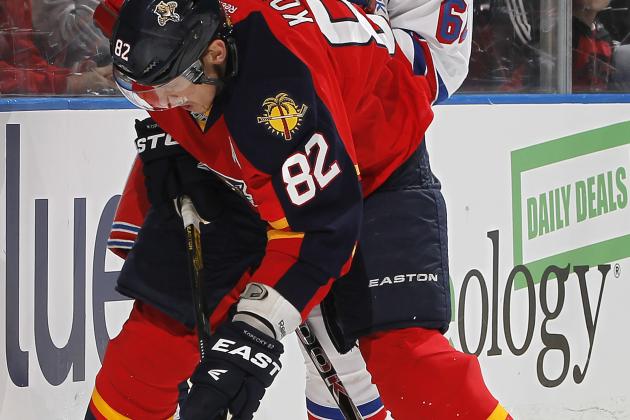 Joel Auerbach/Getty Images

A big reason the Rangers have done so well at holding teams to few goals is their penalty kill.
Even with being the team with the fourth-most penalty minutes in the league, New York has managed to kill 87.4 percent of penalties.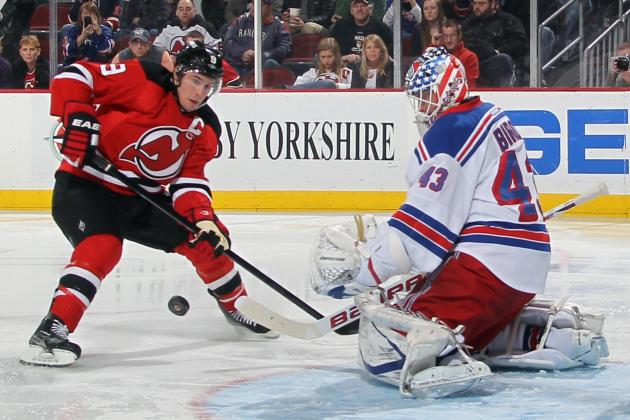 Bruce Bennett/Getty Images

It might seem to make little sense to put this on the list, since the Rangers are sixth-worst in the league in shootouts.
My thinking here is that the shootout struggles can't last for long. This is a stat I see turning around for the better in New York.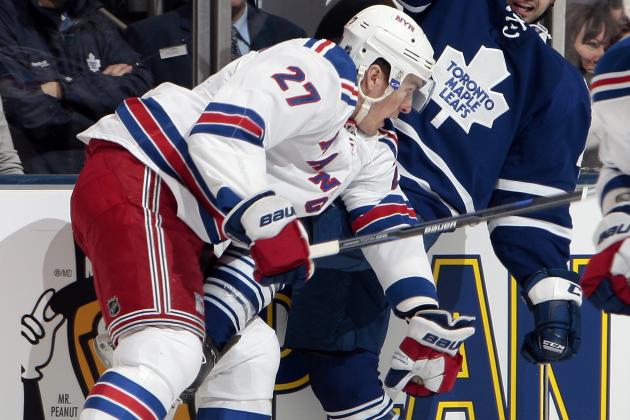 Abelimages/Getty Images

The Rangers are second only to the Los Angeles Kings in total hits, even though New York has played fewer games than every team in the league. This shows the toughness of this team that can take them to the next level.
Along with hitting goes blocked shots, and the Rangers are fourth in the league in that category as well.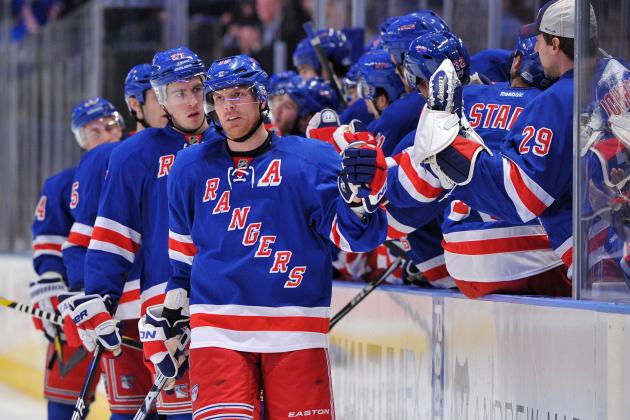 Christopher Pasatieri/Getty Images

The teams that are currently in the best position to catch the Rangers are the Boston Bruins, Philadelphia Flyers, Pittsburgh Penguins, and New Jersey Devils.
Of course all of these teams are dangerous, but Boston plays the majority of its remaining games on the road and the Rangers' division rivals still have to beat each other up several times.
This sets up New York to keep a hold on their top place in the Eastern Conference. It will take exceptionally hard work, as it always does to earn a top seed, but the Rangers have many of the pieces in place to make this season a memorable one.