Florida vs Florida State: Which Is the Better Basketball Team?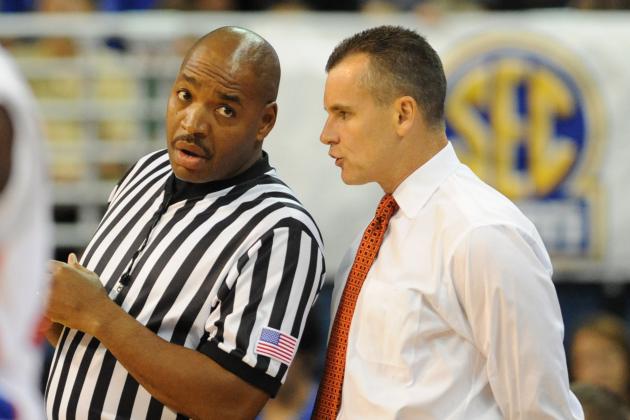 Al Messerschmidt/Getty Images

The Florida-Florida State debates are usually reserved for the fall, when both teams are winning football games en route to their annual match-up in late November.
However, with both teams currently ranked in the top 25 and competing for their conference titles, the debate over which team is superior on the hardwood is worth diving into.
There are other common threads between the two. Both teams won important conference games on their home floor this weekend. Each has also won seven straight conference games after this weekend's wins.
Florida beat Vanderbilt 73-65 in Gainesville, to improve to 7-1 in SEC play—a game behind Kentucky for first place. The Gators will travel to Lexington Tuesday to take their first shot at the top-ranked Wildcats.
Meanwhile, over in Tallahassee, Florida State held off No. 18 Virginia 58-55. The win kept them tied with North Carolina and Duke atop the ACC at 7-1 in league play.
While Florida has the better overall record and is ranked considerably higher (the Gators may move into the Top 10 this week), a look at the two teams' overall performance throughout the season makes this a tough call. Here is a breakdown of how the two have fared before, after, and during their match-up back in December.
photo from gatorcountry.com
Begin Slideshow

»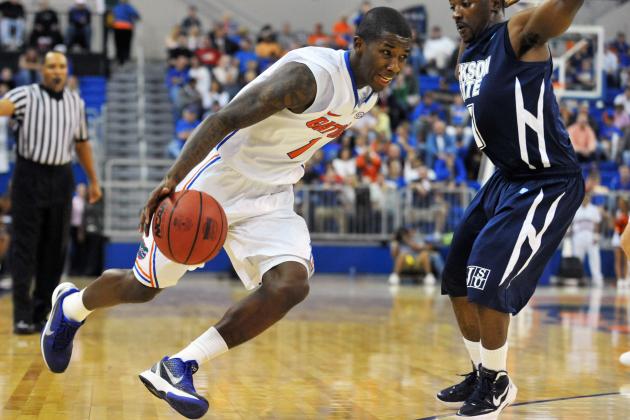 Al Messerschmidt/Getty Images

When Florida and Florida State met on December 22nd in Gainesville, there was little doubt who was the better team that night. The Gators won convincingly, 82-64, and scored more points on the Seminoles than any other team has this season.
The defense—normally Florida State's calling card—was what carried Florida. The Gators forced 19 Seminole turnovers. The inside duo of Patric Young and Will Yeguete were especially effective against the Seminoles' leading big man, Bernard James. James was held to just six points and six rebounds, and was hardly a game-changer on the defensive end.
While Florida certainly had a considerable advantage playing at home—where they've yet to lose this year—their dominant play in this contest would seem to justify calling the Gators the better of the two teams.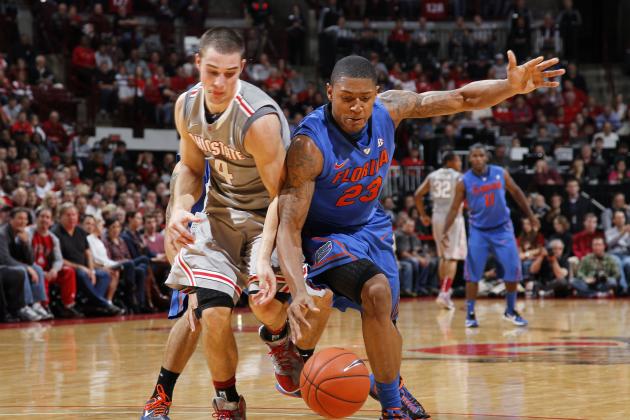 Joe Robbins/Getty Images

The Florida-FSU contest came near the end of the non-conference portion of play. Each team played 11 games prior to their meeting. Florida went 9-2 in their games; FSU went 8-3.
Florida played a couple top-10 opponents on the road: Ohio State and Syracuse. The Gators lost by seven in Columbus in a very-early-season test. They then played Syracuse really tough in the Carrier Dome, but couldn't quite pull out a win, losing by four.
Outside of those two games, Florida didn't play anyone else as good as Florida State. Wins over Texas A&M and Arizona were respectable, but also expected. The Gators did not play anyone else outside the state of Florida, either. The jury was still out as to whether Florida was really a Top 10 team, as their ranking indicated.
Florida State did not play anyone the likes of Ohio State or Syracuse, but they did meet some challenges in an early-season tournament. The Seminoles played in the Battle 4 Atlantis in the Bahamas, where they beat Massachusetts, but then looked abysmal offensively in a 46-41 loss to Harvard. They also lost to then-No. 4 Connecticut, in overtime, in the third-place game. That doesn't seem like as "good" a loss as it once did. FSU lost their third straight game at Michigan State in the ACC-Big Ten Challenge, again looking rather inept offensively.
Like Florida, Florida State did not have any wins worthy of particularly high praise. The 'Noles best wins—outside of maybe UMass—were probably against UCF and Loyola Marymount, both at home.
For the first portion of the season, Florida would get the slight nod here. If anything, the Gators were a bit more consistent—losing to really good teams, and beating everyone else. FSU showed a bit of a downside early on, not so much in terms of who they lost to, but how they lost.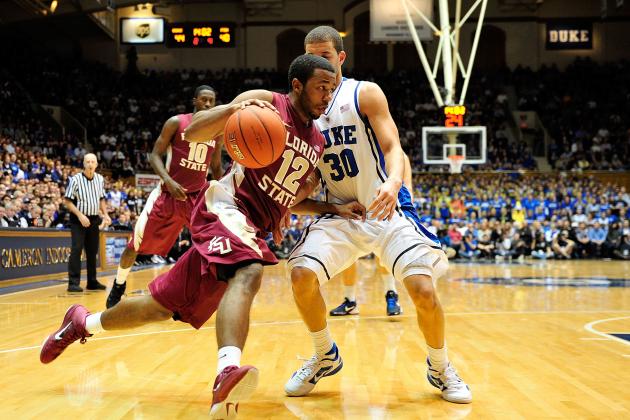 Grant Halverson/Getty Images

A month ago, there would have been little debate as to which team was better. Florida won the head-to-head meeting, had a better record, and was playing more consistent basketball. However, a lot has happened since the calendar turned to 2012 that gives Florida State a pretty good case in this debate.
A week after Florida beat FSU, they lost at Rutgers in double overtime. Rutgers is one of the tougher places to play in the Big East, but this was still a bit of a disappointment for the Gators, ranked tenth at the time. Meanwhile, the Seminoles lost an even more disappointing game, in triple-overtime at home to Princeton.
A week after that, both teams looked equally unimpressive in their conference openers. Florida lost by 11 to a 7-7 Tennessee team; FSU lost by 20 to Clemson, who was 8-6 at the time. These results created some serious doubts about both teams' ability to meet preseason expectations as potential league-title contenders.
How have things changed since for both teams since then? While neither has lost a game over the past four weeks, the difference between the two lies in who—and where—each teams has won their toughest games.
Florida State pulled off the most eye-popping, awe-inspiring win of the season on Jan. 14 when they beat No. 3 North Carolina by 33 points in Tallahassee. That game seemed to completely revitalize the Seminoles—particularly on offense—and give them the confidence they had played with in last year's NCAA Tournament. Just a week later, they won a buzzer-beater against Duke—in Durham. That win, along with their win over No. 18 Virginia, further backed up the Seminoles' ability to beat anyone in the ACC.
Florida has handled some of their tougher challenges in the SEC quite well also. Within the past week, the Gators have defeated Mississippi State and Vanderbilt—the two other teams expected to possibly challenge for the league title. However, both of those wins came at home. In addition, the Gators have yet to play Kentucky, so we don't quite know how close they are to making a run at the Wildcats for the SEC's top spot.
In beating the top three teams in their league—one of which was in as tough a place to win as any in the country—Florida State has shown a bit higher upside than Florida since their head-to-head matchup.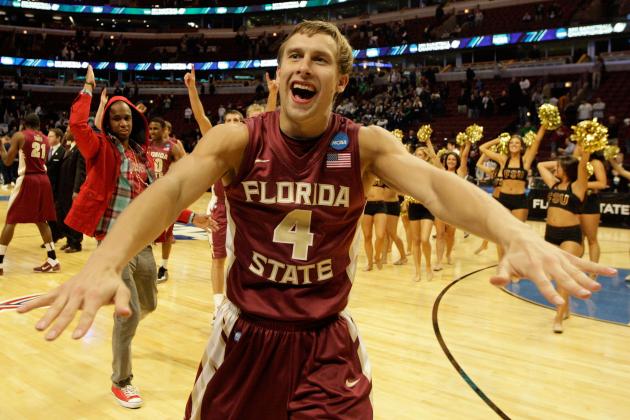 Jamie Squire/Getty Images

Short of having these two play each other again, on a neutral court, there's no perfect way to determine whether Florida or Florida State is the better team. Florida outclassed FSU, but on their home court. FSU has been as good as anyone in the country the past three weeks, but are they really as good as their current hot streak? Florida plays in a tougher league in the SEC, but has yet to face their toughest tests.
As of right now, I would give a slight nod to Florida State. However, by the end of the season, the consistency of Florida should give them the edge, especially if they can win a couple of tough games on the road.