Colorado Avalanche: Thoughts on Tyson Barrie Promotion, Stefan Elliott Demotion
February 5, 2012

Doug Pensinger/Getty Images
Yesterday morning, the Colorado Avalanche recalled defenseman Tyson Barrie from their American Hockey League affiliate, the Lake Erie Monsters and sent defenseman Stefan Elliott back down to the Monsters.  Both Barrie and Elliott are promising, young, puck-moving defensemen in the Avalanche organization.
Both players were drafted by the Avs in 2009, the same draft that saw the Avs claim star centers Matt Duchene and Ryan O'Reilly.  Elliott was selected in the second round, 49th overall and Barrie was the Avs' third-round pick, 64th overall.  The promising juniors careers of these two defensemen made former Avalanche defensmen John-Michael Liles and Kevin Shattenkirk expendable, and as a result Liles and Shatty were traded away in separate deals in 2011.
Elliott was thought to be slightly more NHL-ready than Barrie and was recalled by the Avalanche in late November.  Elliott made an immediate impact by netting the game-winning goal in his NHL debut against the Edmonton Oilers and he would continue play well through the month of December.  However, his production has declined since the beginning of 2012 and he has accumulated only two points since the beginning of January.  His ice time has decreased and he was even a healthy scratch last Tuesday in Edmonton.
Conversely, Tyson Barrie has put together a very good season with the Lake Erie Monsters.  In 46 games, he leads the team in assists (24) and points (29), and recently participated in the 2012 AHL All-Star Game.  It should also be noted that Elliott led Lake Erie in scoring at the time of his call-up.
With Elliott's declining play of late and Barrie's All-Star season in the AHL, Joe Sacco and the Avs' coaching staff decided to give Barrie a shot with the big club while sending Elliott to further hone his game in the minors.  Barrie did not play for the Avs yesterday as he was en route to Denver during the matinee game and will likely make his regular season Avalanche debut on Tuesday, when the Avs host the Chicago Blackhawks.  This is, of course, a tremendous opportunity for Barrie, and the Avs are hoping he can catch fire right out of the gate, much like Elliott did, and much like Kevin Shattenkirk as well at the time of his call-up in late 2010.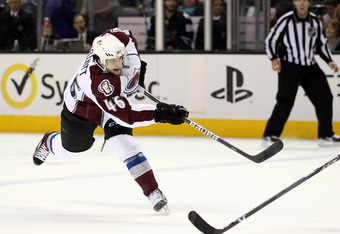 Ezra Shaw/Getty Images
While this is certainly not the turn Stefan Elliott hoped his career would take, this is by no means the end of the line for him.  When Elliott came to Colorado in November, I'm sure he wanted the move to be a permanent one and did not want to sport an Lake Erie Monsters jersey again. Although I'm sure he's disappointed, the young 21-year-old will just need to keep working hard, do well in Lake Erie like he did before and sooner, rather than later, he will find himself back in an Avalanche sweater, hopefully, for good.  Coach Joe Sacco often says that he does not like to have young players (like Elliott and Barrie) logging minimal ice time with the Avs or being healthy scratches.  It is better for their development to play and play often, which is what Elliott will be able to do in the AHL right now.
Logic would dictate that both Barrie and Elliott could play for the Avs now, but with an already crowded defensive corps of eight healthy players, the Avs would not want both of these young defensemen getting minimal ice time and being healthy scratches.  That is why Elliott was sent to Lake Erie, where he will get a chance to log many minutes as the Monsters' top defenseman.  He will get every opportunity there to produce and regain his confidence.
Another option to make room on the Avs' roster would have been to waive defenseman Matt Hunwick, who played in just his 12th game yesterday, while wearing a suit and tie as a healthy scratch for 42 games.  However, due to the Avs' very low payroll, they need Hunwick's cap hit to stay above the salary cap floor, but that leads to a whole other controversial topic.  Regardless, waiving Hunwick would not solve the problem of getting both Barrie and Elliott sufficient ice time.
Time will tell if this roster move is a good one or not.  Most thought that Barrie would finish this season in Lake Erie and have a very good chance to make the Avalanche opening night roster out of camp for the 2012-2013 season.  It was also thought that Elliott would stick with the Avs.
This twist certainly provides an immediate opportunity for Barrie, while providing some adversity for Elliott in his young career.  I still feel that both of these young defenseman can and will be staples on the Avs' blue line in the near future and for many years to come.  Best of luck to Barrie in his NHL debut and here's hoping Elliott will reemerge with a vengeance and be back in an Avs sweater very soon.