New Orleans Saints: 10 Biggest Positives of the 2011 Season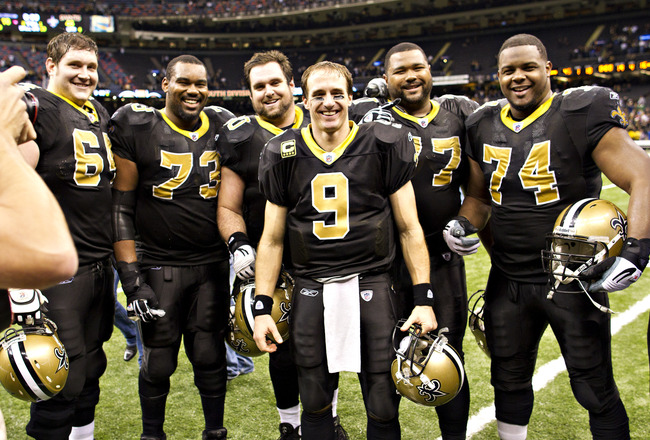 Wesley Hitt/Getty Images
This is a followup article to the awards article I wrote back in January.
It's hard to say a 13-3 season with a playoff win is a disappointment, yet I think Saints players, coaches and fans would all agree the 2011 version of the New Orleans Saints expected so much more than a divisional round playoff loss.
Of course that loss ultimately has to be pinned on the defense and its inability to hold down a lead two times in a span of five minutes of game time. Some of it could also be accredited to an offense which turned the ball over five times, but that same offense scored twice in the final five minutes to take a lead.
So it seems fair to say that most Saints fans will remember 2011 as the year that could have been, perhaps even should have been. But let's not allow the Saints' failures in one game to blind our memory of all the incredible accomplishments of this Saints squad.
As Drew Brees has talked about numerous times, it's not the losing that hurts the most, it's the group and the journey that each player is going to miss, and thus the aspect which hurts the most.
It hurts because this team had a spectacular 2011 campaign. Here are 10 ways that was true.
10. K John Kasay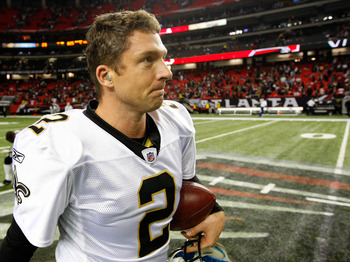 Kevin C. Cox/Getty Images
When Garrett Hartley went down in the preseason no one knew what the kicking situation would look like for the New Orleans Saints. Then they were able to obtain the services of a very veteran kicker, John Kasay, who was the only kicker the rival Carolina Panthers had ever known.
Kasay stepped right in and was nearly perfect through the first half of the season. On the season he attempted 34 field goals, hitting 28 of them. And he was a perfect 63-of-63 on extra points.
Kasay's finest moment of the season came when he kicked the game winner in overtime at Atlanta in Week 10. But it was his consistency which was so key for this Saints squad. Without him this team may not have won 13 regular-season games.
9. Defense Stepped Up When It Had To (Except the Last Game)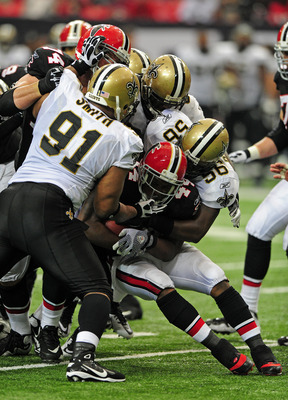 Scott Cunningham/Getty Images
Whether it was the Atlanta game when the Saints prevented Matt Ryan and Co. from winning the game in regulation then stopping Michael Turner on fourth down in overtime, or Jo-Lonn Dunbar sacking Jake Locker as time expired in Nashville, the Saints defense did what it had to do to win football games all year long.
It was a bend-but-don't-break unit for much of the season, and a group which generally struggled early in games and then came around in the second half.
They gave up a lot of yards but not a ton of points. It gave its offense a chance to win the Packers, Bucs and Rams games with key stops or big plays.
By no means was the 2011 Saints defense a memorable one, but it mostly did what was necessary to win football games. That's more than we can say of the defense in 2007 and 2008.
8. P Thomas Morstead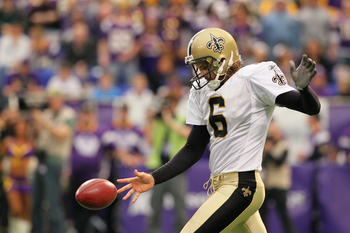 Adam Bettcher/Getty Images
Thomas Morstead could have been a Pro Bowler in 2011, if Andy Lee didn't put up slightly more impressive punting stats than Morstead. I maintain that Morstead's record-setting performance as a kickoff specialist should have positioned him ahead of Lee for that spot, but it didn't happen.
Morstead averaged 48.3 yards per punt—barely second in the league to Lee. He only had four touchbacks as a punter—where a low number is the ideal. And in 46 punts he pinned opponents inside the 20-yard line 13 times—good for 28 percent of the time.
More than numbers, Morstead provided a confidence in the both the offense and defense which allowed them to play a game where they weren't necessarily perfect and could still get away with that. His ability to change field position was a key to this Saints team scoring often and holding opponents to relatively low point totals.
Much as with Kasay and any of the individual players on this list, without Morstead the Saints would not have been the same team they were in 2011.
7. Saints Runners Combined for over 2,000 Yards on the Season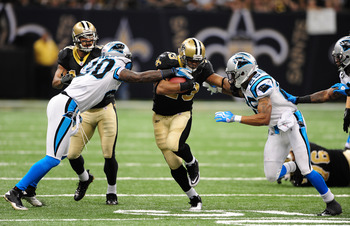 Scott Cunningham/Getty Images
Not only did the Saints set the single-season record for passing yardage but they did so while establishing a consistent running game—one that ranked sixth in the entire league at the end of the season.
The unit combined for 2,127 rushing yards and 16 touchdowns. Truth be told there were times I felt more comfortable running the football than throwing it simply because the running game was dominant.
In the 49ers game the Saints would have been wise to run the football 10 more times than they did. Sure they were down to two healthy backs, but running the ball would've kept the defense fresh and off the field. It would have also exhibited a toughness that would have taken some of the air out of the San Francisco crowd and the emotion of the 49ers.
But I digress. The Saints were truly a balanced unit in 2011. It's the single reason the offense was perhaps the finest offensive unit in the history of the NFL.
6. 5-1 in the NFC South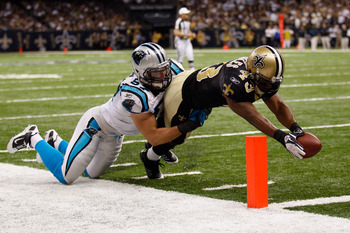 Chris Graythen/Getty Images
Though the Saints folded in that Week 6 matchup at Tampa Bay, the team was able to rally for an impressive 5-1 record against the NFC South. They got their revenge against Tampa in Week 9, won an exciting, highly-contested overtime match in Week 10 at Atlanta, then blew Atlanta and Carolina out of the water at home in the final two weeks of the season.
Most NFL experts determine that the key to winning a division and having success in the postseason is by dominating one's own division. The Saints mostly did that in 2011.
They never scored fewer than 26 points in any of their wins, and Drew Brees threw for 300-plus yards in every division game but the home win against Tampa.
The most points the defense gave up was 27 in the Week 5 win against Carolina. Two of the wins were dramatic game-winning drives at the end of the football game.
Yet the Saints' 5-1 record and overall dominance against Carolina and Atlanta are positives Sean Payton and Co. can continue to use for encouragement with this squad.
5. TE Jimmy Graham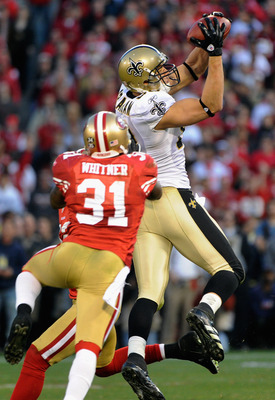 Thearon W. Henderson/Getty Images
When the Saints selected Jimmy Graham in the third round of the 2010 NFL draft, Sean Payton believed they were getting the steal of that draft. As it turns out they may have gotten the biggest steal of any draft, ever.
To find a tight end in the third round who has the second-best season by a tight end of all time, in just his second professional season (and third playing at a major level, as he only played one season at Miami) is remarkable, and that is a weak word to describe the impact Graham had on this team.
Though Graham was greatly aided by the presence of the electrifying Darren Sproles, defenses focusing on another big body in Marques Colston and the confidence and accuracy which define Drew Brees, it isn't as if Graham doesn't possess other-wordly talent.
Graham led the team in 2011 with 99 catches for a ridiculous—especially for a tight end—1,310 yards to go along with 11 touchdowns.
His presence allows the Saints to be selective this offseason in how they handle the contract situation of Marques Colston and Robert Meachem.
What's craziest is that Graham still has a long way to go to become a complete tight end. Though his blocking solid for a receiving tight end in just his second season, it can definitely improve. Expect he and Terry Malone to work on that in OTAs and fall camp.
Another aspect of Graham's game that is a tad bit disturbing is the ease at which defenders can get him to the ground—though you wouldn't know it based on his final catch of the season when he broke loose from two defenders raced about 40 yards and stiff-armed another defender to get in the end zone.
That play represents Graham's potential. The Saints could see those kinds of plays more often in coming years if Graham improves his RAC abilities. The rest of the NFL should be scared to death if he does, because he's already impossible to stop as it is.
4. RB Darren Sproles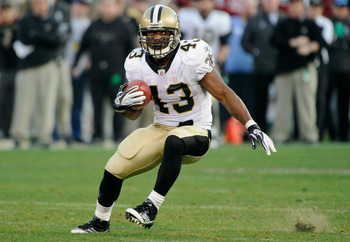 Thearon W. Henderson/Getty Images
In 2011 Darren Sproles led the Saints in rushing with 603 yards and two touchdowns. He was also second on the team in receptions with an incredible 86 for 710 yards and seven touchdowns.
Sproles also brought a dynamic to the return game which was missing most of the 2010 season without a healthy Reggie Bush. In fact, Sproles was everything Bush was supposed to be, and then some.
The former Charger electrified the NFL with great speed, elusiveness and power. The diminutive slasher combines that shiftiness with a toughness and flexibility rarely seen in the history of the NFL.
His ability to not only contribute but dominate in three phases of the game made him one of the five most valuable players in the league, and by far the biggest snub of non-Pro Bowlers.
Defenses will likely spend a great deal of time this offseason trying to figure out ways to slow Sproles down in 2012. But their efforts will assuredly fail either because they'll slow him down but open up another can of worms, or Sproles will simply beat them again with speed, toughness and determination.
3. 8-0 at Home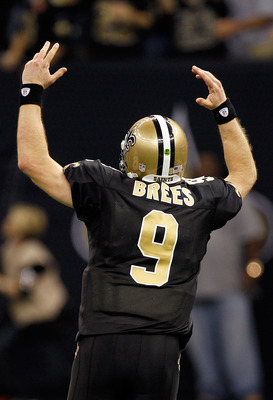 Chris Graythen/Getty Images
Since 2006, the Superdome has carried the title as one of the toughest places to play in the NFL. Truth be told, though, until this season that was more of a myth than a truth statement.
But in 2011, the Saints held down the fort at the Mercedes Benz Superdome. The offense averaged over 40 points per game and 500 yards of offense. The defense was also better at home than when on the road.
Only one game at home was ever in doubt in 2011, and the Saints ended up winning that game by eight points. Every other game was for all intents and purposes a blowout.
Eight-0 at home is more than ideal, it's what championship-caliber football teams use to create an identity and a toughness. It didn't elevate the Saints to a championship in 2011, but it could in the years to come.
2. Team Excels Despite Major Injury to Sean Payton
Ronald Martinez/Getty Images
Rare in professional sports is the occasion when a team essentially loses a coach to injury. Yet the 2011 Saints experienced just that.
It was a Week 6 freak accident when Jimmy Graham was tackled into Sean Payton which caused the Saints' leader to miss three games (though he coached those games from a press box). In his stead, offensive coordinator Pete Carmichael Jr. began calling the offense.
During Carmichael's initial trial run the offense had a huge up—62 points against the Colts—followed by a huge downer—21 in a loss to the pathetic Rams.
Yet even when Payton returned to the sidelines Carmichael continued in his role as play-caller and the Saints offense really took off after that point, embarking on a six-game stretch where the offense blew up.
But not only did Payton's absence actually spark the offense, it also sparked a turnaround in the play of the linebackers—even though their position coach, Joe Vitt, took on the responsibilities that Sean Payton normally had.
In this sense it was the oddest of years for the Saints, but also one which made all their coaches better coaches—including Sean Payton.
1. Drew Brees and the Saints Set New Heights for Aerial Attacks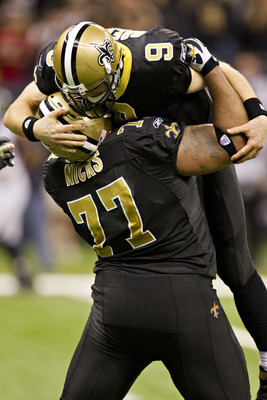 Wesley Hitt/Getty Images
As was mentioned previously, the New Orleans Saints set a single-season record for passing with Drew Brees' 5,476 yards. It should be noted the Saints also netted 29 yards from the arm of backup Chase Daniel.
Just as impressive was the Saints total number of passing touchdowns, 46. And a QB Rating of 110.6 ranks way up there in the all-time rankings.
All these gaudy statistics earned Drew Brees the FedEx Air Player of the Year and NFL Offensive Player of the Year.
Clearly it was a special season for the Saints' passing attack. It did things no other group has ever done and made it look relatively easy. In fact, that's the way the whole team operated for much of the season.
Keep Reading

New Orleans Saints: Like this team?