Chelsea 3-3 Manchester United: Grading Fernando Torres and Teammates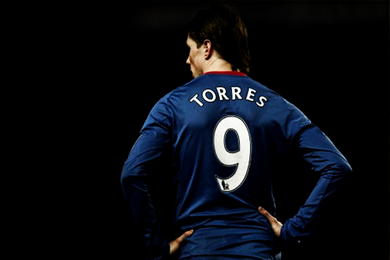 Three goals down was no barrier for Sir Alex Ferguson's Manchester United, as they willed themselves back to claim a 3-3 draw against Chelsea.
Defence again is the issue for André Villas-Boas.
What grade did new signing Gary Cahill receive?
How did José Bosingwa play at left-back?
What about Fernando Torres?
Was André Villas-Boas a tactical genius today? Find out what grade he received.
This article will grade Chelsea after their 3-3 draw at Stamford Bridge.
Begin Slideshow

»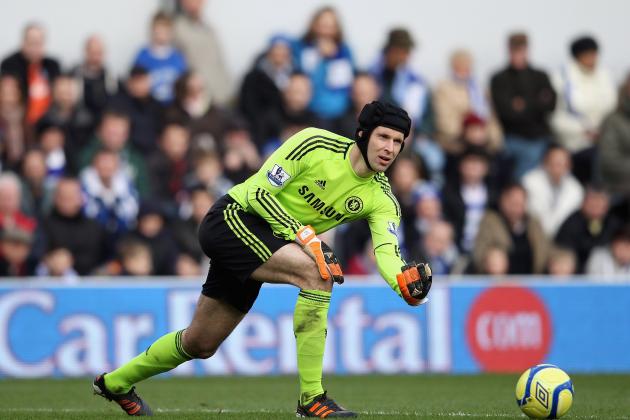 Clive Mason/Getty Images

Grade: B
If not for Petr Čech's six saves, Chelsea could have lost the game.
He may have been upstaged by David de Gea, but Čech doesn't need to hang his head in shame, because the two centre-backs ahead of him were inept.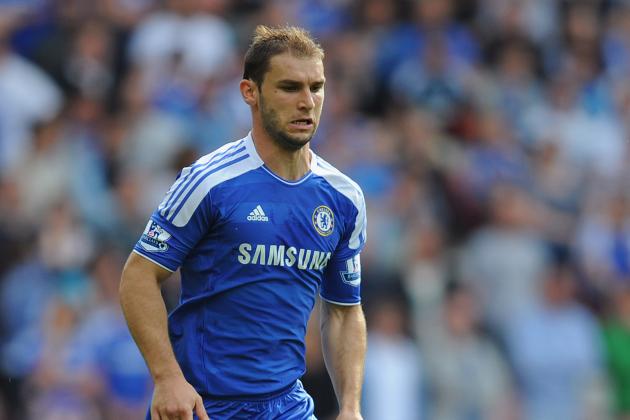 Michael Regan/Getty Images

Grade: D
Branislav Ivanović's interception in the 28th minute was vital, as it kept the game 0-0.
Though he pointlessly got himself booked after body checking Ashley Young.
Then the Serbian's decision to not follow through on his tackle on Danny Welbeck ironically led to the forward tripping over the defender's trailing leg—penalty to Manchester United.
Manchester United raided down Ivanović's flank and the Serbian did not cope well enough.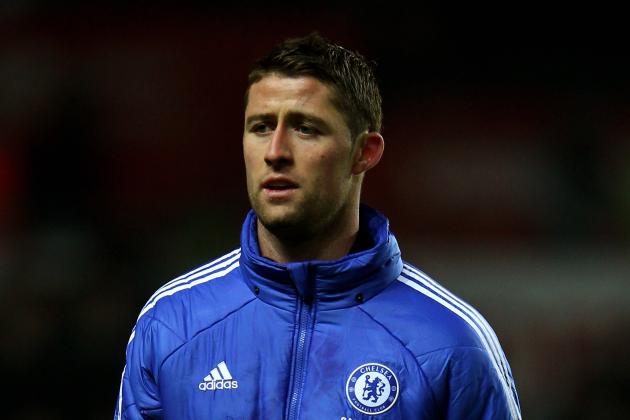 Julian Finney/Getty Images

Grade: F
Referee Howard Webb gave Gary Cahill a lifeline by bottling a decision in the 11th minute. It seemed, Webb then compensated for that decision by giving Manchester United two penalties.
Both penalties were soft and inconsistent with his initial decision.
Outpaced by Danny Welbeck, Cahill tripped the forward over and should have been sent off.
17 minutes later, Cahill was caught out of position and was bailed out by Branislav Ivanović.
Where was Cahill when Chicharito scored?
Cahill almost redeemed himself with an explosive shot in injury time.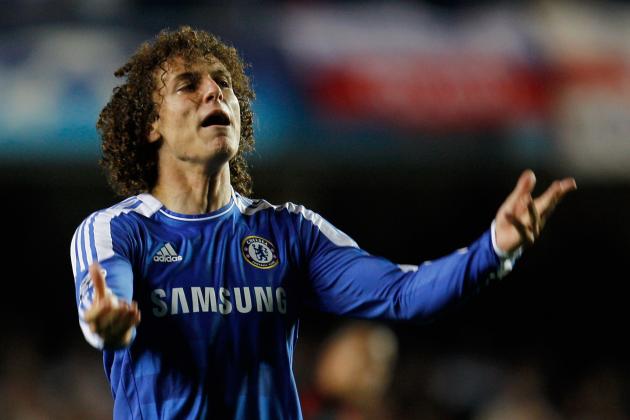 Paul Gilham/Getty Images

Grade: F
David Luiz was all over the place from a defensive perspective.
He was consistently behind the eight-ball and generally always missing in action.
Luiz looks great charging up forward. One wonders, why not play him in midfield?
Julian Finney/Getty Images

Grade: B+
José Bosingwa surpassed expectations by defending quite well.
Two tackles and six interceptions kept Antonio Valencia, who has live-wire pace, pretty quiet.
Why doesn't Bosingwa play like this as a right-back?
Ironically, one of Chelsea's worst defenders was their best defender against Manchester United.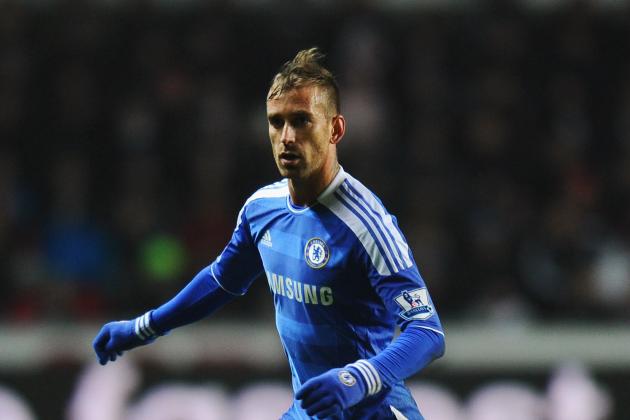 Mike Hewitt/Getty Images

Grade: A
When the second half finished, Raul Meireles had completed 94 percent of his passes.
By the end of the game, it slightly dropped to 89 percent, but he also won back possession eight times.
He was reliable today and needs to play like this more often.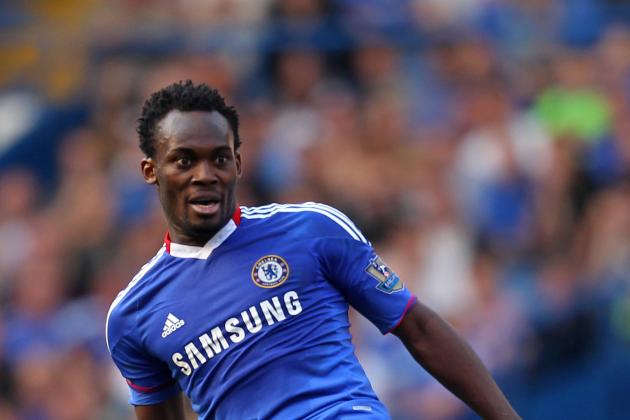 Scott Heavey/Getty Images

Grade: C
Michael Essien is still easing himself back into Premier League football.
He was mainly anonymous and failed to accumulate as many tackles and interceptions as he normally would.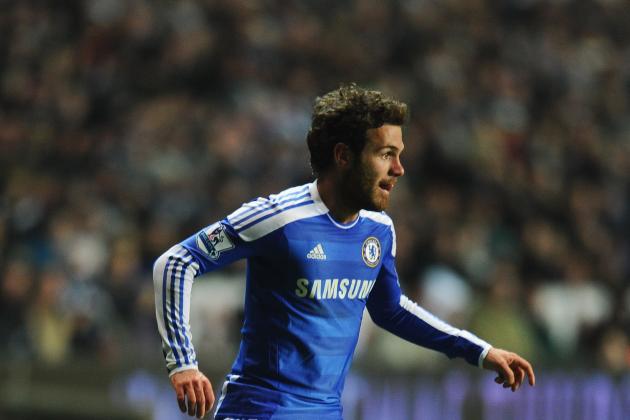 Mike Hewitt/Getty Images

Grade: A+
Whenever Juan Mata plays well, Chelsea play well—such is the Spaniard's influence on the team.
It's about time André Villas-Boas deployed Mata from a central role, therefore allowing the Spaniard to become Chelsea's sole central creative midfielder.
His link-up play with Fernando Torres is brilliant.
Mata would have sensationally scored the winning free kick if not for a world-class save from David de Gea.
I guess his eyes aren't that bad.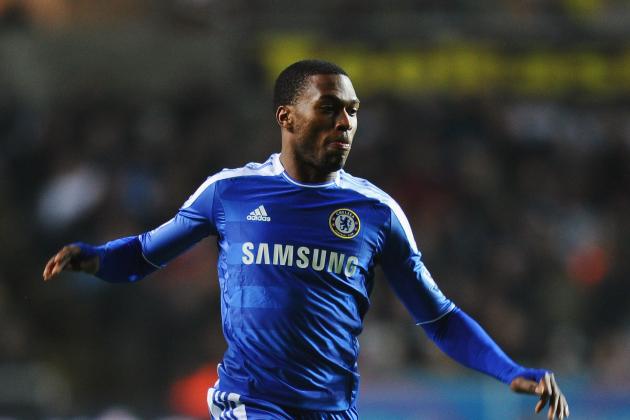 Mike Hewitt/Getty Images

Grade: B-
Daniel Sturridge tormented Patrice Evra throughout the game.
Yet it was the Englishman who conceded the penalty with a foul on a the left-back.
If referee Howard Webb determined Sturridge's foul as a penalty, then he should have done the same with Gary Cahill's foul on Danny Welbeck.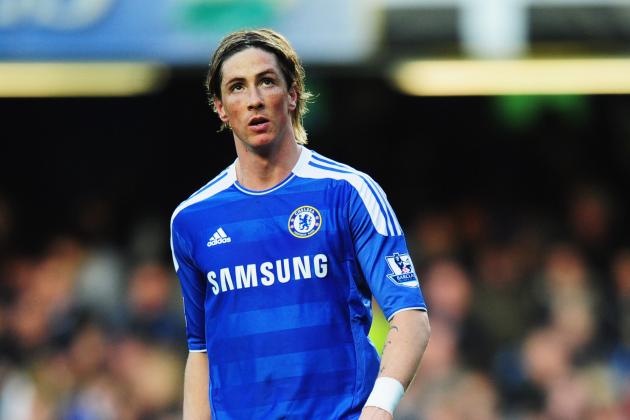 Mike Hewitt/Getty Images

Grade: B-
Fernando Torres was great in most departments, but again failed to score a goal.
His dribbling was fine, as evidenced with a rampaging run in the 41st minute.
A sumptuous cross to find Juan Mata for Chelsea's second goal proved how incisive his passing can be.
What about the move Torres put on Jonny Evans? The Spaniard should have shot, instead he lost the ball.
This is the reason why he isn't scoring enough goals.
He has to take his chances.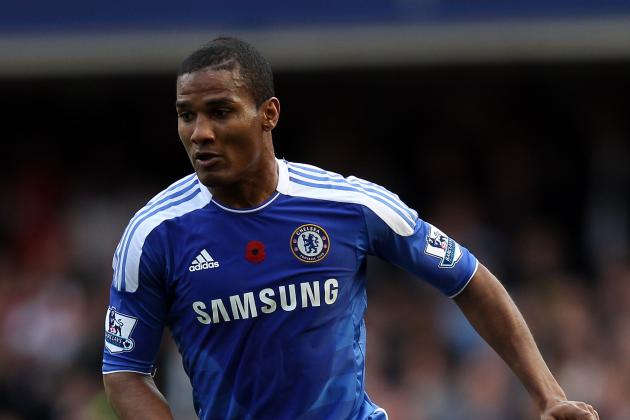 Clive Rose/Getty Images

Grade: F
It's one thing being a passenger in the game, it's another to be dispossessed seven times.
The only noteworthy thing Florent Malouda did was complete a single successful dribble.
Chelsea may as well have been playing with 10 men, because the Frenchman was nonexistent.
Let him go in the summer.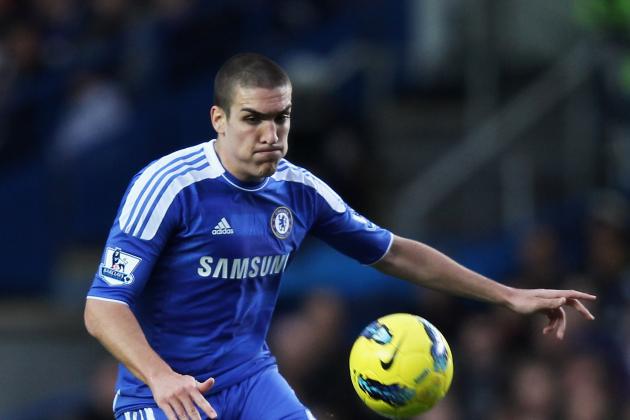 Ian Walton/Getty Images

Oriol Romeu was tidy in possession, as he completed 91 percent of his passes in a short cameo performance.
However, he didn't play enough minutes to warrant a grade.
In hindsight, he should have started over Michael Essien.
Surprisingly, André Villas-Boas didn't use up his full quota of substitutions.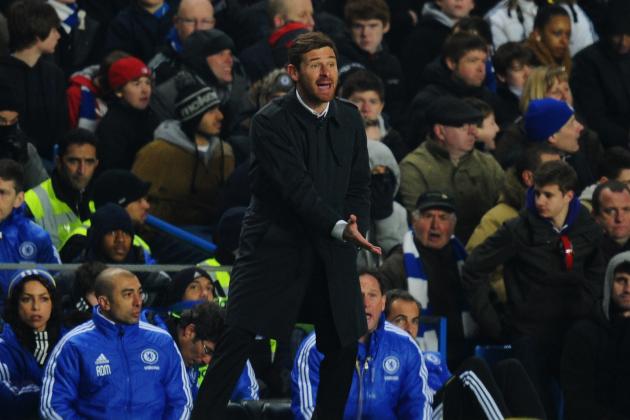 Mike Hewitt/Getty Images

Grade: D
Where's this tactical genius people keep telling me about?
André Villas-Boas did two things right: starting Juan Mata centrally and trusting José Bosingwa at left-back.
Villas-Boas is about attacking football, so why didn't he throw on Romelu Lukaku or Lucas Piazón as Manchester United mounted attack after attack?
Why not sub off Florent Malouda, who was a passenger?
If Villas-Boas was a tactical genius, he wouldn't have forfeited a 3-0 lead.
You can actually make a case that Chelsea only scored one legitimate goal, given Daniel Sturridge and David Luiz wouldn't have scored if not for heavy deflections.
Please read EPL Players Who Will Definitely Transfer This Summer.
Follow me @ http://twitter.com/allanjiangLIVE.