My Night at the Muay Thai Fights in Bangkok's Lumpini Stadium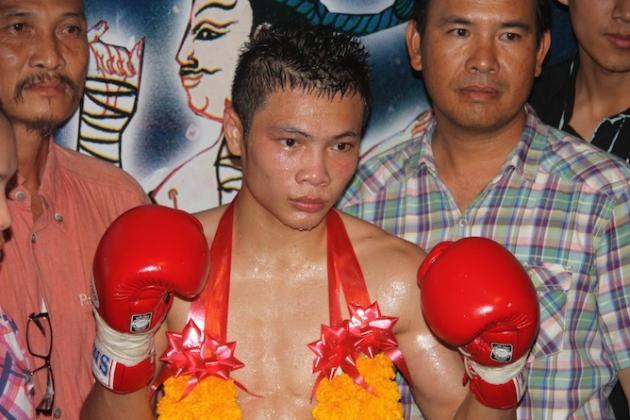 Muay Thai in Bangkok, Thailand. Photo: Coconuts Bangkok
Lumpini Stadium in Bangkok is the Madison Square Garden of Muay Thai (Thailand's ferocious brand of kickboxing).
On a big fight night, the front entrance to the rickety old structure is a beehive of activity. Street food vendors are grilling up mystery meats, and sharky ticket salesmen approach wide-eyed tourists.
Inside, boys and men engage in fierce hand-to-hand combat under fluorescent lights; crazed fans scream out with every landed blow and wager up to a month's salary on a single round.
The fighters are tiny—they ranged in size from 108 lbs to 133 lbs on the night I went—but they kick like mules, punch like mini Mike Tysons and throw harder elbows than Arvydas Sabonis.
Let's take a peak into the world of Muay Thai and the Friday night lights of Lumpini Stadium!
Photos and content are by hyperlocal city website Coconuts Bangkok.
Begin Slideshow

»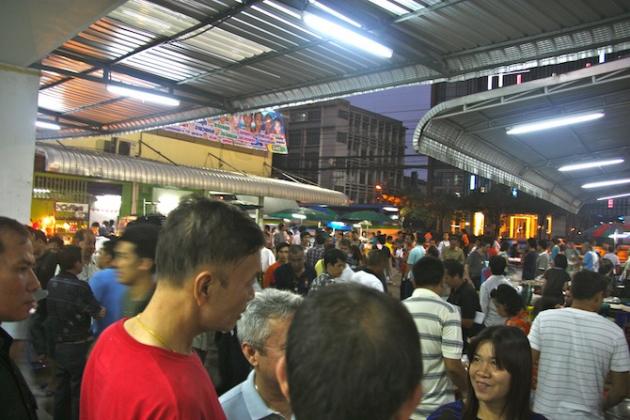 Outside Bangkok's Lumpini Stadium, vendors sell noodle soup, grilled meats, cigarettes, booze, you name it.
Ticket saleswomen in special red jackets hustle around, and groups of old men compare their bets on folded up sheets of paper.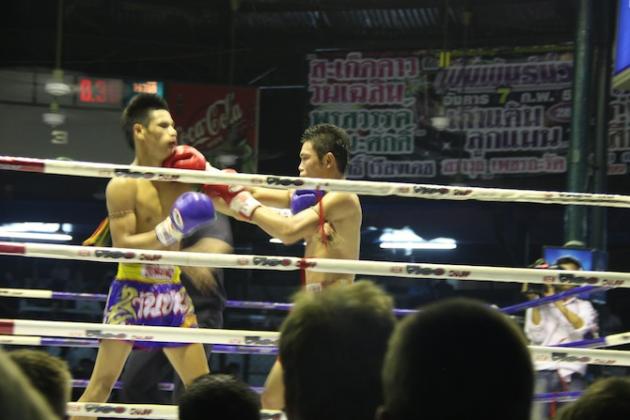 Inside, grown men and boys (as young as 16) beat themselves to a pulp during intense fights comprised of five rounds of five minutes.
Sometimes, the action doesn't really get going until the second or third round; the fighters have to feel each other out. But when things start heating up, the fights are utterly vicious.
Fighters try to respond to each blow with a counterattack in order to gain points. Frequently, there are a flurry of high body kicks traded—the crowd screaming as each one is landed.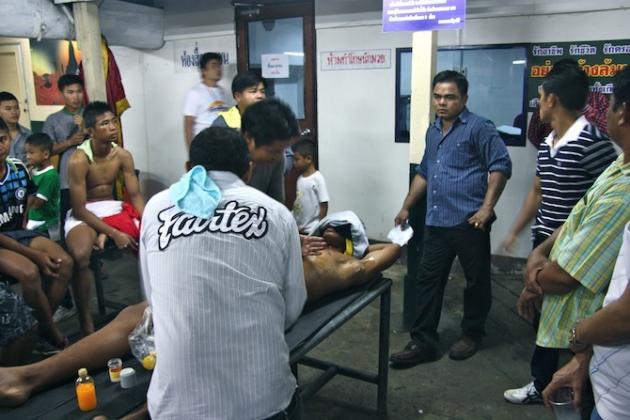 A great aspect of Muay Thai fights at Lumpini Stadium happens backstage. Anyone can walk back there and prod and poke the fighters before they go out.
Getting a first-hand, close-up look at the fighters is especially important for those wagering large sums on the fight, which is nearly everyone.
Usually, the fighter doesn't even notice; he's in the zone with his eyes closed; a gang of trainers whisper sweet motivations in his ear and oil him up with Tiger Balm.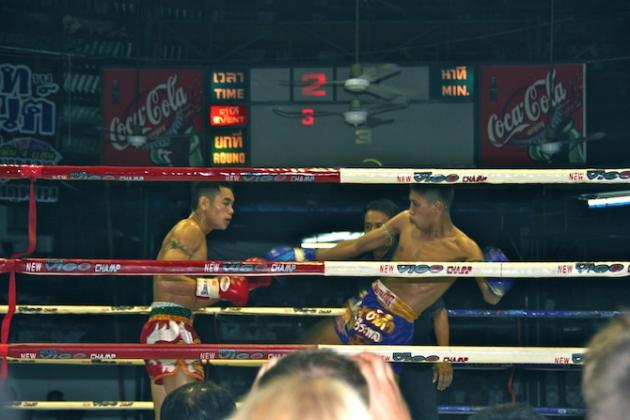 Kicks are one of the most powerful blows in the sport—considered much more effective than punches.
On the night I attended, one fight ended with a roundhouse knockout kick to the head.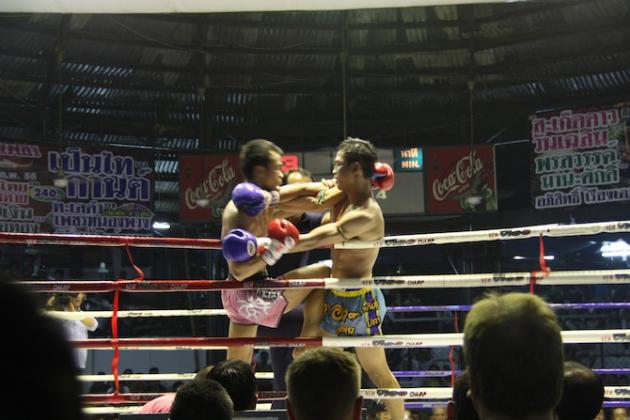 The fighters still throw a lot of punches, as you can see here.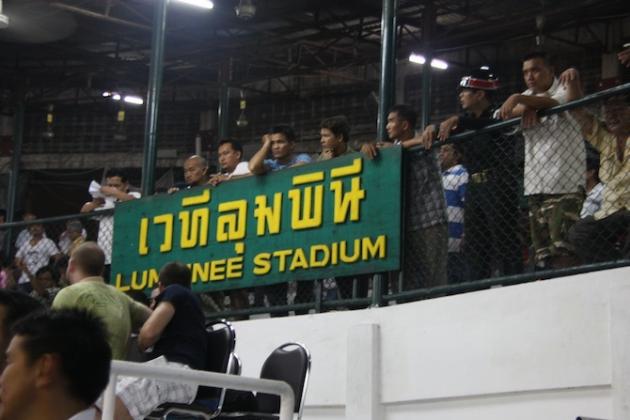 In between rounds, the bleacher-style cheap seats seethe with gambling activity.
Bookies throw complicated hand signals for the ever-changing odds. Gamblers can make multiple bets throughout the fight.
It's not uncommon to see stacks of half a million baht (about $16,000) handed over in these stands. Betting on the fights is legal—one of the few places in Thailand where you can gamble in accordance with the law.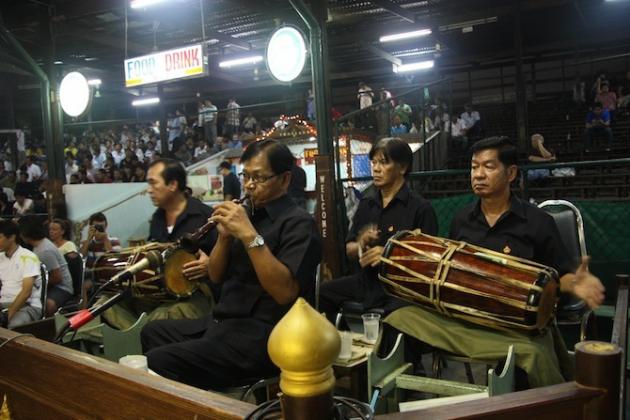 These guys add major atmosphere to the fight, playing traditional Thai sarama music with an oboe and drums.
They start slowly at the beginning of each round and speed up along with the action. The music is crucial for setting the mood of fights and puts the fighters in beast mode.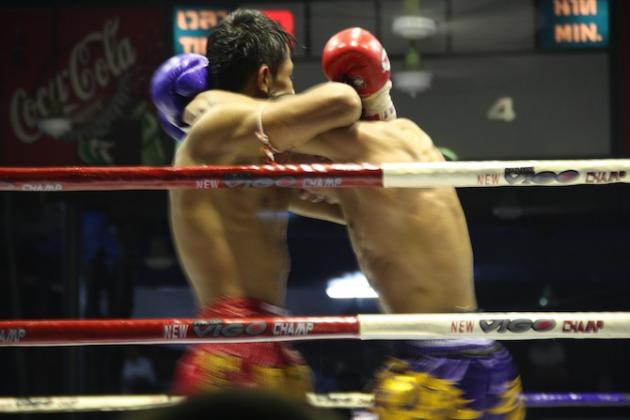 Frequently, the fighters go through extended periods of grappling with each other before separating and trying to land blows.
Here's a little video to give you an idea of the intensity of the fighting and the crowd. Note the music!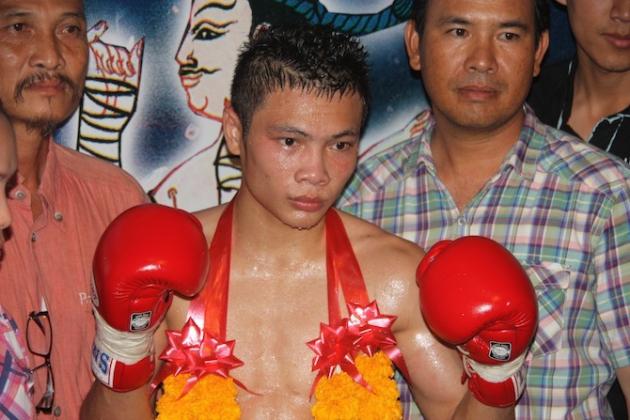 Winners take photos with their families backstage.
They've done well by their family and earned a nice purse...plus whatever their folks might have gambled on the fight.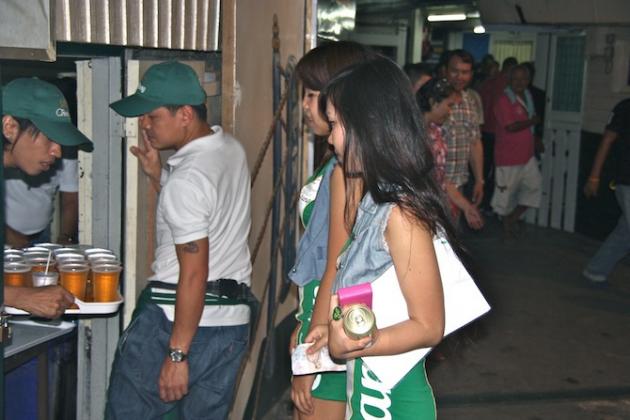 These girls deliver beers to your seat dressed in skimpy outfits.
In this case it's Chang beer—Thailand's cheapest and strongest brew.
Everyone ignores the designated smoking area of the stadium.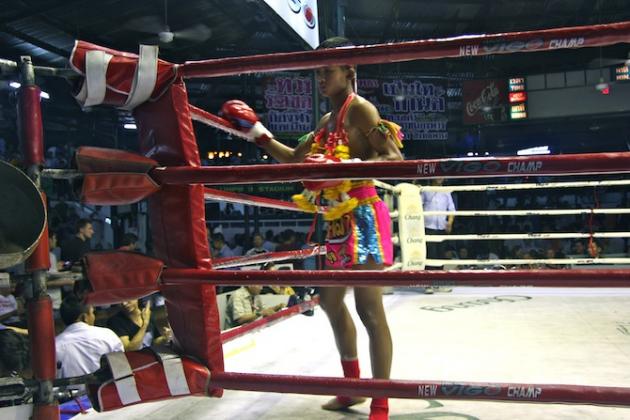 Before each fight, the fighters are blessed with water by their trainers.
They circle around the ring in a robe and a good-luck headband.
Then, the brutality begins.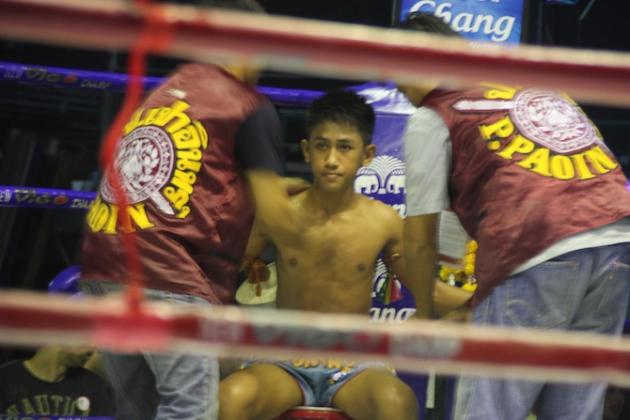 After the blessing, the trainers feverishly massage the fighters' arms and legs and bark instructions in his face.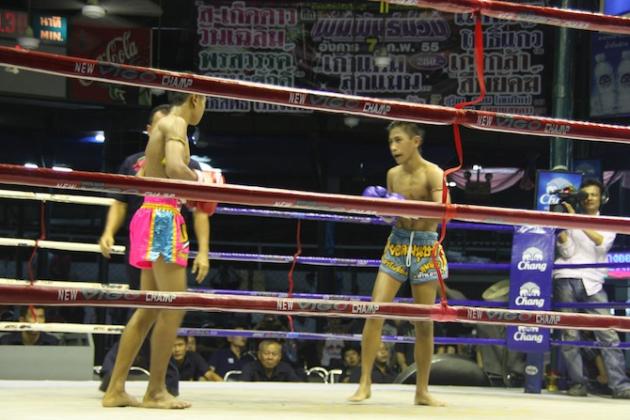 These guys were 16-years-old. This was probably the biggest fight of their lives.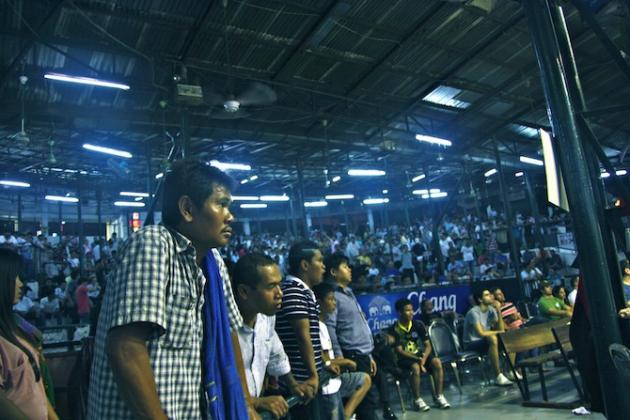 Families and friends cheer their fighter on with crazy intensity, screaming at the top of their lungs from just behind his corner.
This family of the 16-year-old with pink shorts could barely watch.
Families take Muay Thai pretty seriously when their sons or brothers are fighting.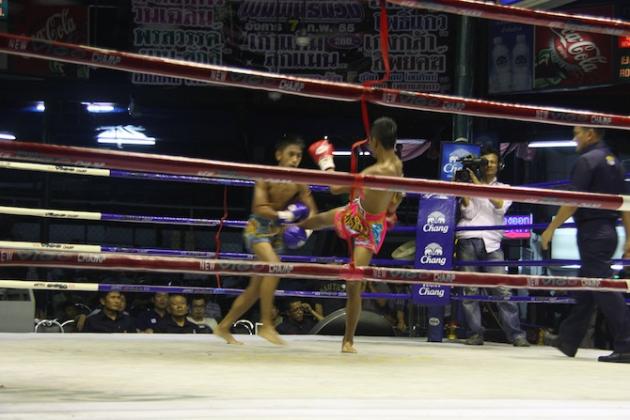 The fights between lighter weights were actually some of the best; the little devils are totally unrelenting.
The guy in the blue shorts won by decision.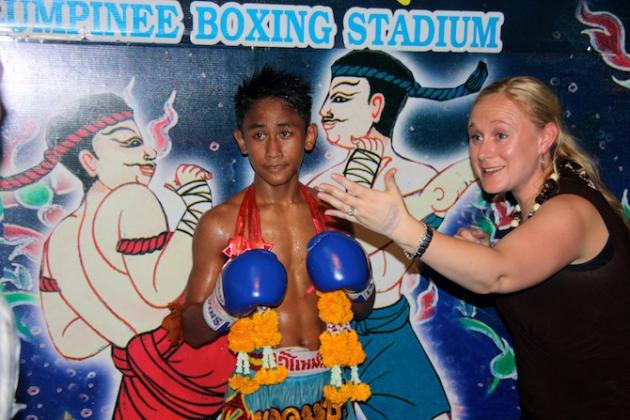 Everyone wants to take photos with the winner, including farang (foreigner) tourists.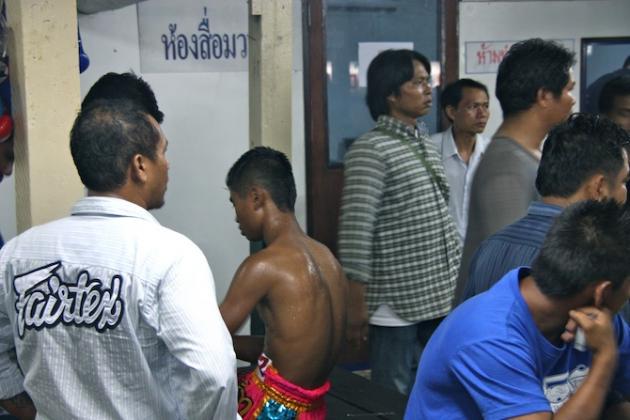 The loser's family won't even talk to him. Perhaps they wagered a large sum on his fight.
It's going to be a long drive home back to Northeast Thailand or Isaan.
Just another Friday night of drama at Bangkok's Lumpini Stadium.