Iona vs. Manhattan: Gaels Take Control of First Place in the MAAC with 85-73 Win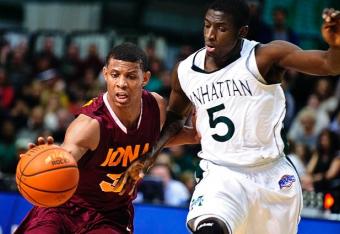 (Jeff Bachner/New York Daily News)

For the first time in six seasons, Manhattan basketball has once again become relevant. With first-year head coach Steve Masiello leading the way, the Jaspers were 17-7, 10-2 in the MAAC entering Saturday night's rivalry matchup with Iona.
Draddy Gymnasium was rocking all night long, but the Jaspers could not upset the Gaels for a second time this season, ultimately falling 85-73.
Manhattan and Iona battled back and forth in the first half, with the lead changing hands 10 times over the first 20 minutes. Both teams were fired up and came out hot to start the game.
And just in case we weren't sure whether or not the Manhattan-Iona rivalry was revived, Taaj Ridley's technical foul two minutes into the game proved that it was. After Ridley's two-handed slam opened up an 8-5 lead for Iona, the junior got in the face of Manhattan's Roberto Colonette and began the trash-talking that would last all night.
The two squads would exchange baskets for most of the first half, and then the Gaels managed to open up a 44-38 halftime lead on Momo Jones' jumper in the final two minutes.
George Beamon was the main reason Manhattan was even close through 20 minutes with 19 points, including his 1,000th point, on 7-of-8 shooting.
In the second half, Iona quickly built up a 51-38 lead on a three-pointer from Jones, a jumper from Sean Armand and a layup from the MAAC's leading scorer Mike Glover, prompting Masiello to call for a timeout.
The Jaspers made one last run out of the timeout with a layup from Donovan Kates and then three-pointers from Liam McCabe-Moran and Kidani Brutus, cutting the deficit to five points. But Manhattan would never get any closer.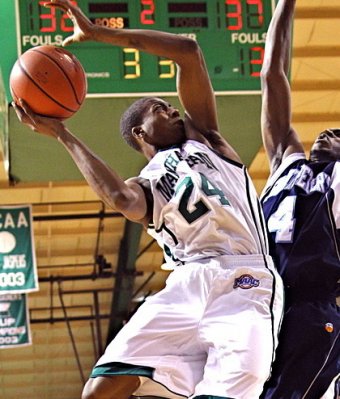 Iona bumped its lead up to as many as 19 points on three free throws from Armand, and Manhattan's chances for another upset dissipated.
Disgruntled Manhattan fans exited Draddy Gymnasium with their Jaspers now standing at No. 3 in the MAAC.
Beamon led all scorers with 26 points. Iona's defense stepped up big time in the second half, keeping the ball out of the hands of the MAAC's second-best scorer as much as possible. The junior shot just 1-of-7 from the field in the second half.
Brutus was the only other Jasper to score in double figures with 12 points on four three-pointers. The co-captain also had three assists.
Despite being hindered by foul trouble, sophomore Rhamel Brown had eight points, six rebounds and two blocked shots. Additionally, freshman Emmy Andujar, who hit the game-winning basket at Iona last month, had a solid performance with seven points, five rebounds and six assists.
Glover led the Gaels with 19 points and seven rebounds, while Jones and Scott Machado each scored 18 points. Armand led Iona's bench with 14 points.
For the first time in a while, Iona truly looked like the top dog in the MAAC. The Jaspers managed to keep up with Iona in the first half, but the Gaels showed their poise by warding off a pair of second runs by the hyped-up home team.
Iona is back to controlling its own destiny for a MAAC championship, and it still has an outside shot at an at-large bid if it cannot win three games in three days at the MAAC tournament.
Manhattan will start a three-game road trip at fourth-place Fairfield on Thursday, while Iona finishes up its two-game road trip in Baltimore against Loyola (MD), where the Gaels can take complete control of first place in the MAAC for the first time since mid-January.
This article is
What is the duplicate article?
Why is this article offensive?
Where is this article plagiarized from?
Why is this article poorly edited?