Giants vs. Patriots: Bold Predictions for Super Bowl XLVI
February 4, 2012

Jim Rogash/Getty Images
Here are four bold predictions for the Super Bowl tomorrow:
Tom Brady Throws Two Interceptions
Tom Brady will be expected to play a big game on Sunday, and I'm not saying he won't. The Giants ranked 29th in pass defense in the regular season, and Tom Brady threw 39 touchdowns and 5,235 passing yards this year.
However, the Giants have been playing remarkable defense as of late, and they were even able to stop Aaron Rodgers and the Green Bay Packers offense in the NFC Divisional Playoff game. The Giants have a ferocious pass rush that will be able to get to Brady early and often in the Super Bowl. 
I think Brady can have a good game overall, but the Giants' pass rush will make enough of an impact on at least one play to force a bad pass by Brady.
Rob Gronkowski Plays and Catches Eight Passes
While Gronkowski is listed as questionable for the Super Bowl, I think there's almost no way he doesn't play unless he literally cannot walk. 
In the biggest game of his career, Gronkowski will play. Also, I think he'll catch quite a few passes because Tom Brady will look to him as often as he did all season.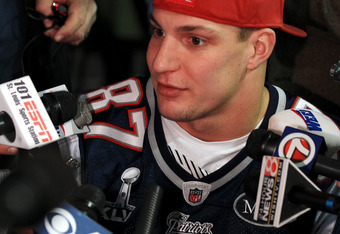 Scott Halleran/Getty Images
While Brady knows he's injured and will try to throw to his other receivers more, he will end up passing to his best option because that's what he knows to do.
Rob should see plenty of balls thrown his way on Sunday, but he won't be as good on yards after the catch as in the regular season because of his injury. This will hurt the Patriots down the stretch.
Jason Pierre-Paul Has Two Sacks
Pierre-Paul was a viable Defensive Player of the Year candidate in 2011 and he will show the world why on Sunday. He created a lot of pressure for this Giants defense and also a lot of turnovers, and he is a huge reason the Giants are in the Super Bowl.
I think Jason will come up big in the biggest game of the year and sack Tom Brady twice.
Eli Manning Wins the MVP
I have the Giants winning because they have a better defense and their quarterback is playing amazing football. Tom Brady may be one of the best quarterbacks of all time, but Eli Manning is playing just a tad better than him at this time. 
If Eli can beat Rodgers, then he can beat Brady on Sunday.
Since a QB almost always wins the MVP nowadays, I'll predict Eli will get the Super Bowl MVP award for the second time in his career. I think he can throw for at least three touchdowns and 300 yards.
Giants Win, 41-31.