Toronto Maple Leafs Blowout Ottawa Senators in Reignited Battle of Ontario
February 5, 2012

Jana Chytilova/Freestyle Photo/Getty Images
The Battle of Ontario is heating up again. That's what happens when both teams are back in the playoff hunt.
Unfortunately for the Ottawa Senators, apart from coming out strong, the Toronto Maple Leafs dominated and skated away with an easy 5-0 victory.
The Senators have now lost six in a row and have got to be worried about their recent plummet in the standings.
Maple Leaf goaltender James Reimer had a lot to do with extending that losing streak, recording his second-straight shutout and doing his best to regain the No. 1 status.
Reimer was as calm and well-positioned as can be, gobbling up everything in sight.
Phil Kessel was the offensive star, picking up three points, including the first and game-winning goal, chipping in his own rebound on a play created by the Wisconsin native's speed.
Ottawa then got into penalty trouble, revealing the Leaf's power play as lethal this night.  Toronto tossed the puck around the offensive zone at will. Dion Phaneuf capped the man advantage by rifling in his eighth of the year from the slot on a beautiful pass from Kessel.
Kessel's third point of the night came on an even prettier 65-foot pass that sent Tyler Bozak in on a breakaway.  The young center made no mistake, lifting the puck over a sprawling Craig Anderson to make it 3-0.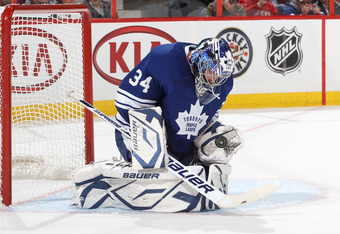 Jana Chytilova/Freestyle Photo/Getty Images
Bozak himself ended the night with a goal and two assists. Not too shabby for a guy who can't seem to convince anyone that he deserves the job of number one centre.
As the game went on, a few frustrated Senators tried to goad Leafs into fights to spark some kind of momentum, but up 3-0, Toronto didn't bite.
There was no third period magic on this night for the Senators, the best third period team in the league. Instead, the Leafs just added to their lead.
Luke Schenn put the game out of reach walking in unchecked from the blue line and potting his second of the season.
Cody Franson added insult to injury, finishing off a pretty passing play with the man advantage to make it 5-0.
The Leafs are now just a point behind the Senators with three games in hand.