Matt Birk Wins 2012 Walter Payton Man of the Year Award
February 5, 2012

Rob Carr/Getty Images
Most are likely anticipating the awarding of NFL MVP honors tonight, but Baltimore Ravens center Matt Birk won perhaps the most meaningful award at the NFL Honors show: He was named Walter Payton Man of the Year, according to NFL public relations practitioner Clare Graff.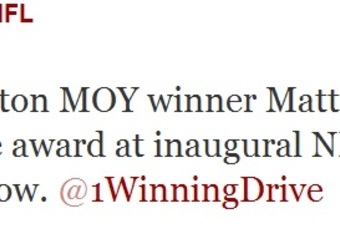 Birk becomes the 43rd winner of the prestigious award given to the player who best exemplifies great play on the field and humanitarianism off it.
The award was formerly known simply as the NFL Man of the Year Award, but the name was changed shortly after the death of Hall of Fame Chicago Bears running back Walter Payton in 1999.
Payton was a recipient of the award himself in 1977.
Many offensive linemen have received the honor since 1970, but Birk became just the second center to win the award, joining the Miami Dolphins' Dwight Stephenson.
Birk, who has been in the NFL for 14 seasons as a member of the Ravens and previously the Minnesota Vikings, is a six-time Pro Bowler and two-time All Pro. The Harvard graduate is pondering retirement at the age of 35, and this would certainly be a great way to go out.
Birk and the Ravens fell just short of the Super Bowl this season, as they were ousted by the New England Patriots in the AFC Championship Game. Birk has never won a Super Bowl, and while that obviously has to be a major goal for him as a player, he can take solace in being the recipient of such an important honor.