2012 NFL Defensive Rookie of the Year: Von Miller Takes Home Prestigious Award
February 4, 2012

Bart Young/Getty Images
Though Tim Tebow soaked up the spotlight during the Denver Broncos' magical and unprecedented 2011 campaign, rookie sensation Von Miller's efforts did not go unnoticed, and the linebacker took home Defensive Rookie of the Year honors.
According to a tweet from the NFL, Miller took home the prestigious award.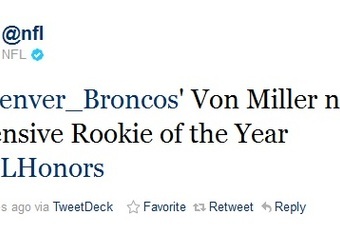 Miller's stiffest competition was Aldon Smith, who racked up 14 sacks on the season. It was Miller's ability to be a more complete linebacker that presumably gave him the edge.
He had 11.5 sacks, forced two fumbles and had 64 tackles on the season, compared to Smith's 37.
His presence as a true three-down linebacker during his rookie season makes him more than deserving of the award.
Miller is a staple in John Fox's Broncos defense and played a huge role in their relative dominance on the defensive end.
Even with an aging secondary and gaping holes up front, the Broncos were able to put their team in a position to win by holding their opponent to a manageable score.
Miller emerged as a leader from the moment he took the field and has become the face of the defense already.
Voters made the right call and it's good to see one of the Broncos' unsung heroes finally get the credit they deserve for Denver's season.