Boise State Football: 2012 Recruits Bound to Be Stars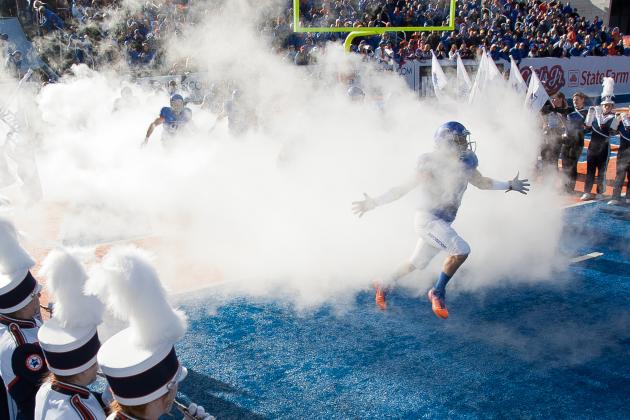 Otto Kitsinger III/Getty Images

Coach Petersen and staff have once again found a great crop of young talent to help continue Boise State's success.
Boise State has signed 24 new recruits, six of which are already enrolled in the spring semester.
While the Broncos don't get the 4-star or 5-star recruits, they always take the next best and turn them into high-caliber players. This class is full of quality 3-star recruits from Texas and California, many of which are bound to be stars at the college level.
While they may not all be stars immediately, they will no doubt become high-class talents at some point during their time in Boise.
Here are some of them.
Begin Slideshow

»
Ben Weaver is a 6'1", 225-pound inside linebacker from Klein, Texas.
Weaver is the 17th-ranked inside linebacker according to ESPN, and he can play both the pass and the run very well. In high school, Weaver compiled 198 tackles over the course of his junior and senior seasons.
He's Boise State's highest-rated recruit in this class, and he chose Boise over schools like Arizona, Utah, Cal, Texas Tech, Texas A&M, Louisville.
The Broncos have a good group of linebackers coming up and expect Weaver to be a huge contributor in the years to come.
Donte Deayon is a 5'9", 160-pound cornerback from Fontana, California.
He has outstanding ball skills and is a very quick and smart corner.
He lacks size, but once he starts lifting and working with the team, he'll get bigger.
Just look at all the accolades for Deayon in the video and you know this kid is good. He was also a track star in high school and star in the classroom nonetheless.
Watch for Deayon to emerge as a shutdown corner for the Broncos over the next few years.
Otto Kitsinger III/Getty Images

Demarcus Lawrence is a junior college transfer from Butler Community College in Kansas.
He stands at 6'4" and weighs 240lbs. Lawrence helped lead his team to a No. 2 ranking in the NJCAA rankings last season while compiling 66 tackles (27 for loss), 10 sacks and four fumble recoveries.
Lawrence is another one of the guys Boise managed to pull away from some big schools like Tennessee, Ole Miss, Oklahoma, Kansas State, Minnesota and South Florida.
He was a fantastic player at the JUCO level, and I expect him to continue to be a force at Boise State.
Don't be surprised to see him starting next season.
Kickers usually don't get pinned as stars, but when you've seen the effects kickers have had on Boise State, you like to see something like this.
Sean Wale is a great kicker as well as a punter with a big leg. He's 6'2" and 180 pounds and played his high school ball in La Habre, California.
Over his three varsity seasons, he was 26-of-33 on field goals, with a long of 52 during his senior year.
The video posted is impressive. He has booming kickoffs and some serious range on field goals. Coach Petersen says he will be kicker first, punter second, in an article by the Idaho Statesman.
Wale will hopefully discontinue the bad name associated with Boise State's kicking game.
Shane Williams-Rhodes may not be the biggest guy at 5'7" and 160lbs, but he can flat-out play.
If the attached video isn't enough for you, take a look at this one.
Rhodes has fantastic speed and explosive quickness. He can change directions in a flash and has an uncanny ability to shed tackles.
The youngster from Texas will play wide receiver at Boise State but will probably make a huge impact in the return game as well.
Give this kid a little time to bulk up and he'll be a star playmaker for the Broncos in the years to come.