Los Angeles Dodgers: They Really Need to Settle the Bryan Stow Case out of Court
February 4, 2012

Kevork Djansezian/Getty Images
On Friday the Los Angeles Dodgers asked the U.S. bankruptcy judge to disallow claims against them filed by Bryan Stow. As you may remember, Stow is the San Francisco Giants fan that was nearly beaten to death outside Dodger Stadium after the Dodgers' Opening Day victory over the Giants last March.
Stow and his children filed a suit against the Dodgers, owner Frank McCourt and over a dozen defendants after the incident. Then after the Dodgers went into bankruptcy Stow and his family filed a claim with the Delaware court that is overseeing the team's bankruptcy.
In a story on ESPN.com the Dodgers say,
"The Stow claim is, when stripped to its core, based on the faulty premise that a landowner is an insurer of the safety of persons on its property."
The Dodgers also say that Stow cannot prove that the additional security steps he said should have been taken by the team would have prevented his injuries. The team also contends that they didn't have any knowledge of inappropriate conduct by Stow's assailants prior to the attack, and they cannot be held liable for failure to anticipate a criminal act.
I understand the reluctance by the Dodgers to just go ahead and take responsibility for what happened that day, and perhaps even if security had been doubled the incident may have still occurred. By admitting responsibility the Dodgers would open themselves up to a lawsuit every time someone got hurt during a fight in the parking lot after a game—and that wouldn't be right either.
I don't care how much security they have at Dodger games—or any other sporting event—things like this are going to happen no matter how much security there is. When you put over-zealous fans from opposing teams together in one place—and add in the fact them many of them will overindulge in alcoholic beverages—disagreements and fights are going to happen.
However in this case witness accounts seem to show that Bryan Stow was not in the blame here. It doesn't appear that he had been in any verbal argument with his attackers prior to the beating; in fact all accounts seem to suggest he was trying to avoid any conflict with others.
The ESPN.com article mentioned above says:
"The Dodgers said there were 442 security personnel in the ballpark and parking lots that day, including police. The team said that was an increase from 398 for the 2010 opener and 308 for the first home game in 2009." Stow cannot show that anything about the security personnel staffing on opening day caused his injuries and, furthermore, the security staffing at the game greatly exceeded all requirements of California state law."
Let's be honest here, while the security staffing at Dodger Stadium that day may have exceeded all requirements of state law, it probably wasn't enough. I work with many people who will not go to a Dodger game because they say they don't feel safe. Most of them are from the east and midwest, and say they never have had a feeling of being unsafe at other stadiums like they do at Dodger Stadium.
I personally don't attend as many Dodger games now as I did 30 years ago, and the rowdy conduct of many fans inside, and outside the stadium is one reason for that. I just don't feel as safe at a night game at Dodger Stadium as I did even 10 years ago. Many times I have felt that more security was needed before, during and after games at Dodger Stadium, especially in the parking lot.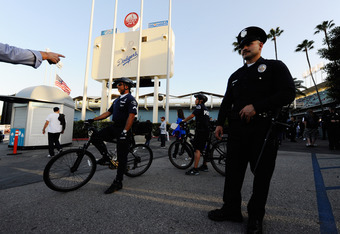 Kevork Djansezian/Getty Images
While more security at games may help, I also think the team needs to train its ushers and security personnel better. They need to be more proactive, rather than reactive when it comes to rowdy fans.
Many times from my seat I have observed groups of fans getting into it with other fans who were sitting rows away from each other. As the game went on, and the beers flowed in most cases, the verbal attacks grew worse and worse until an actual fight would break out. If I could see that coming, why couldn't the ushers? Many times I think a nice friendly visit by an armed security officer who could explain that they were all going to be asked to leave would have quieted the situation down.
Yes, the Dodgers should have had more security personnel at games for years, and training ushers and other stadium personnel on what to look out for when it comes to misbehaving fans would also help. But on the other hand, sometimes incidents will happen no matter how much security there is. And that is why I can kind of see the team's reluctance to admit guilt in this, or any other case.
However one big difference between the Stow case, and the many other incidents of fighting at Dodger Stadium each year is that Mr. Stow almost was killed, and will most likely be impaired for the rest of his life because of what happened that day.
In my opinion the Dodgers organization needs to man up, and take responsibility for this incident. They need to show that by making sure Stow and his family never have to pay one penny towards his medical bills, and they need to realize that because of his injuries Bryan Stow will most likely never be able to provide for his family like he would have if the incident never happened.
The Los Angeles Dodgers should settle this case as soon as possible out of court. I'm sure they could do it in a way that the legal language would not make them responsible for every cut and scratch that future brawling fans might incur.
The team also needs to realize that stadium security needs to be higher from now on, not just for the rest of last season after the Stow incident.
Dodger fans—and fans from the opposing teams—should feel safe going to Dodger Stadium and cheering their team on while wearing their team's jersey, no matter what that team is.