Notre Dame Football: Which Fighting Irish Starters Will Step Up Next Season?
Jonathan Daniel/Getty Images

The Notre Dame Fighting Irish are going through some major changes, and before their Sept. 1 game in Dublin, Ireland against Navy, the team will need to settle a few things.
The departure of key starters on both sides of the ball leaves a number of positions up for grabs, and the Irish will find out soon enough who is going to step up in their absence.
Two cornerbacks, an outside linebacker, a safety, two offensive lineman, a defensive end, a co-starter at running back and a star wide receiver are all leaving their starting jobs as they look at life after Notre Dame (that doesn't include players yet to decide upon their return for a fifth year).
As fans can imagine, that is a lot of production to make up for. Some of that production will come from new faces, but some will also come from players who started last season.
So, which starters will pick up their game in 2012?
Begin Slideshow

»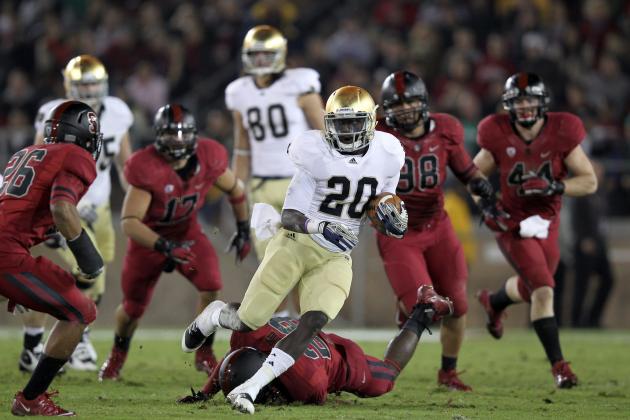 Ezra Shaw/Getty Images

Cierre Wood had a solid season for the Fighting Irish in 2011.
He finished the year rushing for 1,102 yards and nine touchdowns with a 5.1 yard per carry average while sharing carries with Jonas Gray.
However, Wood's play dropped off in the last two games of the season after Gray went down with injury against Boston College and missed both the remaining contests (granted Wood faced more difficult competition).
Against Boston College, Wood average just 3.6 yards per carry. He averaged 3.4 yards per attempt versus Stanford and 3.3 against Florida State.
Wood is still young and hasn't fully developed into the runner he will become. He has been on the team for three years, but he saw the field for the first time in 2010.
Since his first year, Wood has learned to slow down and follow his blocker's lead, and the California product has evolved into a dependable blocker (compared to his first year when he struggled in both areas).
The youngster has gotten some criticism from fans for dancing around too much (compared to Gray's one cut approach), but Wood has the capability of breaking a long run any time he touches the ball.
Wood's progression should continue in 2012. He might have Theo Riddick playing behind him, but the depth chart is still up in the air. Wood could have a number of relatively inexperienced runners backing him up, and if he does, Wood will shoulder the load of the rushing offense.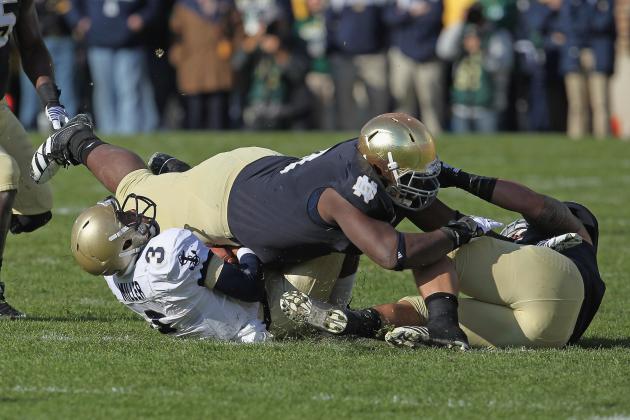 Jonathan Daniel/Getty Images

Fans can expect big seasons out of the Notre Dame defensive ends. Aaron Lynch and Stephon Tuitt are going to develop into unstoppable forces. They showed signs of dominance throughout the year, and that will continue.
If Kapron Lewis Moore returns, he will use his immense talent and wisdom to have another strong season for the Irish as well (he was playing fantastically until his injury against USC).
But one player who will improve by leaps and bounds is Louis Nix.
The jovial big man made his presence felt in 2011. Nix got in shape before the season began and did a spectacular job plugging up the center of the defensive line. Nix's conditioning allowed him to play many more snaps than Brian Kelly and Bob Diaco anticipated.
This season, Nix will again have the luxury of playing alongside Lynch, Tuitt and possibly Lewis-Moore, which means he won't be facing double teams (and if he does Manti Te'o will be blitzing quite a bit).
Sean Cwynar won't be returning, and after another offseason of intense workouts, Nix will be expected to play even more.
A wild card like Tyler Stockton or even Sheldon Day could provide quality minutes, but Irish fans will be seeing a lot of Nix next season.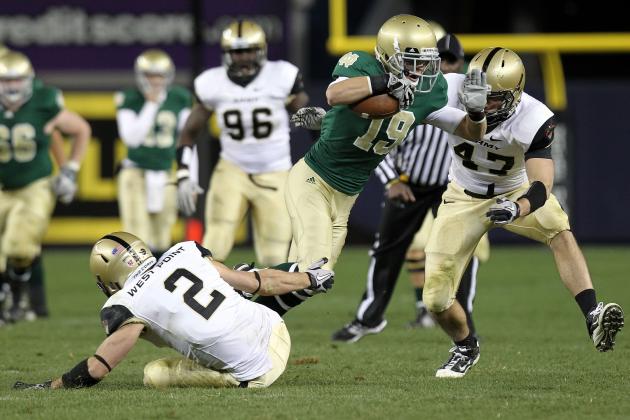 Nick Laham/Getty Images

Robby Toma rarely started for the Irish in 2011. In fact, he rarely played, but the 5'9" wideout proved his worth when he did see the field.
He finished the season with 19 receptions for 207 yards and a touchdown. Those statistics should improve drastically in 2012.
T.J. Jones and Theo Riddick played second fiddle to Michael Floyd last season. It is no secret that Floyd's departure leaves a enormous void in the Irish offense.
While the return of Tyler Eifert gives whichever quarterback is starting a go-to guy, Brian Kelly will likely use a by-committee approach.
Now that Toma has shown he can be an huge asset to the team, he will certainly be in the mix.
Toma has great hands and quickness, and will be the prime candidate to start as the slot receiver for the Notre Dame going into next season.
Tome certainly isn't an imposing presence, but he does catch just about everything that is thrown in his direction.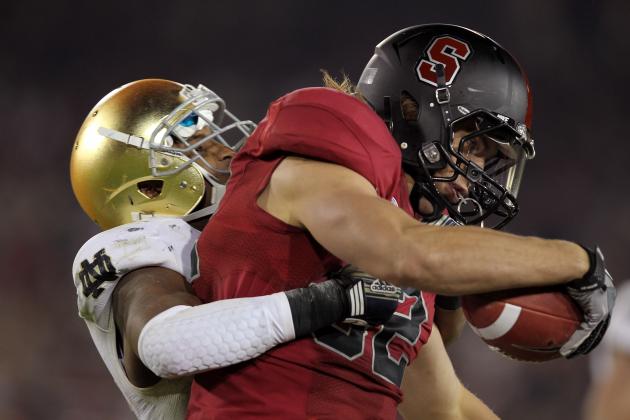 Ezra Shaw/Getty Images

Good things always seem to happen whenever Jamoris Slaughter is on the field, and with the departure of Harrison Smith, Slaughter will be on the field for nearly every down in 2012.
Of course, he would have to decide to return for a fifth year.
Slaughter will bring a confidence that the Irish secondary needs.
His versatility allows him to move around to different positions. He has played safety, cornerback and linebacker in his time with the Irish, but with a lack of experience at secondary, he is likely to stay at safety alongside Zeke Motta.
Slaughter is a hard-hitting player that can cover vast amounts of space to make a play on the ball.
If he returns, he will rack up big numbers next year, and don't be surprised if Slaughter is tagged as one of the team's captains because of his leadership qualities and importance to the team.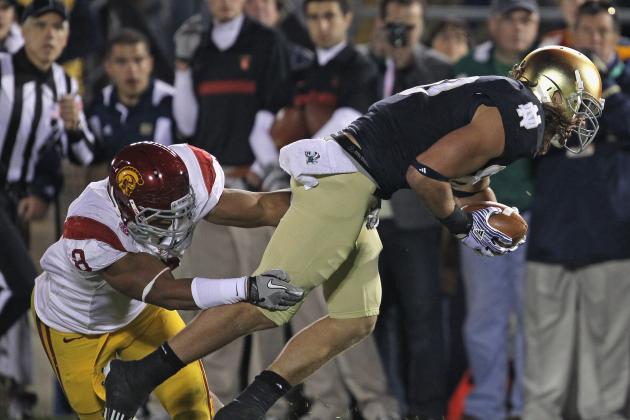 Jonathan Daniel/Getty Images

The news that Tyler EIfert was returning for his senior season must have made Brian Kelly smile ear to ear.
With his return, the Irish avoided losing both of their top two receivers from last year (Eifert was second only to Michael Floyd).
Eifert had 63 receptions for 803 yards and five touchdowns in 2011 and was second on the team in all three categories.
I fully expect Brian Kelly to take advantage of a plethora of wide receivers in 2012, but look for Eifert to have an even bigger role in the Notre Dame offense.
Eifert is a tough cover at 6'6", 249 pounds. He is faster than most linebackers, and he is too big for defensive backs. Eifert also has fantastic hands and leaping ability which makes him a threat even when he sees double coverage.
While Eifert would have been selected in the first few rounds of the 2012 NFL draft, he is going to try to improve his draft stock next season. Eifert is an immense talent, and he could end up leading all tight ends in receiving yards if all goes as planned.