View from the Victory, Volume 16: Postseason Hopes for Melbourne Fading Fast
February 4, 2012

Robert Cianflone/Getty Images

If Jim Magillton's Melbourne Victory do not make the Hyundai A-League Finals Series, the inability to hold on to leads will be the main reason.
All season, Melbourne have proven to be inept at maintaining the advantage in critical matches. Wednesday night's match against Gold Coast United was just another example of the issues surrounding the club's lack of defense.
A second-half goal from Harry Kewell was not enough as they gave away an equalizer in the third minute of second-half stoppage time consigned the Victory to a 1-1 draw.
"That was unacceptable. It's disgusting," a visibly upset Kewell told The Australian afterwards. "It happens week in week out. It's just disgusting. I am sure the riot act will be read in the dressing room."
Up next for Melbourne was one final meeting with in-city rivals Melbourne Heart.
"Both teams are not in good form, we're not getting the results we need, and this game's just bigger than three points," said Heart's Clint Bolton to Guy Hand of the Sydney Morning Herald. "This derby, it's the biggest atmosphere in the A-League at the moment.
"If you get on top in the big games, it's like a final. You win a final, it just gives you that massive boost."
Unfortunately, for either side, it felt more like a draw. As in, a scoreless draw.
"I'm pleased. When you're down to 10 men and your back's against the wall, we showed grit, determination, all the characteristics you need," Magilton told Matt Windley of the Melbourne Herald Sun. "They dug in for one another, they showed a great togetherness to dig out a result.
"So, they're positives for me, they're real positives, and we need to just build on this, we need to carry this through. I think it's the first clean sheet in (14 games) so that was great."
Up next for Victory is a match with the Central Coast Mariners. Kickoff at AAMI Park is scheduled for Feb. 10 at 8 p.m. AEST and will be televised by Fox Sports 1.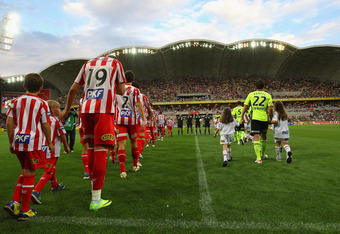 Robert Cianflone/Getty Images