Leafs Trade Speculation: LA Kings Show Interest in Kulemin and MacArthur
February 4, 2012

Claus Andersen/Getty Images
Here we go again. More NHL trade speculation involving the Toronto Maple Leafs.
Today, TSN analyst Darren Dreger reported that the Los Angeles Kings are believed to be interested in wingers Nikolai Kulemin and Clarke MacArthur.
MacArthur has posted 16 goals and 11 helpers for a total of 27 points in 44 games this season for the eighth-place Toronto Maple Leafs. However, the 26-year-old winger has elevated his play as of late, recording six points in the past three games.
On the other hand, Nikolai Kulemin has been having a slumping season, only putting up five goals along with 18 assists for a total of 23 points in 51 games. Kulemin has been contributing with secondary scoring for the Leafs, as he has put up five points in the past three games.
In the meantime, Kulemin has displayed his defensive prowess with a plus/minus rating of plus-four. He has also been recording minutes on the penalty kill, night in and night out.
The Leafs' penalty kill has stepped up drastically, being the only team in the NHL to kill off all their penalties so far in 2012.
Dreger also reported that the two teams have been attending each other's games as of late, to see who could possibly help out their respective teams for the final push.
The Los Angeles Kings have seemingly noticed the elevated play of MacArthur and Kulemin during these scouting assignments.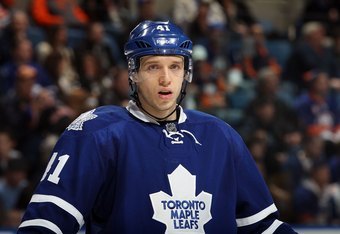 Jim McIsaac/Getty Images
The Kings have said that they are in need of another top-six forward. However, the Leafs are also in need of a top-six forward, with one exception. The Leafs will be looking for a forward with size, as the Kings have those assets.
The Leafs would absolutely love a big center such as Anze Kopitar, who is 6'3" and 225 lbs. However, the chances of acquiring the big center are slim due to the LA Kings also pushing for the playoffs.
Other wingers that Leafs could possibly show interest in are wingers Dustin Penner and Dustin Brown. These wingers have not been playing up to their potential this season, so a change in scenery may help them out.
Yet again, these are just trade speculations, not even rumours.
Dreger also reported that no trade was imminent in the front office for the Toronto Maple Leafs.
As general managers work the phones prior to trade deadline day on February 27th, there is still lots of hockey left to play, and each team will be looking to focus on their specific needs.
For the Toronto Maple Leafs and the Los Angeles Kings, both teams will be looking for consistent production from their players to make the 2012 Stanley Cup Playoffs.