Super Bowl 2012: Mathias Kiwanuka and Underrated Players Who Will Impact Outcome
February 4, 2012

Rich Schultz/Getty Images
Winning a Super Bowl takes a collective team effort. Having franchise quarterbacks and future Hall of Famers doesn't guarantee success in the biggest football game of the year.
There are underrated players on both sides of the ball for the New York Giants and New England Patriots that will impact the outcome of Super Bowl XLVI. Here are three that will have the most impact.
Mathias Kiwanuka
We have heard that the front four of the Giants is going to make Tom Brady's life a misery on Sunday. On the contrary, we have also heard that Brady and the Patriots have what it takes to get the job done against the pass rush.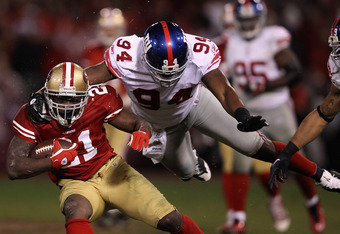 Ezra Shaw/Getty Images
What we don't hear, or, most importantly, who we don't hear about, is Mathias Kiwanuka of the Giants. He has 84 tackles, one forced fumble and one interception on the season while playing out of the spotlight because of his defensive comrades.
The Giants are going to need stability from their defense, and Kiwanuka brings it with his consistent play. He has been arguably their most important player all season long.
So while you watch what's going on in the trenches or in the secondary, make sure you keep your eyes on Kiwanuka because he's definitely one of the most underrated players in this contest.
How about New England coming out and running the ball with BenJarvus Green-Ellis? With all this talk about Brady dropping back 40 or 50 times, the rushing attack may hold the key to a Super Bowl victory.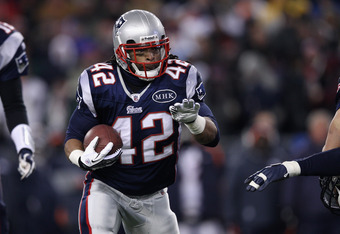 Elsa/Getty Images
In 181 carries, Green-Ellis has rushed for 667 yards and 11 touchdowns this season.
Green-Ellis is coming off a 2010 campaign where he rushed for 1,008 yards and 13 touchdowns. He's plenty capable of being able to handle his own on the field.
In terms of being underrated, Green-Ellis' talent isn't fully being used in the Patriots' system. Who knows how good he could potentially be in another uniform?
Kenny Phillips
Kenny Phillips of the Giants recorded 82 tackles and four interceptions this season in the secondary. He also chimed in with a forced fumble and 11 passes defended.
Jim Rogash/Getty Images
In terms of playing major roles throughout the course of a game, Phillips has a way of being involved in the majority of plays per game.
With Brady's ability to pass the ball to multiple receivers and tight ends, Phillips will be asked to do more than he's accustomed to. He may be asked to check Aaron Hernandez, Rob Gronkowski, Wes Welker and a host of others if need be.
Regardless of who is victorious, Phillips will impact the outcome of the game in a positive or negative light.