Indiana Hoosiers Gameday: An Up-Close Look at the Purdue Boilermakers
February 4, 2012

Andy Lyons/Getty Images
Tonight, at 6:00 PM CST, the Indiana Hoosiers (17-6, 5-6 BIG) will take on the Purdue Boilermakers (15-7, 5-4 BIG) in West Lafayette.
In my game-day previews, I try to provide a thoughtful, unbiased analysis of the opponent and how Indiana matches up. For my Purdue audience, I am going to do my best to stick to that. But I don't have editors or proofreaders, so apologies in advance if my subconscious gets the best of me.
Make no mistake, this is a significant game for both teams. Purdue is looking for their first win against a top-25 opponent this season. Meanwhile, Indiana's Tom Crean is still looking for that elusive BIG road win against a team not named Penn State since he joined the Hoosiers. On top of that, neither team is a lock to make the NCAA Tournament at this time, though Purdue probably has more at stake from that perspective in this game.
Because it's unclear what lineup Purdue coach Matt Painter is going to begin the game with, let's go over the two most likely scenarios.
Earlier in the week, Painter said he was going to go small to start the game against the Hoosiers. This would mean a starting lineup of Robbie Hummel, Lewis Jackson, Ryne Smith, D.J. Byrd and Kelsey Barlow (or Terone Johnson). It appears as though this would be more for an offensive boost than it would from a defensive perspective from Purdue.
If he does go small, Painter is banking on Indiana's Cody Zeller having to chase around a smaller opponent, thus tiring him out and making him less effective on offense. In that scenario, Tom Crean would be better off with Christian Watford on Hummel and sticking Zeller on Kelsey Barlow. Zeller can sag off Barlow 5-6 feet and dare him to shoot all night long; his 27.6 percent shooting from beyond the arc would suggest that's a good idea.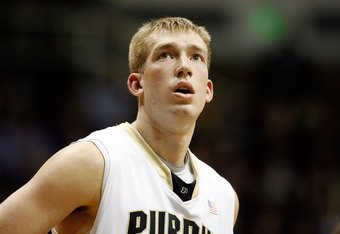 Andy Lyons/Getty Images
The other line-up scenario for Purdue is starting 6'9" sophomore Travis Carroll in place of Kelsey Barlow or Terone Johnson. This gives them a little more overall size on defense so that they can try and limit Indiana in the paint. In this scenario, Watford would remain on Hummel and Zeller would match up with Carroll.
Despite the fact that Robbie Hummel leads his team in scoring at 15.2 points per game, he's not the biggest threat on this Purdue offense.
No disrespect to Robbie—I would actually like to see him succeed. But if you've watched him play this year, you would see that he's a shell of his former self. The back-to-back knee surgeries have taken away any of the mobility and explosiveness he once had. His cuts aren't as sharp and he can't get the same lift on his shot that he had before the surgeries, which would help explain his lackluster 39.5% field goal percentage this season.
If Indiana is going to win this game, it starts and stops with their Achilles' heel the entire season: keeping the point guard out of the paint. And it just so happens that Purdue's Lewis Jackson is one of the Big Ten's best in this regard.
Indiana's Victor Oladipo has started the last couple of games on the bench, but I anticipate that changing tonight. Oladipo is the Hoosiers' only chance at keeping Jackson out of the lane. If he's not up to the challenge, Ryne Smith and D.J. Byrd are going to have a lot of open looks from three-point range, which could mean a long night for Indiana if they're hot.
Purdue is notorious for having one of the best perimeter defenses in the BIG. That defense becomes even better in Mackey Arena, where the hand-check call is non-existent. It is not known yet if Verdell Jones III will play in this game due to a shoulder injury, but he and Jordan Hulls have had all kinds of problems with physical pressure defense (see the Michigan State game). The Hoosiers' guards need to keep turnovers to a bare minimum. If they can do that, Purdue should struggle to score in the half-court offense.
For the Purdue fans who said they weren't upset when Cody Zeller kept them off of his final list, suggesting that "We don't need him because we have Travis Carroll" (yes, I'm being serious, as laughable as it is), you are going to see how ridiculous that sounded after tonight's game. Indiana's all-everything freshman could be poised for a career game against Purdue due to their lack of size.
The one caveat to that is his teammates need to be able to get him the ball, which has been a big problem for the Hoosiers this season. If Indiana can deal with the pressure defense and get the ball into Zeller without turning the ball over, Purdue will have no choice but to collapse extra defenders onto him, opening up the entire playbook for the Hoosiers offensively. I expect Zeller and Christian Watford to have big nights offensively for Indiana.
After the message Tom Crean sent to his team following the Michigan game on Wednesday night, calling his starting lineup "a joke" in the post-game press conference, I would be shocked if the Hoosiers had another slow start tonight. Despite the fact that it will likely be the most hostile environment Indiana plays in this season, don't expect to see the "deer-in-the-headlights" expressions in this game.
Neither team is going to run away with this game; it's going to go right down to the wire. Whichever team is able to make the handful of big plays down the stretch is the team that will walk away with the win. Can Indiana finally be that team tonight?
For more articles by Dan, visit Hoosier Cafe