Arsenal Throttle Blackburn, Continue to Show Why Fans Are so Frustrated
September 2, 2016
Paul Gilham/Getty Images
Arsenal's 7-1 thrashing of Blackburn was everything Gunners supporters have come to expect in recent months: exhilarating, dominating and yet all so frustrating as well. 
Right after the 31st minute I caught myself counting the game as a draw before Theo Walcott worked his magic. It has come to be expected with recent form and past history that a moment like that from Morten Pederson  would break the spirit of Arsenal. 
However, the six-goal response which followed was both a thing of beauty and hope while showing exactly why Arsenal is frustrating supporters at this time. 
To the good first: Arsenal came out and played Arsenal football. Arsenal held 68 percent of the possession and opened the second half with a brilliant display of passing that wore out the ten man Rovers squad. 
Even when Blackburn was at equal strength, Robin Van Persie showed why he is deserving to be named footballer of the year. He found himself in perfect position all over the pitch and made Blackburn pay dearly. 
Alex Oxlade-Chamberlain showed off his budding potential with a two-goal performance that will be remembered forever if he becomes the star Arsenal faithful and coaches think he can be. Early on, he showed his inexperience with an ill advised shot and a few missed passes, but his goals and overall game were outstanding. 
Alex Song and Mikel Arteta played magnificent in the middle, Arteta being rewarded with a goal for his efforts. Song really impressed as he created plays and opportunities for the Gunners' attack. 
Once Theirry Henry found his goal late in the contest, there was little need for Arsenal to even be attacked, and yet his goal was the result of a great unselfish play by Van Persie to Henry, the new legend setting up the old.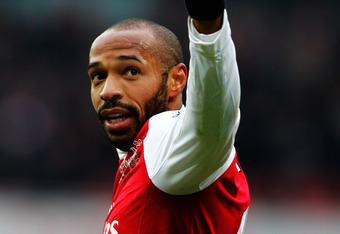 Paul Gilham/Getty Images
And yet this kind of match can be so frustrating for supporters as well. 
Yes the season is long and no match is the same, even against like opponents but it was the style and mentality that Arsenal started the game with that has been lacking in so many contests. 
Arsenal came out early ready to impose their game on Blackburn and even though the Rovers may not be quality competition, neither is Bolton who Arsenal drew with. 
Arsenal does not need to decimate their opponents like this week in and week out. Rather they need to continue to play with this ferocity and have young players like Ox step up in big matches.
All of this falls on Arsene Wenger, who may have calmed the critics this week, but next week's match against Sunderland could very well bring them back louder than ever.