Philadelphia Phillies: Biggest Strength/Weakness of Every Roster Player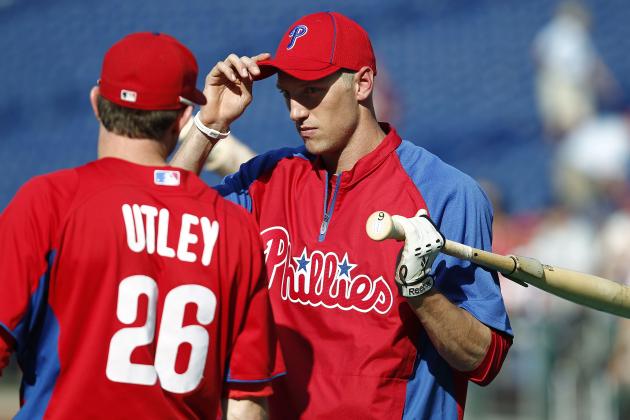 Jeff Zelevansky/Getty Images

Baseball is a funny game in the sense that players actually have an opportunity to be "perfect" on any given day. Just ask Philadelphia Phillies ace Roy Halladay about being perfect.
More often than not, however, no one is perfect. Baseball players are human beings, and human beings have their strengths and weaknesses. Unlike other human beings, though, baseball players live their lives under a microscope.
As far as the game of baseball is concerned, their strengths and weaknesses are made available to the public. Which players can hit for contact? Which players can hit for power? Which players can't hit at all?
Over baseball's history, statistics have been developed to keep track of who does what well. Organizations pay players more money on what their strengths are, but their weakness subtract from their overall value.
So with spring training right around the corner, what better time to take a look at the greatest strength and weakness of each player on the Phillies roster? Who needs to work hard during spring training, and who needs to hone their skills?
For up-to-the-minute Phillies information, check out Greg's blog, The Phillies Phactor.
Begin Slideshow

»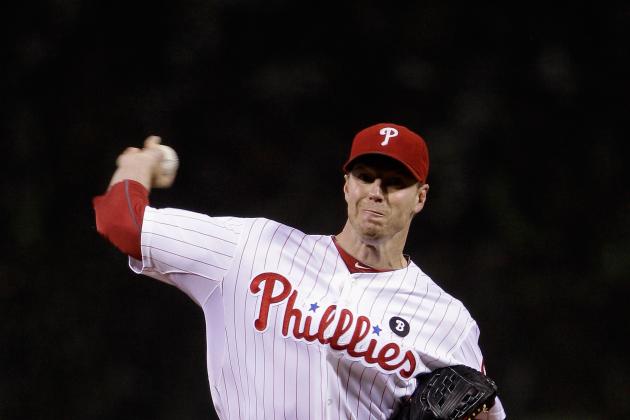 Pool/Getty Images

Strength: Health/Physical Conditioning
Roy Halladay is the type of player whose strengths far outweigh his weaknesses, so choosing one isn't easy. We know what Halladay can do on the field, so being able to make all of his starts and keep the Phillies in ball games is "Doc's" biggest strength, and with a training regiment that is second to none, that shouldn't be much of a problem.
Weakness: First Inning Struggles
Now I'm nitpicking.
There was a good deal made about Halladay's "struggles" in the first inning last season, but even that "weakness" was generally overstated. Through pitches 1-15, the opposition posted their highest OPS against him at .708, which in all honestly, isn't too shabby.
If we know anything about Halladay, he'll have a plan of attack against that weakness in 2012.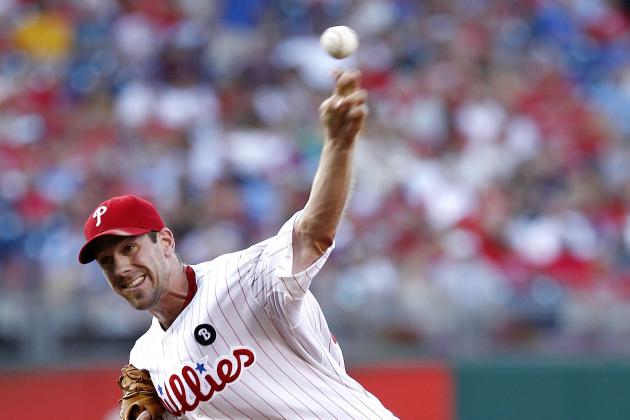 Jeff Zelevansky/Getty Images

Strength: Command/Control
Simply put, when Cliff Lee has command of all of the pitches in his repertoire, he's about as close to "unbeatable" as pitchers come. He may not have the most overpowering fastball, but when he's locating it on either side of the plate, he's tough to hit.
Then he'll throw in that change-up, curveball or cutter and show you why he has a Cy Young Award in his trophy case.
"Fan support" was a close second.
Weakness: Inconsistency
Once again, Lee is the type of player you have to scrape the bottom of the barrel to find a weakness for.
A quick glance at Lee's splits in 2011 show that he had his good months and his bad months, literally in that order, and then repeat. His ERAs by month, from April to September, were: 4.18, 3.78, 0.21, 4.91, 0.45, 1.42.
Given the end results, the Phillies aren't too shaken by this trend, but it would be nice to see some more of those low numbers across the board.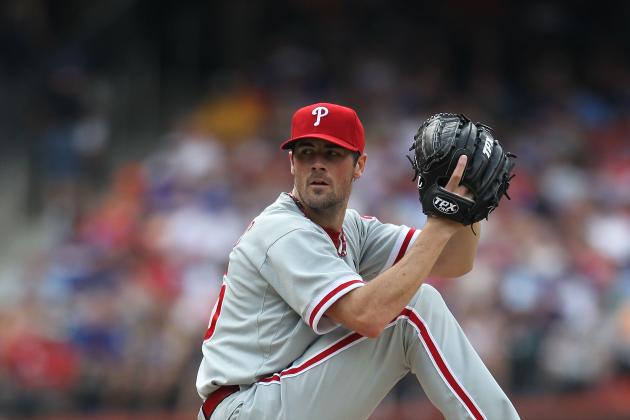 Nick Laham/Getty Images

Strength: The Change-Up
Cole Hamels has one of the best, if not the best, change-ups in the game of baseball.
2011 was a different kind of season for the lefty in the sense that the addition of his cutter really helped the effectiveness of his change-up, if for no reason other than the fact that hitters had yet another pitch to deal with, and the statistics show that.
FanGraphs pitch values section has Hamels' change-up at an incredible 29.3.
Weakness: Health
With the two guys ahead of him in the starting rotation in mind, there's a reason all three of them are called "aces"—none of them have legitimate weaknesses.
After missing a couple of starts last season and undergoing a small surgery in the off-season, Hamels' greatest weakness has to be the health of his left arm and shoulder, which has sent him to the disabled list a couple of times in the past.
With guys like Jamie Moyer and Roy Halladay having an obvious impact on his approach to the game, there isn't much not to like about Hamels.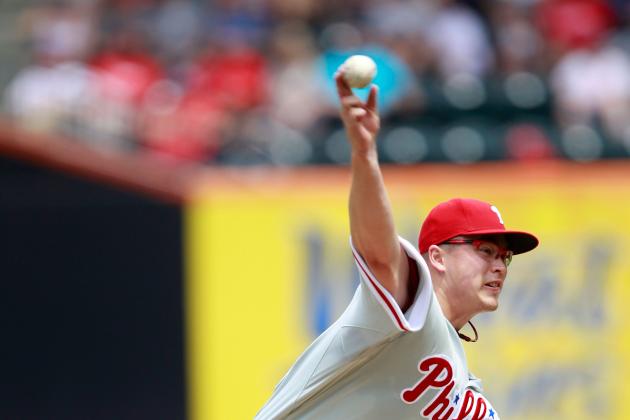 Chris Trotman/Getty Images

Strength: A Surprising, Two-Seam Fastball
The development of Vance Worley's two-seam fastball made him a legitimate starting pitcher in 2011. The opposition simply couldn't get handle on it, and more often than not, couldn't hit because of the simple fact that they couldn't pull the trigger fast enough to swing at it, and instead, watched it run right back over the plate.
The two-seam fastball is the main reason I'm not so sure the weakness I'm about to list is a weakness at all.
Weakness: Sophomore Regression
A lot of Worley's advanced statistics indicate he's in for some regression in 2012, and fans shouldn't be surprised to see him hit a bit of a sophomore slump in the least bit.
However, Worley does have a few positives working in his favor. First and foremost, he'll head into spring training well conditioned and ready to work as a starting pitcher.
That two-seam fastball can't hurt either.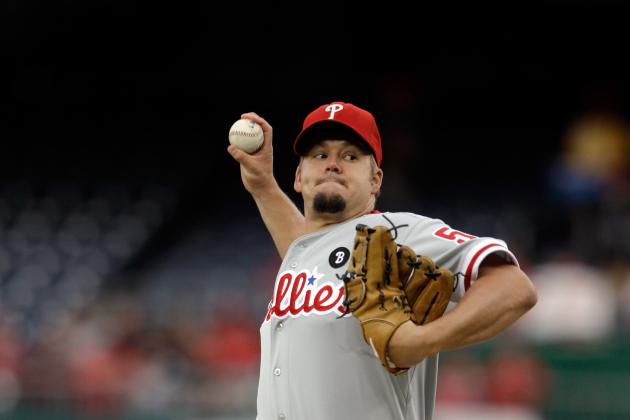 Rob Carr/Getty Images

Strength: Improved Repertoire
When Joe Blanton returned to the mound last season, he displayed a very different repertoire of pitches than he had in the past. With lingering elbow issues in his mind, Blanton all but abandoned his curveball and threw more sinkers than he ever had before.
It worked.
Though his peripheral numbers suggested he struggled, a lot of Blanton's advanced statistics went up across the board. His strikeouts jumped and walks dropped. His ground ball rate climbed extensively. Why? The sinker.
Unable to use his curveball effectively, Blanton threw a lot of sinkers, and they were working. As a result, he reduced the rate of his straight fastball and produced more ground balls to a much better result.
Weakness: Health
If you take Blanton for what he is—a back-of-the-rotation starter that can log a lot of innings, if healthy—he's not a bad guy to have in your rotation.
That said, if Blanton can't stay healthy, he really is nothing more than a burden on the payroll. He may not be able to live up to the standard of the "three aces," but there is no reason to believe that Blanton can't have a significant contribution on the rotation.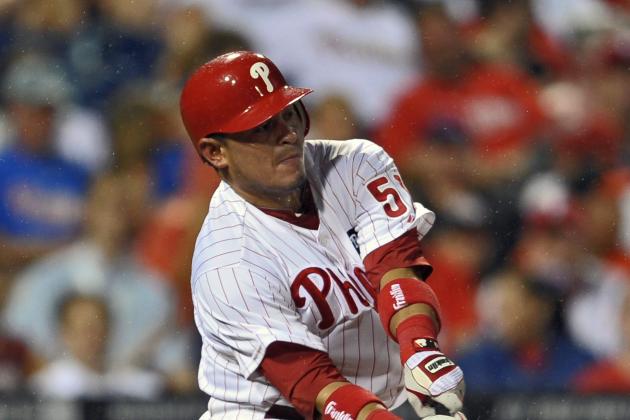 Drew Hallowell/Getty Images

Strength: Game Calling/Defensive Ability
After tying up a ton of money in their pitching staff, the Phillies are going to rely on Carlos Ruiz to make sure that staff lives up to its potential. That shouldn't be much of a challenge for Ruiz, who has built a reputation for himself as one of the best defensive catchers in the game, especially as far as calling a game is concerned.
Weakness: Controlling the Running Game
You know what you're getting out of Ruiz offensively, so there isn't much to nitpick about there.
One of the things that I found kind of surprising when combing through his statistics was the jump in stolen bases allowed in 2011. After allowing just 50 stolen bases in 2010, that number jumped all the way to 77 in 2011, though he did catch 23 runners.
Controlling the running game a bit more is something the Phillies as a team can work on in 2012.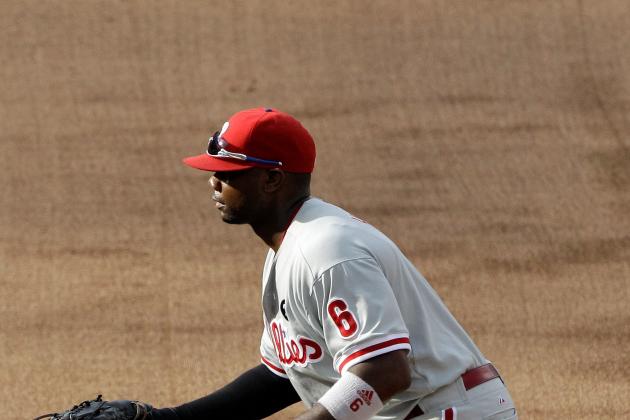 Rob Carr/Getty Images

Strength: Strength
Ryan Howard's greatest strength is literally his strength. Though his power numbers have declined over the last couple of seasons, there is reason to believe that several versions of a foot injury had a lot to do with that.
Now recovering from that torn Achilles tendon, it will be interesting to see just where Howard's power is when he returns to the baseball diamond. If he can't anchor the middle of the order, the Phillies will be in some serious trouble.
Weakness: Struggles Against Left-Handed Pitching
Howard is quickly becoming a platoon player, and I say that only somewhat in jest.
A quick look at his splits from the 2011 season show a disturbing trend. Howard posted an OPS of .921 with 30 home runs. He struggled mightily against lefties, posting an OPS of just .631 and hitting just three home runs.
That will need to change if Howard has any hope of even coming close to living up to his contract.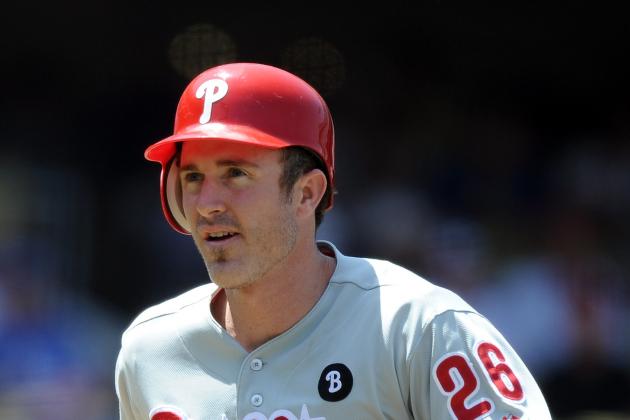 Harry How/Getty Images

Strength: Leadership
Chase Utley is the type of player that does everything well, so pinning down a single trait to call his greatest strength is a bit of a challenge. We'll tentatively call his greatest strength his leadership.
Now, Utley isn't exactly your average clubhouse leader, but as far as the Phillies are concerned, his presence makes a world of difference. He leads by example and won't hesitate to get on your case if you're slacking off.
There's no doubt that when Utley is on the field, the Phillies are a better team.
Weakness: Health/Splits Versus Lefties
Health is the obvious weakness here. Simply put, he needs to stay healthy to be effective, and the Phillies desperately need him to be effective.
Much like Ryan Howard before him, however, when Utley's healthy, he needs to pick up the pace against left-handed pitching. In 2011, he posted an OPS of just .607 an hit two home runs.
The Phillies are going to need their three and four-hole hitters to be more productive against lefties in 2012.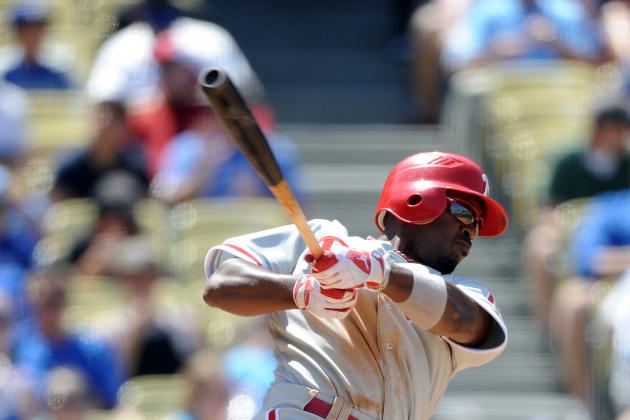 Harry How/Getty Images

Strength: Above-Average Defense
With a pitching staff full of pitchers that like to induce the ground ball, the Phillies knew that having a shortstop with Jimmy Rollins' level of defense was a priority. He still has excellent range and a strong arm, but defense is far from Rollins' only strength.
He is a much better hitter than any of the Phillies' other options and one of the clubhouse's leading voices. His greatest strength is defense, but leadership was a close second, and offense was a close third.
Weakness: Questionable Health/Need for New Approach as Lead-Off Hitter
The 2011 season went a long way in easing the collective mind of the Phillies organization, who questioned Rollins' health. He appeared in 142 games, the most since 2009, but with the 2010 season serving as a constant reminder, the Phillies are reminded that Rollins must keep himself in great shape to stay healthy.
A second weakness is Rollins' approach to the lead-off position in the lineup. Simply put, he's not your typical lead-off hitter. Rollins' OBP and walk-rate are kind of low for a lead-off hitter, and he has a tendency to swing at pitches early in the count.
If Rollins is sincere about staying in that spot in the lineup, his approach needs a few changes.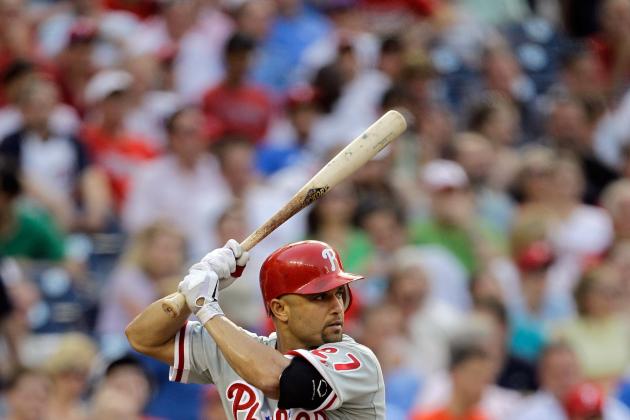 Rob Carr/Getty Images

Strength: Defense/Contact
When the Phillies signed Placido Polanco before the 2010 season, it was somewhat of a surprise move because he had spent most of his career as a second baseman, and the Phillies wanted him to play third base because of his defense.
The last two seasons have shown that was a wise decision.
Though 2011 was a down season for Polanco at the plate, he proved to be one of the best defensive third basemen in the game, posting a UZR/150 of 16.7 and winning the National Leauge's Gold Glove award.
A close second here was Polanco's proficiency for making contact at the plate. Though he struggled offensively, Polanco's strikeout rate remained low, and if I had to pick a bounce-back candidate for 2012, Polanco would definitely get a lot of consideration.
Weakness: Health
This is beginning to seem like a common theme for the Phillies, because it is.
After dealing with several injuries in the past to his back and elbow, Polanco had a double sports hernia repaired over the offseason, and though he is said to be good to go for the beginning of spring training, the chances of him spending an entire season on the field have become slim to none.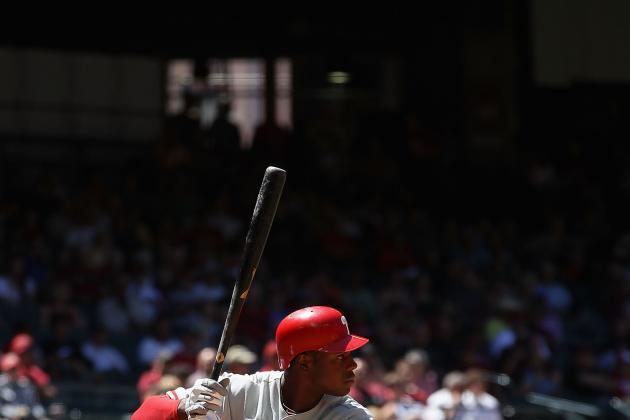 Christian Petersen/Getty Images

Strength: The Platoon
John Mayberry, Jr. isn't necessarily at a disadvantage against right-handed pitching, but there is no question that he is far better versus lefties. During the 2011 season, Mayberry posted an OPS of .953 and hit eight home runs against left-handed pitching, proving to be one of the Phillies' best hitters against lefties.
Weakness: The Platoon?
On one hand, platooning Mayberry with Laynce Nix creates excellent split statistics. On the other hand, however, there is an argument to be made that the Phillies are being a bit overprotective of Mayberry, who is a more than capable hitter against right-handed pitching.
There won't always be a platoon in left field.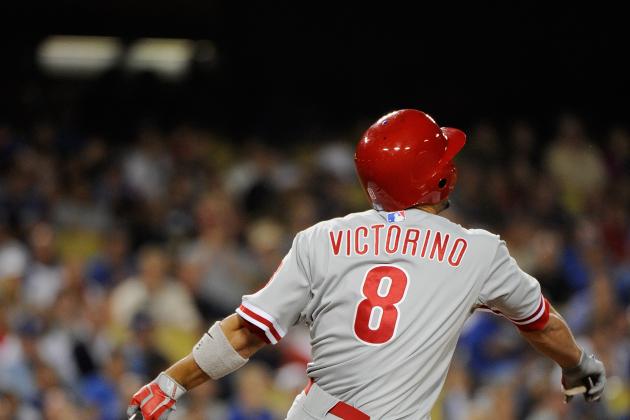 Kevork Djansezian/Getty Images

Strength: Well-Balanced Attack
Shane Victorino is the type of player that excels in all aspects of the game to some extent. In the last couple of seasons alone, he has shown the ability to hit for both average and power, steal bases, work the count, not strike out and play excellent defense in center field.
In fact, I think we'll call this "well-balanced attack" Victorino's greatest strength.
Weakness: Need for Improvement Versus Right-Handed Pitching
I'm nitpicking a bit here. Victorino was actually pretty good against right-handed pitching in 2011.
"The Flyin' Hawaiian" posted an OPS of .787 against right-handed hurlers in 2011 and hit nine home runs, but really outdid himself against left-handed pitching, when he posted an OPS of 1.032 and hit eight home runs and found managers turning him around to hit right-handed late in ball games.
It's really not even a weakness, but Victorino doesn't have many flaws.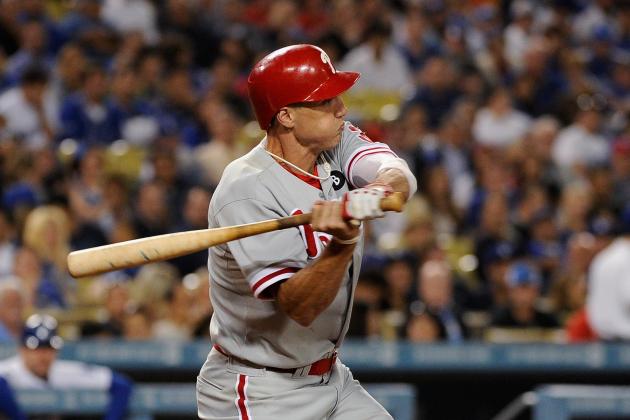 Kevork Djansezian/Getty Images

Strength: A Full Season with the Phillies
It's kind of hard to pinpoint Hunter Pence's greatest strength after just a couple of months with the Phillies, but one point that is hard to deny is that after joining the Phillies at the trade deadline, Pence's numbers went through the roof.
In nearly 50 fewer games, Pence managed to match his home run total from his first half with the Houston Astros and posted an OPS of .954.
It'll be interesting to see what Pence's first full season with the Phillies looks like.
Weakness: Signs of Regression
A lot of advanced metrics believe that Pence is headed for regression in 2012, but he is an interesting case.
First and foremost, nothing the man does is "normal." He seems to feed off of energy and excitement and should be in for plenty of that next season. It's also hard to ignore the success he had with the Phillies.
With that being said, however, he did post an unsustainable BABIP of .361 last season.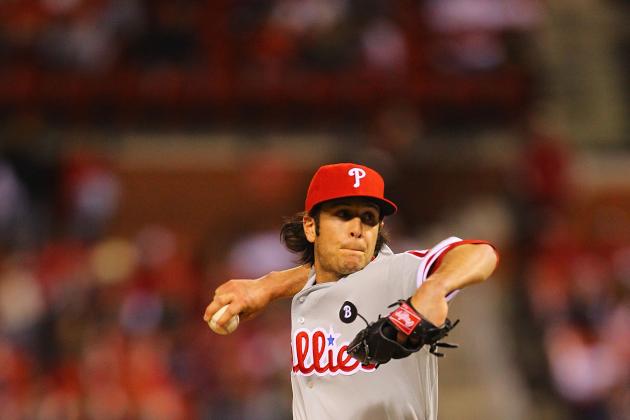 Dilip Vishwanat/Getty Images

Strength: Good Fastball/Effective Against Right-Handed Hitters
Truthfully, this spot on the roster could belong to any number of talented young arms in the Phillies system, but because Mike Stutes has the most experience with the MLB club, we'll tentatively pencil him in here.
When Stutes got the call last season, he immediately put his good fastball on display. It sat comfortably in the low to mid 90s, and FanGraphs valued it highly (10.3.)
Throwing that fastball with success helped Stutes to set up his secondary pitches, most often his slider. The fastball/slider combination is a repertoire that has worked well for relievers in the past, and Stutes is no different, as he was very tough against right-handed hitters.
Weakness: Command/Control
As the season progressed, it became very clear that commanding his pitches was going to be a problem for Stutes. He walked more than four batters per nine innings and found himself working out of the stretch far more often than he would have liked.
If he can reign in his command, there is plenty of upside for Stutes in the bullpen.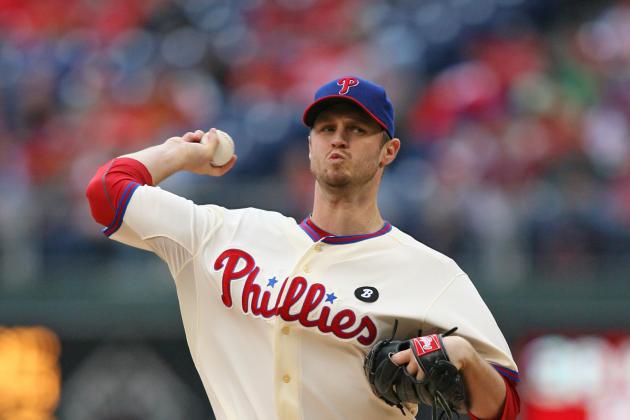 Hunter Martin/Getty Images

Strength: Versatility
Kyle Kendrick didn't have the best season in 2011, but his versatility in roles was something that the Phillies found very useful.
After bringing Cliff Lee back aboard during the offseason, Kendrick found himself in the bullpen, and Charlie Manuel found himself using the sinker-baller in many different roles. He appeared late in ball games and in long relief. When Roy Oswalt and Joe Blanton hit the disabled list, Kendrick jumped into the rotation.
The Phillies like his versatility, and Kendrick has performed well in this role.
Weakness: Lack of a Go-To Pitch
Kendrick's numbers have been less than impressive in recent seasons, and I think a lot of that has to do with the fact that Kendrick hasn't been able to find much success with any of his pitches.
He'll be pegged as a "sinker-baller" for as long as he's playing baseball, making more than half of his pitches sinkers in 2011, but with a ground-ball rate of 45.3 percent, you realize that it could be better.
You could also call this weakness a "lack of an out pitch," but the point is that if you're going to strike out less than five batters per nine innings, you better inducing ground balls at a high rate, and Kendrick is not.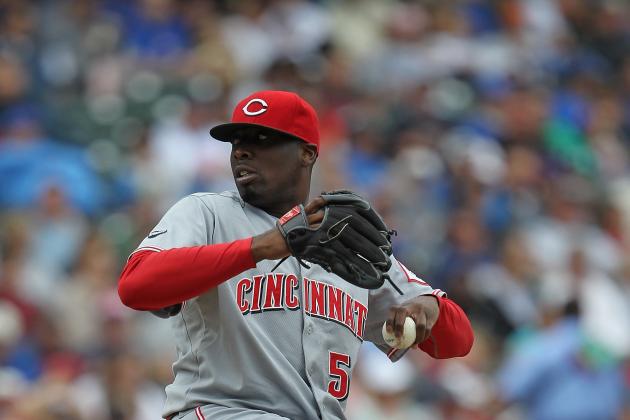 Jonathan Daniel/Getty Images

Strength: Effectiveness Against Left-Handed Hitters
The Phillies made somewhat of a surprising move by bringing Dontrelle Willis aboard because he isn't your typical left-handed specialist. In fact, the 2012 season will be Willis' first as a reliever.
However, the Phillies took a look at his numbers against left-handed hitters and knew that Willis was a potential diamond in the rough. His numbers against lefties were incredibly last season, as he held them to a .123 batting average and punched out 10 batters per every walk.
With a funky delivery from the left side, it isn't hard to see why Willis can give left-handed hitters fits, and no reason to believe he can't excel in this role for the Phillies.
Weakness: Limited Opportunities
With that being said, however, it should be noted that Willis should never be used against right-handed hitters.
Never.
He struggled mightily against right-handed hitters, as his walk rates ballooned, ground-ball rate dropped and line-drive rate increased.
Common sense says he should only be used against left-handed hitters, and that creates a lack of versatility in Charlie Manuel's bullpen.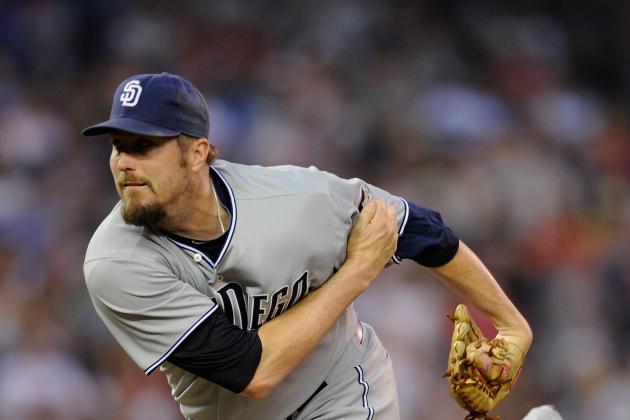 Hannah Foslien/Getty Images

Strength: Experience/Ground Ball Rate
The Phillies have been after Chad Qualls for quite a while now, and they were finally able to pick him up at the back end of the offseason, basically off of the scrap pile. The Phillies like him for a number of reasons.
First and foremost, he's a veteran reliever that could support a young bullpen, especially if Jose Contreras isn't ready to start the season or hits the disabled list at some point during the year.
He also has a very solid fastball/slider repertoire that produces a strong ground ball rate—something you can never go wrong with in Citizens Bank Park.
Weakness: Road Statistics
For some reason or another, Qualls hasn't been very good on the road throughout his career. He is the owner of a 4.40 career road ERA, and that will be something to watch during the regular season.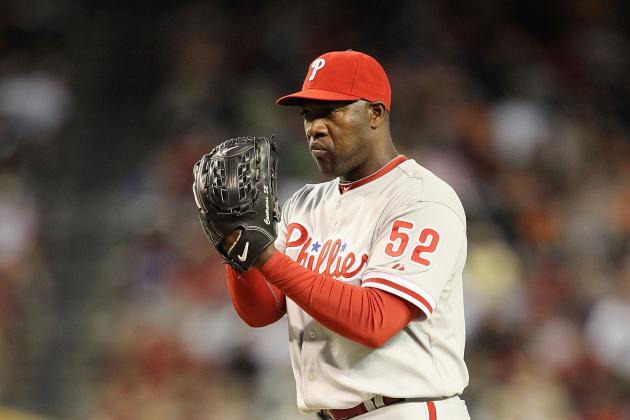 Christian Petersen/Getty Images

Strength: Closer's Mentality
Jose Contreras brings a lot to the table for the Phillies.
First and foremost, he is an experienced pitcher who has learned how to pitch in the MLB. Though the team signed veteran reliever Chad Qualls as insurance, having a veteran like Contreras at the back end of the bullpen to help ease along those young relievers is certainly a benefit.
Contreras' greatest strength, however, may be that "closer's mentality." He's not afraid to attack hitters and record outs, and for that reason alone, Charlie Manuel turned to him first when he needed a replacement closer last season.
Weakness: Health
Contreras is a very good reliever when he is healthy, but just how healthy he actually will be this season is still in question. After having exploratory surgery in the offseason, spring training should be a good barometer of what we can expect out of Contreras moving forward.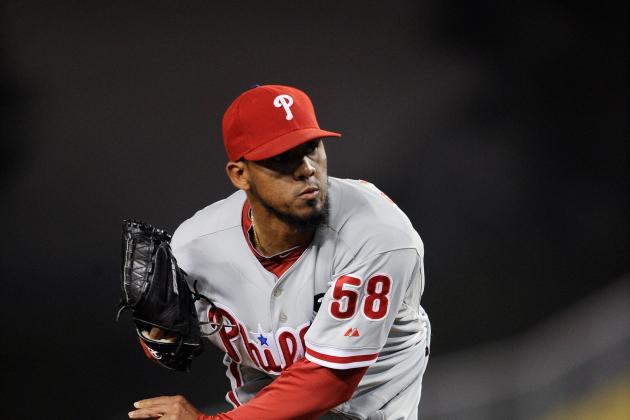 Kevork Djansezian/Getty Images

Strength: Dominating Repertoire
After watching him fail to develop a change-up, it was quite obvious that Antonio Bastardo's future was in the bullpen, and if the 2011 season was any indication, that isn't necessarily a bad thing.
For most of last season, Bastardo dominated hitters on both sides of the plate thanks in large part to a dominant fastball/slider repertoire. FanGraphs favors both of those pitches highly, giving his fastball an 8.8 mark and his slider a mark of 7.5.
Weakness: Late-Season Struggles
"Late-season struggles" is more of an umbrella topic than an actual weakness.
Bastardo struggled late in the year last year, and no one was quite able to put their finger on the reason. Was it because he threw a lot of innings early in the season? Was he tipping his pitches? Maybe he was just coming back down to earth.
One thing is certain: If the Bastardo's late-season struggles carry over into the 2012 season, the back-end of the Phillies bullpen may be in a bit of trouble.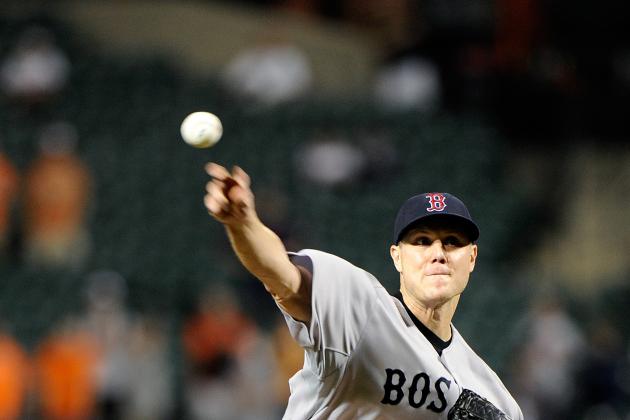 Greg Fiume/Getty Images

Strength: League Switch
Admittedly, I haven't seen Jonathan Papelbon pitch much first hand, and though statistics give us a lot of insight into what a pitcher is capable of, I'm not comfortable with making a lot of claims unless they've been given the "eye-test" as well.
If you prefer something with a bit more tangible evidence, Papelbon has a fastball with the potential to knock hitters right out of their shoes.
What I'm looking at as a strength for Papelbon heading into the season is a switch to the National League. Coming out of one of the most difficult divisions in baseball, pitching in the NL East won't necessarily be a cake walk, but a lot of baseball people believe that if you can pitch in the AL East, you can pitch anywhere.
For Papelbon, it's more like, "If you can dominate in the AL East, you can dominate anywhere."
The move to the NL worked well for Phillies pitchers like Roy Halladay and Cliff Lee, and I for one am interested to see what Papelbon can do in the National League.
Weakness: The Contract
The same caveat about not having seen Papelbon much with my own eyes applies here. For a tangible weakness, I'd warn that his walks per nine innings dropped significantly in 2011, and could balance out in 2012.
However, after signing a huge contract, especially for a reliever, over the winter, if Papelbon is unable to live up to that deal, he is going to be filleted by the Phillies fans. That usually doesn't turn out well.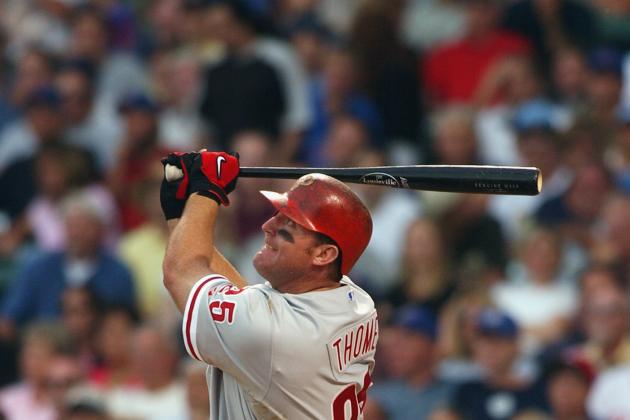 Jonathan Daniel/Getty Images

Strength: Presence
Jim Thome has been around this game long enough that everyone knows what his baseball strengths are. He is an outstanding power threat from both sides of the plate and, even moving into his 40s, not an easy out.
One of his least talked about strengths is "presence." First and foremost, Thome is going to have a presence in the Phillies clubhouse. The man can hit, and when he speaks, people listen.
He's also represents a presence for the other team. Now, knowing that Thome is waiting on the bench for that at-bat late in the game should change the way most managers think.
Weakness: DH in the NL
Thome is a designated hitter through and through. The only problem is that he's now playing in the National League.
Though the Phillies believe that Thome will be able to play in the field a couple times a month, even that may be a stretch.
Thome has never been a good defender, and the Phillies are paying him to hit. If they're wise, they won't push him to his limits by running him on to the field.
Doug Pensinger/Getty Images

Strength: Versatility
I was going to go with Ty Wigginton's success against left-handed pitching as his biggest strength, but changed my mind at the last moment.
Though you wouldn't think so at first glance, Wigginton is actually a very versatile player, and that's something the Phillies should take full advantage of. With injuries and injury prevention in mind, Wigginton can play both corner infield and outfield positions, as well as second base (if you dare) to give some of the club's regulars a breather without hurting you at the plate.
Weakness: Free Swinger/Defense
The Phillies did a lot of talking about changing the club's offensive approach at the plate, but didn't do much walking.
You're not going to preach a more patient approach at the plate with a guy like Wigginton, who has never posted a BB% above 10 and has watched his strikeout rates climb in each of the last three seasons.
As a caveat to that versatility strength, you're not getting the best defender either. Wigginton is more of a warm body defensively than a defender.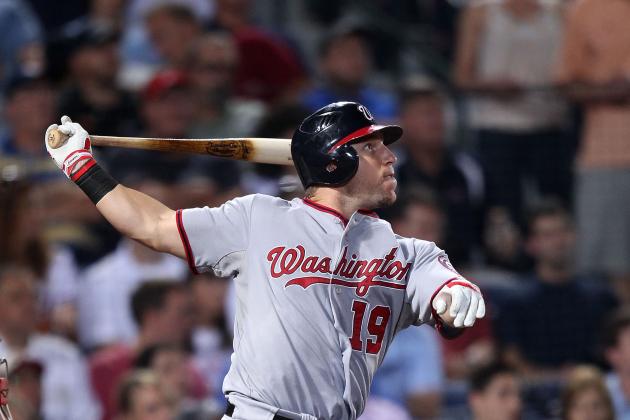 Mike Zarrilli/Getty Images

Strength: Success Versus Right-Handed Pitching
When the Phillies brought Laynce Nix aboard early in the offseason, they did a very nice job of adding a platoon partner for John Mayberry Jr. on the cheap.
The Phillies got to see a lot of Nix with the Washington Nationals last season and saw first hand what he can do against right-handed pitching. He posted an OPS of .781 against them and hit all of his 16 home runs.
Having already covered Mayberry's strength against left-handed pitching, it's hard not to like this platoon.
Weakness: Inefficiency Versus Left-Handed Pitching
Nix has some of the most extreme splits in baseball.
He was very good against right-handed pitching in 2011, but a virtual black hole against lefties. He posted an OPS of .411 against left-handed pitching, making him a much less flexible bench player.
He won't be seeing much time against left-handed pitching.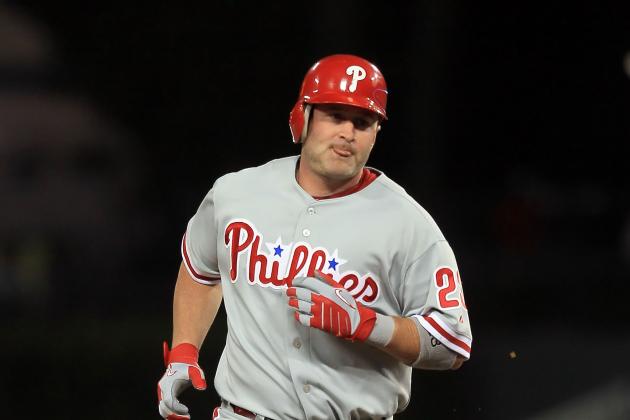 Jeff Gross/Getty Images

Strength: Defense
The Phillies have always valued defense first in their back-up catcher, and though Brian Schneider may not be the same catcher he was in his prime, Schneider is still the kind of guy pitchers like to throw to for a number of reasons, the first being his experience.
The Phillies could have had their pick of a number of similar back-up catchers this winter, but after looking at what Schneider did with guys like Vance Worley last season, it's no surprise to see him back in 2012.
Weakness: Offense
Schneider produced an incredibly unsustainable BABIP of .225 last season, which helped lead to an OPS of .502 and two home runs.
However, those that had the opportunity to watch Schneider play in 2011 know that it isn't going to get much better than that in 2012.
The Phillies will be happy with his defensive value as long as he is healthy, but it sure would be nice if Schneider could be more than an automatic out next season.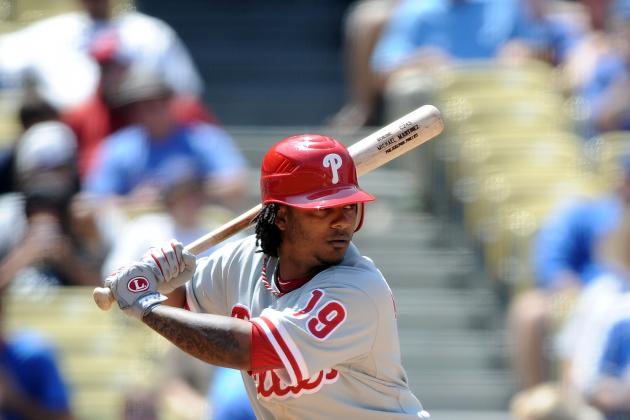 Harry How/Getty Images

Strength: Versatility
There's no one happier about Wilson Valdez being traded to the Cincinnati Reds than Michael Martinez. After all, the deal basically ensures him a spot on the MLB roster as opposed to an everyday role with the Lehigh Valley IronPigs.
In making the move, general manager Ruben Amaro, Jr. cited Martinez's versatility in his willingness to deal Valdez.
Martinez can play a number of positions, including both middle infield positions, third base, center field and left field. That's good news for a utility player who has the potential to be a suitable defender at all of those positions.
Weakness: Offensive Inefficiency
Like Brian Schneider, Martinez posted an unsustainable BABIP of just .220 that contributed to his offensive woes in 2011, and though he is no spring chicken, Martinez is young enough to make up some ground on the offensive side of the game in 2012.
What he truly needs to do is get back to the fundamentals. Martinez struggled with simple concepts like bunting last season, and if he wants to stick around as a utility player, he'll need to excel in the "little things."