Phil Emery: Chicago Bears Make Bad Move by Naming Emery New GM
February 3, 2012

Now that Chicago Bears head coach Lovie Smith has picked Phil Emery to be the team's new general manager, the Bears' dysfunctional organization is complete.
OK, technically, team president Ted Phillips picked Emery, but Phillips also said during the search process that the new GM candidate would be required to retain Smith and would have to work well with him.
In other words, Lovie gets to pick the new GM.
Hiring a new GM who is impotent regarding hiring/firing the head coach upon joining the organization is not a true GM. Rather, he is a pseudo-GM—at least until he acquires that authority over the head coach.
Some point to Green Bay Packers GM Ted Thompson being forced to ride with Mike Sherman at head coach for one year. Thompson immediately jettisoned Sherman once the coach's required one-year residency was up, and Thompson found a tremendous replacement in Mike McCarthy.
But that's exactly the point. Why force the GM to wait a year before removing a head coach? Why not let him have the authority to find a tremendous replacement now?
And don't even get me started on the so-called "Passing Game Coordinator" that the Bears are currently seeking—and unsurprisingly no one seems to want.
This kind of organizational dysfunction perhaps explains why the Bears' list of candidates contained no one who would draw fist pumps. Apparently, no truly worthy candidate wanted the Bears' lame GM job.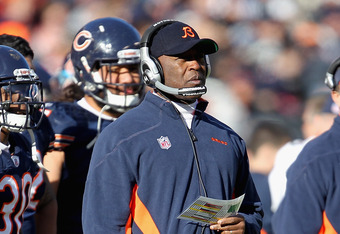 Jonathan Daniel/Getty Images
So Phillips' list of candidates wasn't a "Who's Who" but just "Who?"
Shrugs and raised eyebrows for everybody!
San Diego Chargers director of player personnel Jimmy Raye. Um, who?
Jerry Angelo buddy Tim Ruskell. Also known as Tim Angelo. No thanks.
New England Patriots director of player personnel Jason Licht? According to the Chicago Tribune, he was probably relied upon for "information gathering" as opposed to making actual personnel decisions.
My personal top choice, Packers director of college scouting John Dorsey, was apparently never considered.
The best candidate on Phillips' list, New York Giants director of college scouting Marc Ross, inexplicably didn't make the cut for the second round of interviews.
Instead, the second round came down to Licht and Emery.
So Phillips was choosing between a guy who was not involved in the Patriots' drafting successes and a guy in charge of the talent in AFC, ahem, powerhouse Kansas City.
Talk about deflating all the enthusiasm over Jerry Angelo's firing.
Some fans like Phillips' choice of Emery, although—surprise—no reason was given why.
Lovie Smith, who has failed to lead the team to the postseason in four of the last five years, is thrust upon Bears fans—and Emery—for one more season against their will.
I'm willing to give Emery a chance. The April draft is coming up. With an aging team and many needs, it would be stating the obvious to say this draft is critical for the Bears.
Unfortunately, Kansas City isn't exactly the model I was hoping the Bears would try to emulate.
Packers, yes.
Giants, yes.
The Chiefs? Not exactly very inspiring.
We'll see how Emery does this April.
Hopefully he can make the arrow turn back up. Because the team's arrow is so far down, it's best friends with the arrow on President Obama's approval ratings.