SEC Football: Early Power Rankings for College Football's Dominant Conference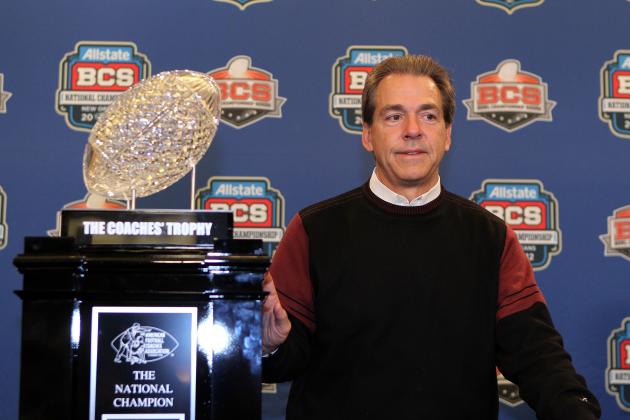 Andy Lyons/Getty Images

It's hard to believe that a conference with teams that hold opponents to record lows in points and yardage and boast an NCAA-record six consecutive championships may actually be getting better.
With top recruiting classing for their programs, conference realignment and coaching changes going on in the chaos of college football, who stakes the claim of best of the best in the nation's best conference?
Begin Slideshow

»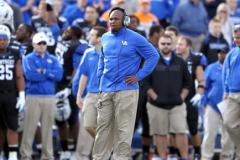 Andy Lyons/Getty Images

Kentucky averaged a league-worst 14.8 points per game last year. LSU's defense and special teams accounted for more points it seems. In a conference in which there's truly nowhere to go but up, expect more of the same from the Wildcats next year.
After his much-anticipated arrival as coach-in-waiting, Joseph "Joker" Phillips truly has his hands full when it comes to a program that has yet another subpar signing class. Even with a less-than-stellar schedule, expect Kentucky to be near the bottom of the pack.
Projected Record: 5-7
Joe Murphy/Getty Images

Besides Kentucky, the Rebels were the only other team in the 2011 season to average fewer than 20 points a game last year, averaging 16.1 points per contest.
Mississippi boasted several ESPNU 150 players in the state. Unfortunately the Rebels only landed two with others departing to in-state rivals and LSU. Now that the Wild Rebel experience is over with Houston Nutt and Jeremiah Masoli, expect things to only slightly get better in their rebuilding stage.
Having to play Texas, at powerhouses Arkansas, Georgia, Alabama and LSU, expect yet another long season for the Rebels.
Projected Record: 5-7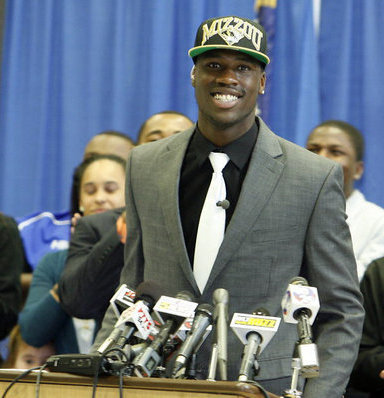 Unless you are the 2010 Auburn Tigers, no team can ride one player to a national championship. Just ask Steve Spurrier how that worked out for him with Marcus Lattimore.
The fact of the matter is Dorial Green-Beckham is an absolute stud coming out of high school. He is as good if not better than Julio Jones, A.J. Green or Dez Bryant were. But you need a team to win consistently in this league. You're going to need huge and talented offensive and defensive linemen, decent quarterback play.
Seeing how the Tigers aren't used to the speed of this league, expect them to struggle coming out of the gates. With not even a completed schedule yet, expect uncertainty.
Projected Record: 6-7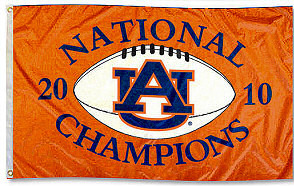 Two years removed from its second title in school history, Auburn hardly resembles the powerhouse it was. This time, there is no Cam Newton, there is no Gus Malzahn and hardly room to believe this year will bring about a change.
After a very disappointing year on the recruiting trail, these cats will have to lick their wounds and brace themselves for another roller-coaster year.
Projected Record: 7-6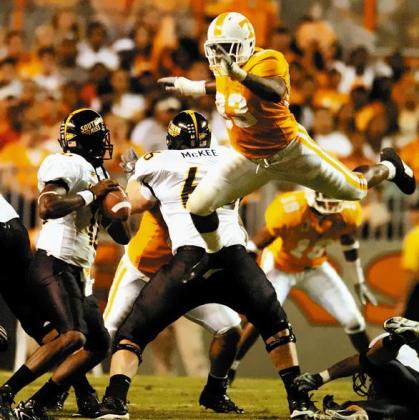 Can Tenessee spring back from last year?
Of all the teams in the SEC, I believe Tennessee will make the biggest leap forward from last year to this year. At times last year, they were frankly embarrassing.
Can Derek Dooley pull this thing together?
History and time, as you know, don't appear to be on his side. Perhaps the pressure to shape up or ship out will fuel the coaching staff to new heights.
By all accounts the criticism is stabilizing and they have a chance to make a run at the East title "this year." That has, in recent years, prevented Mark Richt from being ousted in Georgia.
With their only tough road games coming against South Carolina and Georgia, look for them to bounce back and be a decent, middle-of-the-pack team.
Projected Record: 9-4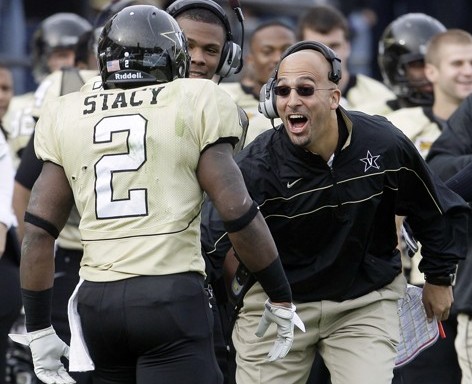 After a great recruiting class, Franklin has lots to smile about these days
Vanderbilt has one glaring advantage over Mizzou: They are used to playing in this league. They are a capable opponent and can line up and play with anyone on any given Saturday.
They held their own against national champion Alabama in the first half. They turned a pretty good 2012 class and with a young and vibrant coach, expect this program to start heading on the rise. With much of their big-time competition will be played in Nashville, expect a big year by Vandy's standards.
Projected Record: 9-4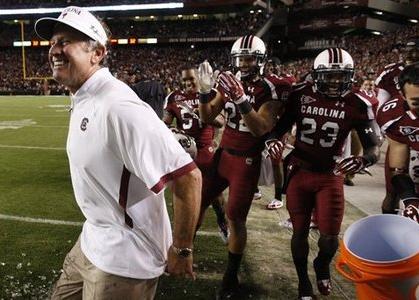 Does the "Old Ball Coach" have one more trick up his sleeve?
Steve Spurrier wants one more chance to prove he wasn't a one-hit wonder in Gainesville. With Alshon Jeffery going on to the draft, he'll have to turn to Marcus Lattimore and Jadeveon Clowney to headline his offensive and defensive units.
He has a decent supporting cast and a fast, athletic defensive line to really slow opponents in their games. Over the years they've developed some quality depth, but will that be enough to get him to Atlanta by year's end?
They will fall just short and lose a tie-breaking scenario with Florida, allowing the Gators to represent a rebuilding East division.
Projected Record: 10-3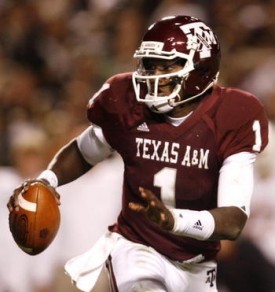 The Aggies will be looking to make a splash in their new conference
Texas boasted statistically the highest-scoring offense of everyone in the league last year. Unfortunately for them, their 40 points per game represented how bad the Big 12 defenses really were. In their league, that was great.
This is a league that hangs its hat on defense. In fact, the only recent championship that wasn't a runaway was the 2010 championship when Auburn edged the high-powered offense of Oregon to 21 points, winning with a field goal.
They have some big recruits coming in and they are anxious to prove that they belong in the SEC. Playing with that pride and a good ensemble of athletes, expect this A&M team to hit the ground running in the newly aligned SEC.
Projected Record: 10-3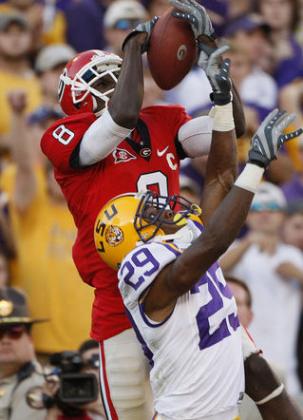 Love or hate Mark Richt, he always seems to hang around. Some say he has taken this program as far as he can take them; some say he's overstayed his welcome. Regardless of your feelings, this is still a high-quality program, even if they go into self-destruct mode sometimes against the likes of Boise State and Michigan State.
Expect them to be competitive and hungry, but expect them to fall short in the East.
Projected Record: 9-4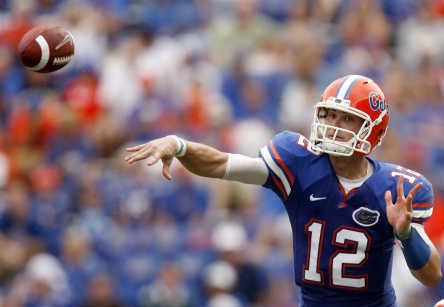 Expect a bounce back year
Make no mistake about it, Florida heard your jeers. They heard that you think they are a middle-of-the-pack team. They heard all the hoopla about Charlie Weis and how their hire of Will Muschamp was one of desperation.
Go ahead and laugh it up. This team is stacked and they are ready to take back something that was automatic over the past decade: the Eastern crown.
They will represent the East after their much-improved offense and integrated new coach allow them to make more explosive plays on the edge.
Expect them to compete to the end and to even be competitive in the SEC championship game. Expect big things—they are coming back to Gainesville.
Can they compete with the big boys of the West?
The question remains for this club: Can they compete with the big boys of the West? Outside of LSU and Alabama, the Razorbacks looked almost unstoppable.
Too bad for them, the same two foes are on their schedule. Arkansas returns more starters than either of these foes but what they lack is toughness. Expect a similar result as they will fold yet again in these big games.
Projected Record: 11-2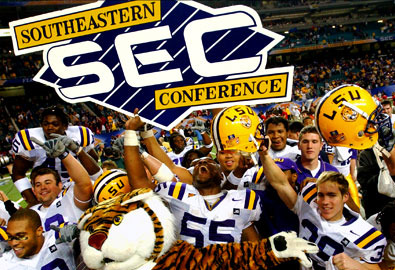 Could an SEC championship in recent years ever be so irrelavant?
The question is, has an SEC championship in recent years ever been so irrelevant?
The Tigers completed one of the most dominating regular seasons in the history of college football only to be remembered by the likes of many fans as a team that got hosed by the BCS.
We've all heard the jokes (Why did LSU lose at home? Because they had "Les" Miles to travel). My personal favorite: LSU couldn't drive back home on their bus because someone painted a 50-yard line in the middle of the road and they couldn't cross it. Regardless of how they'll be remembered, they lose some big-time playmakers at receiver, arguably the nation's best cover corner and bring in a first-year starter at quarterback.
Seeing how they couldn't win with two senior QBs against Alabama, expect more of the same.
Projected Record: 12-1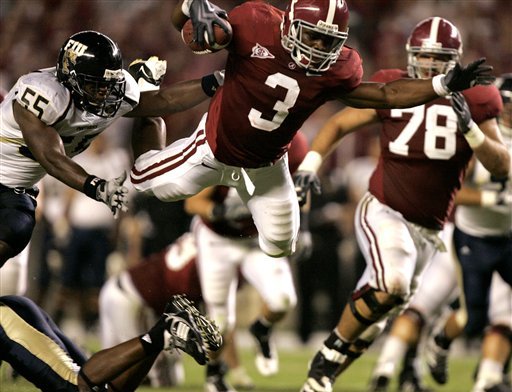 Alabama dove into the BCS as a BCS buster last year
Ladies and gentlemen, this is Alabama football.
I know what all the critics say: They are losing too much to repeat as champion, right?
But consider last year, when Alabama lost four first-round picks to the NFL and arguably got better. Their defense is schematic, opportunistic and they have a proven winning formula: a dominant defense and a punishing offense.
Alabama is losing 4- and 5-star talent but they will be replaced with 4- and 5-star talents. After snagging the nation's No. 1 recruiting class, their third over the last five years, expect more of the the same results.
With a new offensive coordinator and a lot more playmakers to be unleashed, expect not just more of the same, but dare I say better results. Yes, Alabama will fare well in the conference of conferences and will play on...
Projected Record: 13-0 and your 2012-13 BCS national champion