Ravel Morrison and Manchester United: Talent Versus Responsibility
February 3, 2012

Michael Regan/Getty Images
Ravel Morrison, we're told, is one of the most naturally gifted young footballers to emerge in England in years. He is also not without his troubles.
Shown the door at Old Trafford by Sir Alex Ferguson, a man with a proven track record of dealing with difficult players, he has been snapped up by Championship leaders West Ham, who have promised to get the 19-year-old back on the right track. All parties seem to be in agreement that a move away from Manchester and the bad influences that surround Morrison was in his best interests. 
First team football looms now for Morrison, who was denied the opportunity with United not down to any lack of skill, but rather a fundamental lack of respect for the rules which go hand in hand with ability when it comes to promoting players through the youth ranks.
Often late for or even absent from training, Morrison tested the nerve of his coaches who grew increasingly frustrated that a player of such natural talent was unwilling to put in the same effort that his team mates did. Couple this with his off-field legal issues (including a 12-month referral order for witness intimidation) it left United little choice but to move him on, amazing talent or not.
Sam Allardyce, at West Ham, has stated Morrison will be given all the help he needs to avoid falling back into his old ways, acknowledging his troubles are a concern but believing he can get the best out of the young midfielder. It seems there is no shortage of people queuing up to help Ravel, in fact the only glaring omission seems to be Ravel himself.
I'm not familiar with the people who Morrison considers his friends in Manchester, but with so many calling to attention their influence over him it is easy to make assumptions. To give Morrison the benefit of the doubt, he knows them better than anyone and maybe they aren't that bad. Or maybe Morrison just happens to be a bad judge of character or is just as much of a scumbag as they are.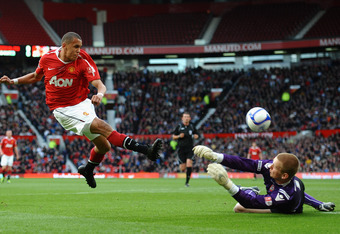 Laurence Griffiths/Getty Images
His arrogant attitude toward training and disrespectful nature towards the club who stood by him through his court appearances don't speak highly of his character which is already under scrutiny due to his legal troubles.
It is interesting to see how far clubs will go to protect young players, especially those deemed to have the ability that Morrison does, and at what point they decide to cut their losses. Will West Ham be able to get the best out of Ravel while keeping him out of trouble? Is that even possible?
Morrison's attitude until now seems to have been let someone else sort his problems, but if he has aims to become an established Premier League/International footballer or aside from that, a decent human being, then he'll have to accept some of the responsibility.
www.onwardstothehorrorshow.com