The NFL currently has 32 teams split into eight, four-team divisions.
Doug Pensinger/Getty Images
February 3, 2012
Roger Goodell appeared on Costas Live on the NBC Sports Network this past Thursday stating that the NFL could possibly go to 34 total teams in the event that they place a franchise in Los Angeles.
Adding such teams would alter the NFL and add another 106 players to active rosters. That means 106 additional players that wouldn't make NFL teams otherwise.
In the interview, Goodell said that the NFL doesn't want to move any existing teams to L.A., but would rather create a new franchise. He didn't mention whether L.A. would host both the 33rd and 34th franchises, though.
There are currently 1,696 players on active rosters in the NFL, but there are more than that who are capable of playing at the NFL level. Many players across the league disappear because teams don't have faith in their health, age, attitude, etc. But these players can still play the game that they love.
The growing concern is that the games would be less competitive if the league were expanded.
We all learned it when we were eight years old: You were making Kool-Aid or hot chocolate and realized that it takes the right mixture of ingredients for the perfect drink. The last thing you wanted to do was get greedy trying to make larger servings and water down your drink.
That's what the NFL is risking by adding two additional teams. They can easily water down one of the main things that keeps all the fans tuning in— the competitiveness of the NFL.
I personally sat and suffered watching the Charlotte Bobcats get beaten by 40 points while visiting the Portland Trail Blazers this past week. Any NBA fan could tell you that this Bobcat team isn't even competitive this season.
That's the last thing you want to see in the NFL.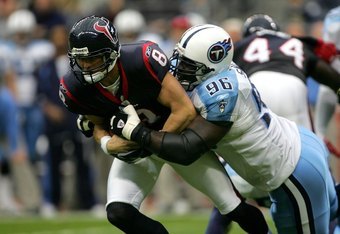 The Houston Texans' inaugural season was in 2002. They didn't have a winning season until 2009 or a playoff birth until this past year.
Stephen Dunn/Getty Images
Keep in mind, Goodell didn't say that this will definitely happen. He said that if they place a team in L.A., then the league will expand to 34 teams as they don't want an odd number of clubs in the league.
So how do you add 106 players without hurting the product?
One solution would be to have some sort of developmental league. The NFL is the only major sport in our country that doesn't utilize one.
The United Football League may be short on cash, but they have produced a lot of great athletes in the past three seasons. Players who were cut from NFL teams or are working to reach the NFL played in the UFL these past seasons in hopes of reaching the main stage.
Veterans like Jeff Garcia, Dominic Rhodes and Josh McCown are just some of the players who benefited from the league. They were able to stay in football shape while waiting for an NFL team to give them a call.
Meanwhile, players like Isaiah Trufant (younger brother of Seattle Seahawk Marcus Trufant) used the UFL to showcase their talents and demonstrate that they can play professional football at a high level.
In total, more than 100 players left the UFL to join the NFL in the past three seasons.
Imagine if the NFL partnered with the UFL to keep the league afloat and used it to develop players during the offseason.  When teams suffer injuries and need replacement players, they'd have a pool of talent that they could select from and already know what they're getting thanks to the game film.
Sounds like a win-win to me.
If I'm tasked with finding 53 players for my brand-new team, I'd want the chance to see these players in games with pro-style offenses against other professionals that are playing their hearts out. You can only take so much from college tapes, combine results and preseason footage.
If the NFL is looking to expand, it needs to make sure it has the right players to support it.
They've taken the first steps by increasing player safety on the field. The next would be to create a developmental system to have players ready if they're needed.
Fans and investors alike want more football. The NFL just has to make sure it's good football. 
Like the new article format? Send us feedback!