Iona Basketball: Talking with Lamont "Momo" Jones After His Record 43 Point Game
February 3, 2012

Lamont "Momo" Jones put on a show in New Rochelle Thursday night, scoring 43 points in Iona's 105-86 win over Canisus that will be remembered for about as long as Gael basketball will be followed. 
Jones was the point guard on the University of Arizona team that went to the NCAA Elite last spring.  He  transferred to Iona to be closer to his ailing grandmother and was granted an exemption from the NCAA so he didn't have to sit out a year as a transfer.
On the season, Jones was shooting 45 percent from the field and 34 percent on three point shots.  Against Canisius, he shot 70 percent from the field on 16-23 and 58 percent on threes, making seven of twelve.  Momo added four of five from the line.
Jones' 43 points was a record for the thirty-plus-year-old Hynes Center.  Sean Green had scored 43 in a MAAC game versus Siena in 1991.  Warren Issac scored an even 50 points versus in 1964. 
The Gaels needed a big performance from their backcourt as the game was tied 69 all with 13:44 left to play.  Iona went on a ten-point run started by a tip-in basket by Jones, followed by a three.  The game was decided by the end of the 28-11 run, capped by a Jermel Jenkins three that gave the Gaels a 17-point lead at 97-80 with 4:47 left. 
Point guard Scott Machado had  fourteen points and 14 assists, which increases his lead as the top player in Division I in assists-per-game average.  Until late in the game, Machado had but one turnover, finishing the night with two and an amazing 7-1 assist-to-turnover ratio.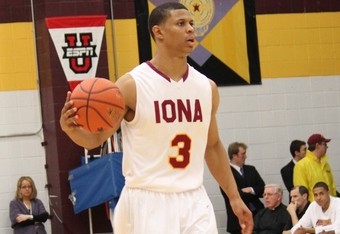 Power forward Mike Glover was getting bounced around in the paint, but he came up with 12 points and 11 rebounds.  Iona outrebounded Canisius 35-31.
Th platoon at small forward was productive with Kyle Smyth having seven points and three assists while Sean Armand contributed eight points, including a pair of threes.
At the 4 spot, Randy Dezouvre started and had four rebounds in ten minutes.  Taaj Ridley played 22 minutes, contributing muscle under the boards by grabbing two rebounds and nailing six points on three-for-three shooting. 
Senior Jermel Jenkins filled in at both guard positions for 14 minutes and went two-for-two on his three-point shots.  
The win kept Iona (18-5) in a first-place tie with Manhattan (17-7) at 10-2 in the Metro Atlantic Athletic Conference going into their big matchup Saturday night at the Draddy Gym in Riverdale.  The Jaspers defeated Marist Thursday night 73-51.  
For Canisius (4-18), now 1-11 in MAAC play, it was another tough fight but losing road effort.  Gaby Gelardo came off the bench to score 27 points for the Griffs, and Alshwan Hymes had 23 points.
After the game, I had a chance to speak with Iona head coach Tim Cluess, Scott Machado and the star of the evening, Lamont "Momo" Jones: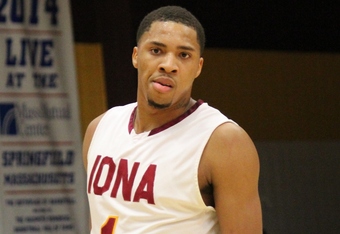 I asked Scott Machado (SM), who had a great performance in his own right, why he and Jones played so well in this game.
SM:  "He [Jones] was hot and I was just looking for him.  He had 20 points in the first half and he had the same group coming out in the second, so I was just looking for him."
Q:  What made the difference in the second half?
SM:  "Defense."
Q:  Why were you so effective with the full-court pressure and combination of zone and man-to-man defenses?
SM:  "We were pressing them and they kept sending Belardo with the big man in the middle of the court.  Coach kept throwing different defenses at them, so we could mix it up, so we finally found out how we could get a stop in.  We found out how to get stops in, we kept continuing with that, once we got that stop, we kept on getting stops."
Q to Momo Jones (MJ):  How did you feel about your record breaking performance?
MJ:  "Felt like Superman, felt like Superman.  There are no other words to describe that.  It is a feeling that is indescribable.
"I worked hard all week with my coaching staff, just in the gym shooting, shooting, shooting, shooting, getting in the reps.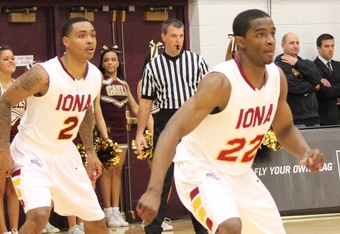 "One of my good friends came from Queens.  Made sure I was in the gym 24 hours a day.  Six o'clock in the morning, if I had 30 minutes before class, he came in and rebounded for me.  It was a real grind, there was no sleep, no getting tired, just got to work, if you love this game, and the next level is where you want to go, you have to work. 
"I think that really helped me.  I just got in the gym and worked, and it really paid off tonight."
Q:  Did the falls to the court from driving the lane affect you?
MJ:  "A little bump or bruise, or a little knee or fall to the ground, it is part of basketball.  You got to get up and continue the forty minutes.  This was a team effort, I could not have done this without my team."
Q:  How were you and Scott Machado so effective in the backcourt tonight?
MJ:  "Scott Machado is a wonderful, wonderful point guard to have, wouldn't want to play with anyone else.  The best point guard I have ever played with in my life.  Night in and night out he finds me.  Tonight I was knocking down shots and it was a great game collectively.
"Any one of us could have had this game tonight.  Scott could have had this game.  Scott had a 30 and 15 earlier this year, Glove [Mike Glover] could come out and have a game like this.  We have three guys who can put up high numbers.  Not a lot of teams could have that.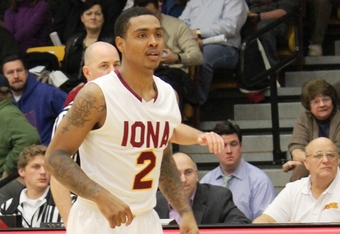 "Then you have guys who come off the bench. Sean Armand who is a sharp shooter, [Kyle] Smyth is a sharpshooter.  On any given night anybody can have this night.  My teammates just allowed it to be me tonight."
Q to Coach Tim Cluess (TC):  What was it like to watch Momo Jones get 43 points on the night?
TC.  "I was thinking we needed every point of them because we were not getting many stops, and the other team was on fire.  I'm glad he did that tonight.  It was not a coincidence to me.  He has really worked hard the last few days.  We remind him, every time he works hard, he has a good game."
Q:  What did you think of Scott Machado's play?
TC:  "Scott did a great job as always finding people on the floor and getting everyone involved picking his own spots as well, a terrific team leader."
Q:  Why was Canisius able to give you so many challenges?
TC:  "They made the extra pass and nailed the shot every time.  They spaced out and rotated to beat Iona's double team."
Q:  Why did Iona do well on the night?
TC:  "I think tonight was a good game for us because Momo played so well, because we shot the ball well as a team.  When we shoot well we can put up points.  When we struggle it is because we cannot put the ball in the basket."
Q to "Momo" Jones:  How did you feel about your performance and that of the team?
MJ:  "Tonight we needed to grow up as a team, collectively.  I think tonight we took a step towards that.  We didn't have the greatest first half, but we came out in the second half and played defense, and we played solid, and we played as a team.
"We came out with a win we could have lost if the chips fall in a different way or we won just by two points. But tonight we came out and we kept knocking on the door, knocking on the door.  Finally the door knocked down and we opened up the game."
Q:  Are you concerned about Iona's overall defensive play?
MJ:  "We gave up way too many points.  In the second half we should have had more stops than we did.  Point blank end of story.  We didn't play the defense Iona is capable of playing.  We won the game but we are not happy.  We go back to the lab and work on things and we need to get better, tonight was just a step towards that."
Another reporter asked Momo what his thoughts were when he was taken out of the game in the final moments:
MJ:  "About Scott Machado. Thanking him for believing in me, telling me every night that this is something that you do, this is something that we brought you here for.  So for him to find me tonight and for him beating that into my head. Calling me when I was having down practices, just to tell me to keep my head up.
"To have a coaching staff that believes in you is great.  All the thanks in the world to them.  I have coaches who stayed in the gym all night long with me for three nights, all night long.  Just night in and night out, there were no breaks, no slack, there was no 'I'm tired, can we get a rest?' 
"The coaches said, 'If this is what you want to do, and this is what you love, you are going  to work,' and they made me work.  We worked on three-point shots, pull-ups in the lane, finishing and foul shots.
"My coaching staff has done a great job in believing in me. At times we go through ups and downs, but they believe in me.  This week they showed they really cared about me.  They sat me in the gym, it was sort of like basketball 101, all over again.  I love them for that."
Momo was also asked if he had been struggling recently.
MJ:  "Had a bad game at St. Peter's (Sunday).  Before that I was having, to me and everyone else, I was having a subpar season, averaging 15 points per game.  For a player like me they don't expect that, my teammates don't expect that of me. 
"I have to give them more, because they demand more of me, so I have to demand more of myself.  Tonight was a step towards that."
Ken Kraetzer covers Iona basketball and West Point football on WVOX 1460 AM. His Twitter address is SAL50NYRadio. Unless otherwise noted, all quotes were obtained first-hand.