MLB Recap: 9 MLB Busts in Recent Memory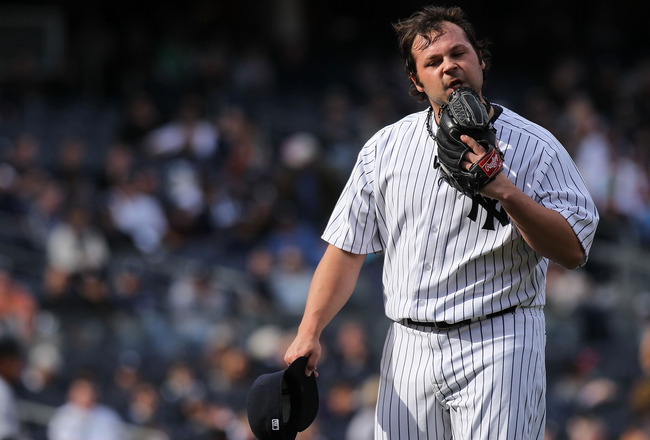 Even some of the greatest expectations can't be reached by the greatest of players.
Nick Laham/Getty Images
While big free agent signings can be the dominating factor in a fan's excitement about a team's upcoming season, the thought of an electric prospect or those new acquisitions taking said team to a championship is the oh-so-sweetest thought of all.
So when those players—who have produced expectations of glory, maybe through promising spring trainings or big contracts—fail to live up to the hype, it becomes a more painful reality fans have to live with.
With enhanced scouting and outrageous contracts leading the way for major-league teams to improve, here are ten baseball fails to jog your memory. Hopefully, it's not too painful to remember.
Drew Henson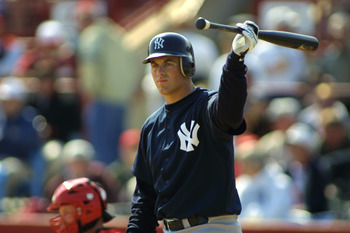 One hit. Just one.
Rick Stewart/Getty Images
When we think of Drew Henson, we must first think of the great Bo Jackson, right? Jackson was a multi-sport phenomenon, succeeding at elite levels of both football and baseball with physical attributes unmatched by most any player around him.
Henson was also a multi-sport…well he wasn't a phenomenon, that's for sure. In fact, the New York Yankees' 1998 draft pick may have had the most unsuccessful sports career in recent memory. He first tried his hand in baseball, making a pretty big impact for the $2 million the Yankees paid him. What were his contributions? One hit.
Well, maybe baseball just wasn't his thing, so Henson returned to his football roots, looking to become the next Roger Staubach for the Dallas Cowboys on Thanksgiving Day, 2004. Instead, he was pulled out of a game for aging wonder Vinny Testaverde after one half, going 4-12 for 31 yards.
Good try, Drew Henson.
Chad Mottola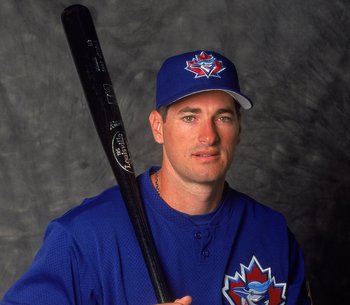 Mottola was not quite ahead of Derek Jeter's career like he was in the draft.
Scott Halleran/Getty Images
Many people may not know outfielder Chad Mottola for his career—frankly, he didn't have much of one in the major leagues.
Drafted by the Reds in 1992, Mottola was a promising player who quickly became a distant memory for the major leagues. He finished his career with just four home runs and 12 RBI before moving to the minors, where he compiled a 16-year career with 13 teams.
What Mottola is mainly known for is who he was taken ahead of: Derek Jeter. Of course, nobody knew that the Kalamazoo, MI high-schooler hitting .500 would pan out to be one of the game's greatest ever, but it is something to wonder. Jeter even had a chance to get his 3,000th hit in Cincinnati during the 2011 summer, in what may have been the most painful "should've, would've, could've" in baseball history.
Adam Johnson
Johnson wasn't quite up to the Twins' normally excellent drafting standards.
Elsa/Getty Images
The second overall pick by the Minnesota Twins in 2001, Adam Johnson is more worth noting as a baseball failure as a testament to the Twins' organization, a team with a below-average payroll who can usually find the best talent with their resources, putting competitive clubs on the field every season.
This choice was not one of their best.
Johnson was a right-hander with high expectations that flopped immediately in the major leagues. He only finished with a 1-3 record and a hefty 10.25 ERA for his career, one of the team's biggest failures. What makes matters worse, pitcher Adam Wainwright and second baseman Chase Utley were also in that draft. Who knows what either of those talents would have helped the Twins accomplish.
Hideki Irabu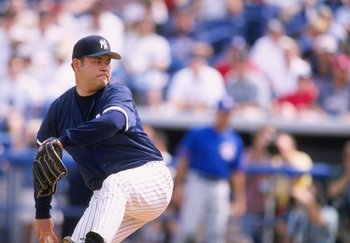 Irabu was once easy to laugh at, but is now a tragic story.
David Seelig/Getty Images
In one of baseball's truly sad stories, Hideki Irabu was once a sought-after pitcher in the major leagues. He made his way to the Yankees in 1997, drawing large media attention after his great performances in the Pacific League in 1994-95.
Irabu pitched three seasons for the Bombers, and won two rings, but never really contributed in the postseason success. He was highly criticized by the late George Steinbrenner as being a "fat toad," and was eventually released after the 1999 season.
Irabu finished with a very average 34-35 record, and an even more average 5.15 ERA. His story only got worse. With his wife and two children leaving him, Irabu got extremely intoxicated and apparently hung himself in Los Angeles on July 27, 2011. Not all baseball busts are easy to laugh at, and this is certainly one that tops the list.
Joba Chamberlain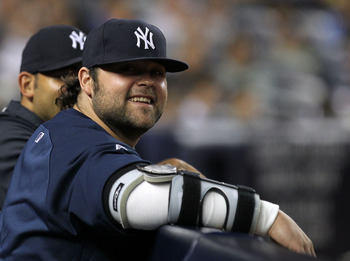 Injuries and failures have slowed what was a superb young career for Chamberlain.
Al Bello/Getty Images
The case of reliever/starter Joba Chamberlain is a hard one to solve. There's no doubt how his career started—it was a fireball of excitement and young enthusiasm that a Joe Torre team hadn't seen in years. Chamberlain came out of the gate with 100-mph fastballs, blowing away hitters and igniting the Bronx in a firestorm of anticipation for what looked like an unstoppable force.
What Chamberlain couldn't overcome were the little things, and man, they were little. A swarm of midges on a warm October night in Cleveland drove the phenom to his first failure on the big stage, blowing what were probably the Yankees' 2007 postseason hopes.
Since then, he has not been the same, bouncing between the starting rotation and the bullpen, throwing all sorts of pitching sequences and velocities. He recently went down with a season-ending injury, making Yankees' fans and the organization wonder if he will ever return to what was sure to be a glorious career with the Bombers.
Matt Bush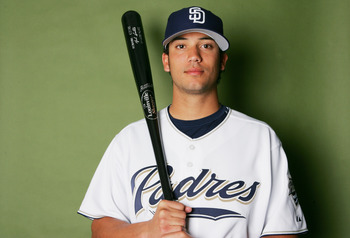 Bush was a top prospect who went the wrong direction quickly in the major leagues.
Ronald Martinez/Getty Images
With a team notoriously short on offense, the San Diego Padres went after a shortstop in 2004, drafting Matt Bush ahead of top prospects like Justin Verlander and Jared Weaver (whoops). Bush had a lot of promise but quickly turned into a big mistake for the organization.
Besides the altercation in a nightclub before his career even started, Bush failed to succeed much at all on the major league level, barely even making it to the top squad. The Padres finally converted him to a pitcher, but ended up giving up on him for Cliff Floyd after he got into another drunken fight.
Kei Igawa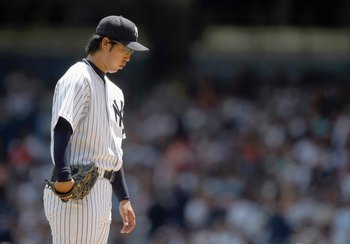 $46 million has never been given away for less than to Kei Igawa
Al Bello/Getty Images
The very name makes the Yankees' universe cringe. Possibly the most coveted Japanese pitcher in history, Kei Igawa was an electric starter in Japan looking to make it big in America. He went 20-5 with a 2.80 ERA in 2003 for the Hanshin Tigers, with very respectable years after that.
The Yankees went after sought-after talent in '07, paying just over $26 million to talk to Igawa, followed by a signed, five-year, $20 million contract. The lefty proceeded to go 2-4 for the team in his entire career, carrying an ominous 6.66 ERA. He was sent down to the minors to work on flawed mechanics, but never returned as a dominant or even effective pitcher in the major leagues.
Considered one of the worst decisions in baseball history, Igawa's $46 million blunder is the worst return-on-investment ever. He received $23 million a win and about $877,000 a strikeout (he had 53). If the term "bust' comes up, Igawa is certain to be near the top.
Corey Patterson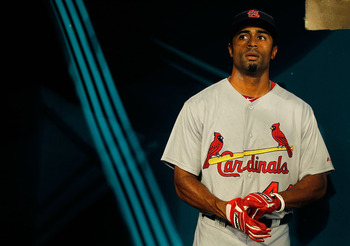 Patterson has been average, but certainly not as coveted as the Cubs thought he was.
Mike Ehrmann/Getty Images
Corey Patterson's career is certainly better than most on this list, but for his expectations, the slow decline is a bit disappointing. He started out with the Chicago Cubs, expected to be their next superstar. He delivered early, making an All-Star appearance in 2003 and helping them get into the postseason.
His 2004 season was respectable, but then began to decline annually, bouncing from the Cubs to Orioles, Reds, Nationals, Brewers, Mariners and finally back with Baltimore. For what was to be a promising career as the third overall pick in 1999, Patterson never quite made it to the hype, turning more into an average journeyman instead of the star he was expected to become.
Josh Hamilton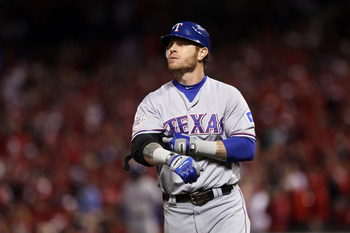 Hamilton is the definition of "what could have been?"
Ezra Shaw/Getty Images
Before going haywire over this name, remember what might be referred to as a bust. It's someone who doesn't live up to their expectations. Well, if Josh Hamilton had lived up to his hype as the No. 1 overall pick in 1999, he'd be well on his way to the Hall of Fame.
After battling drug addictions for many years, Hamilton finally became sober for the 2006 season. Since then, he has been somewhat of a baseball natural, with effortless power and tremendous range in the outfield. No display was brighter than his destruction of the 2008 Home Run Derby in the old Yankee Stadium, blasting repetitive shots never before seen a stadium 85 years old.
He went on the win the 2010 AL MVP but was sidelined by numerous injuries in 2011. With a recent report of an alcohol relapse surfacing, his failure to reach the pinnacle of baseball is sadly becoming more evident as each year passes.
The 30-year-old can still salvage greatness, but he is not far from being remembered for what he could have been, instead of for what he was.
Keep Reading

New York Yankees: Like this team?