Going into this season, the status of former Arizona point guard Lamont "Momo" Jones was unknown. Jones had transferred from Arizona to Iona College in May and had applied for a medical hardship waiver that would allow him to play for the Gaels this season.
Fortunately for Jones, his waiver was approved and he has been a major part of the Gaels record-breaking offense this season.
Even though Jones had played an outside role to the Gaels dynamic duo of Scott Machado and Michael Glover, Jones still was playing a major role in the Gaels offense and was only helping Iona achieve some of their lofty dreams.
Following a bad loss at home against Manhattan, Jones stepped up his play against Loyola, scoring 25 in a lead role for Iona's win over a Loyola side that at the time was tied with Iona on top of the MAAC.
Jones had 20-point efforts in wins against Rider and Fairfield before having a weak game against last year's MAAC champion, Saint Peters.
With last place Canisius at the Hynes Center last night, Jones completely took over. With his team putting together a weak defensive effort, Jones stepped in and put in one of the best individual efforts that has been seen at the Hynes Center in quite some time.
Jones scored 20 points, including the final six of the half for the Gaels' 51-47 halftime lead.
The beginning of the second half proved to be a continuation of the first; lots of scoring on both ends with Jones leading the show.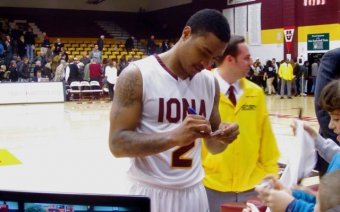 Yet even after the Gaels went on a 10-0 run in the second half, Momo did not let up. After coach Tim Cluess decided to leave in the Gaels' three main stars, Momo started to etch closer to the 40-point mark.
The move certainly paid off. Jones got to the 39-point mark before Taaj Ridley stole the ball from Gaby Belardo. Ridley fed the ball ahead to a streaking Jones, who laid the ball in to get to 41 points, breaking the old record of 40 points in a game at the Hynes Center by Sean Green back in March of 1991 against Siena.
The record for most points in a game for Iona is held by Warren Issac for his 50-point performance against Bates in 1964.
Jones would later make another field goal to give the Harlem native a remarkable 43 points in a game, tying Green for the second-most points in the game.
With less than a minute remaining, Jones was substituted out, causing the capacity crowd to erupt in a standing ovation chanting Momo Jones' name.
Not to be outdone, Machado once again had an outstanding game. Machado had 14 points and 14 assists with only two turnovers, only helping his NBA credentials. Michael Glover also had a double-double of 12 points and 11 rebounds in the win.
With the 105-86 win, the Gaels are now 10-2 in league play and will face Manhattan tomorrow night, knowing that a win would put them into first place in the MAAC.
Follow me on Twitter @Andrew_Jordan