Boston Bruins Drop Fourth Straight to Canes, Southeast Woes Continue
February 3, 2012

The Boston Bruins dropped their fourth straight meeting with the Carolina Hurricanes Thursday night at the TD Garden. The 3-0 loss marked the first time in Hartford/Carolina franchise history that the Whalers/Hurricanes completed a season sweep of the Black and Gold.
The Hurricanes have developed an effective strategy to handle the Bruins in their four meetings this season: frustrate them. In four games against the Canes, the Bruins have had to struggle and battle to make the simplest things go their way, eventually leading to careless mistakes, frustrated outbursts and dumb penalties. Central to the success of this strategy for Carolina has been the solid play of their goalie, Cam Ward.
Ward manned the pipes for all four victories over the Bruins, surrendering only five goals over the four games. His poise and control in the crease noticeably rubbed off on his team, and each save made set the Bruins closer and closer toward the edge. As the games progressed, the struggle to find the back of the net took its toll, as the Bruins let their anger get the best of them.
In the second game of the series, the Bruins resorted to bullying the Canes, who refused to drop the gloves, and received the benefit of two 5-on-3 power-play goals in the third period, as a number of Bruins were ejected. Coupled with determined effort and solid all-around play, the Hurricanes' refusal to engage in Boston's physical style have knocked the B's off their game and have sent them home four straight times on the losing end.   
It's clear that the Hurricanes have had the Bruins' number this season, but they aren't the only team down south giving the defending Stanley Cup champions fits. All five teams in the Southeast Division have racked up wins against the B's.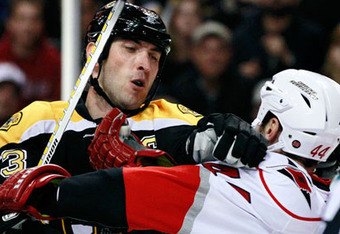 The Boston Bruins have suffered only 15 regulation losses, and eight of those—more than half—have come from teams in the Southeast. Not to mention, the Bruins have only met the Capitals, arguably the most potent team in the division, once so far, which resulted in a loss.   
The road ahead for the struggling B's does not get much easier. The red-hot Penguins come knocking at the Garden doors on Saturday, followed by another Southeast foe in the form of Alex Ovechkin and the Caps the next day. The Bruins need to find a way to tighten the screws on defense and raise their compete level fast.
But for now, at least they can take solace in the fact that the Hurricanes have blown out of town for the remainder of the season.