Thank God It's Franchised: Reasons Behind Jermichael Finley's Lack of Production
February 3, 2012

Jamie Squire/Getty Images
On Dec. 7, 2009, Jermichael Finley made a name for himself as an emerging tight end in the NFL with a performance to remember on "Monday Night Football."
In that game, Finley helped the Packers hold their own against a formidable Ravens defense. Finley caught seven passes in that contest for 79 yards and two touchdowns.
One of those touchdowns, if you don't remember, was when Aaron Rodgers simply saw single coverage on his freakish tight end and just threw the ball up to him in the end zone. Finley jumped up and grabbed the ball with ease.
It appeared, especially after that game, that Finley was well on his way to super stardom in the NFL as a tight end. Sound far-fetched? Hear me out.
Finley is 6'5", weighs 247 pounds and is incredibly fast for a tight end his size. Even with players like Jimmy Graham and Rob Gronkowski, Finley still might be the most athletic tight end in the league. Back in 2009, it seemed Finley was well on his way to living up to his potential.
He caught 55 balls for 676 yards and had five touchdowns in the 2009 regular season, even after missing some games due to injury. It was in the playoffs, though, that he really shined.
In a wild-card matchup against the Cardinals in Arizona, Finley had six catches for a whopping 159 yards. At the time it was the second most yards for a tight end in playoff history, just behind Kellen Winslow, who is arguably the best tight end of all time.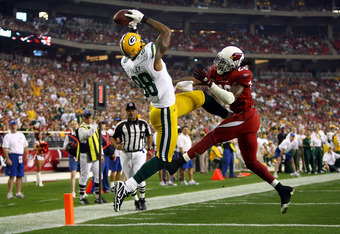 Jamie Squire/Getty Images
Clearly, Finley was a rising mega star. Along with Aaron Rodgers, Finley would become one of the faces of the young NFL generation.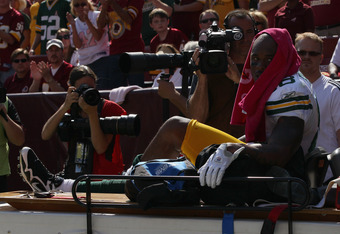 Win McNamee/Getty Images
Well, that's not how it's working out so far for Finley.
On Oct. 10, 2010, Finley suffered a leg injury that would place him on injured reserve for the rest of the season. Finley was actually having a pretty good season, too, which makes the injury he suffered even worse.
Finley had two 100-yard receiving games in a row in Week 2 and Week 3, and he looked like he was headed to his first Pro Bowl appearance. 
The Packers ended up winning the Super Bowl without Finley's and a ton of other player's services in 2010. Rodgers learned that Greg Jennings is the true No. 1 receiver in the Green Bay offense in 2010, and it is that revelation that really hurt Finley in 2011.
Rodgers may have been determined to not let Finley become his favorite target again in 2011 because he had learned just the year before that Jennings is the top guy.
Finley was seeing a smaller number of targets in the first couple of weeks last year, but that could be due to the fact that he was still trying to familiarize himself with Rodgers and the offense.
There was a lockout, and Finley had missed the 2010 season.
It appeared, though, that Finley was going to return to his full potential once he showed it in Week 3 against Chicago.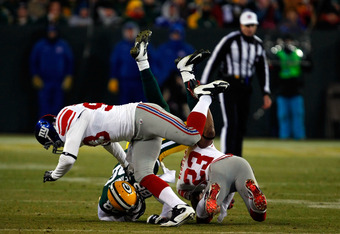 Scott Boehm/Getty Images
Finley caught three touchdown passes in Soldier Field last year, and everyone was talking about how Finley was finally ready to "take over" the tight end position. According to Finley, 2011 was "the year of the takeover," and he was supposed to redefine the tight end position, you know, if he could stay healthy.
Well, he sure stayed healthy throughout the year. However, it was almost every other tight end in the league that redefined the position, not including Finley.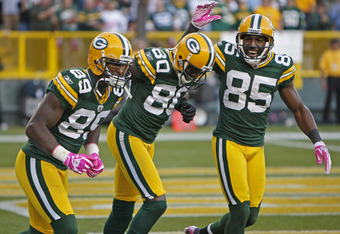 Matt Ludtke/Getty Images
Jimmy Graham, Rob Gronkowski, and Aaron Hernandez all showed last season that the tight end position is changing in the NFL. Now there are a surplus of big, freakishly athletic tight ends to throw to in the league. I mean, two of the tight ends I just mentioned are on one team. 
Finley was right about the year of the takeover, but he may have been wrong on who was going to orchestrate that takeover. 
So what went wrong? How did Finley become so god-awful?
Ego. Finley's ego led to his disastrous season last year. 
Finley got so caught up in the hype that he forgot he hadn't actually done anything yet. He proclaimed himself the best tight end in the league, called 2011 the year of the takeover and created an uncomfortable celebration that he would perform on rare occasions (like when he caught first downs). 
Finley being away from football almost the entire 2010 season didn't help matters either. That just gave him more time to get caught up in this fantasy of him actually being a good player. Finley kept listening and listening, and finally he just believed it all.
For example, in Week 4 last season, Finley was constantly double teamed by the Denver Broncos. This led Aaron Rodgers to throw to players that were actually open in the passing game. Apparently, this led Finley to go on a small rant after the game.
"Double teams…that's something that we have to go back and look at and create ways to get (me) the ball, somehow. For sure, they took me out of the game. I don't know what I came out with it, but hopefully we can go back and dial something up for the double teams. We've got to have something for it."
This quote almost speaks for itself. Finley seems to be more worried about ways he's going to get the ball rather than winning. Doesn't he realize that the Packers blew the Broncos out in that game? C'mon.
If you (Finley) are double teamed in a close game, guess what? The Packers aren't going to throw it to you! They are going to throw it to the open guy because there are plenty of other reliable weapons on this deep Packers team. That's the definition of team and that's why this team won a Super Bowl without you. They are not worried about getting you the ball. They are worried about getting the Packers' receivers the ball.
Finley was coming off a three touchdown game against the Bears, so obviously the Broncos were going to game plan heavily for him. Finley should have known this and should've been prepared. Does he realize the Packers were 4-0 at the time of this quote and were defending world champions (which they won without him)?
Geez, take a course from Greg Jennings.
Wait; do you want a course from Greg Jennings?
Okay, have a seat.
On October 13, 2009, Greg Jennings, after a slow start to the 2009 season, told reporters, "They know how I feel. As a competitor, I would hope they know that I want the ball. When I'm in the meeting and I'm looking at myself running wide open and I'm not getting the opportunity, yes, I am pissed – get me the doggone ball…no (just kidding).
"I feel like that when I get the ball in my hands, good things happen. Period. I mean, it's not an arrogant statement. It's not an 'I better get the ball' type deal. It's fact. And we always talk about being a real team, and what are the facts? Those are the facts. When we get the ball in our hands, we make plays."
Jennings is venting his frustration here after not getting enough targets over the beginning of the 2009 season. He only had 11 catches in the first three games of 2009, and the Packers started 2-1. Other than the fact that Jennings followed his quote up with good performances and Finley followed his rant up with awful ones, there is a difference between the two.
Jennings was frustrated because the team was coming off a loss and he felt like he could have helped them win their last game if he had received more targets. Finley, on the other hand, acted selfish and felt like he should get more targets because he's supposedly their "playmaker." Yet they seemed to be fine making plays while he was being taken out of the game, something Finley couldn't seem to grasp ahold of.
If your team is losing and you feel like you can make a difference, that's fine. But when your team is winning and you're not allowed to pad your stats, then you need to shut up. It's as simple as that.
Finley, it appeared, started to believe that he was the best tight end in the NFL before he actually became the best tight end in the NFL. Obviously, he could not have been more wrong and he could not be farther off from the best in the league status.
Even though offseason workouts last year were probably unnecessary for all the teams that did wind up doing them, I think Finley might have benefited from them. Getting brainwashed in the 2010 season after not playing football almost all year and then not having proper training camp and workouts, I think it really hurt Finley in 2011. 
Finley probably—and I'm only guessing here because I've heard many side effects from bad ego syndrome—suffered from a lack of work ethic. I'm not saying he went all JaMarcus Russell on the Packers, but why would the best tight end in the league need to work hard in the year of the takeover? Unless that were some sort of fabrication, I would see no reason that player would have to work hard.
Unfortunately, it was a fabrication, and Finley bought all of it. He dropped numerous passes last season, and that was because of a lack of concentration. He wasn't focusing on the little things because he was worried about his new touchdown celebrations, commercials or what he's going to say in the postgame press conference. 
And once he dropped the first couple of passes, it was just a chain reaction. He didn't know what was going on, and he just kept over thinking everything and he could never find the solution.
Even after two weeks of rest leading up to the Divisional Playoff game against the Giants, Finley managed to fix nothing. He still went out there and dropped everything that moved and sucked to high heaven.
He made watching the Packers a chore that you were forced to do because you do it every week and you might as well keep it up.
Finley still has a lot to learn in his career, and he can start with losing his ego. He should know by now that he is light years away from the player that Jimmy Graham is down in New Orleans, and even Jimmy Graham is under Rob Gronkowski up in New England.
Finley just needs to realize that he is a really bad tight end right now, and that he needs to really work on his game. Is saying he's really bad too much? Maybe. But when you are expected to do so much and when you fail at doing nearly all of those things, I would say that is really bad.
To me, the only thing the Finley accomplishes is that he exists. Opposing defenses have to cover him because of how freakishly athletic he is, and there's not a lot of ways Finley can screw that up.
Oh boy, I just had to say that. Now Finley is going to go ahead and gain 30 pounds. Sorry, guys.
Finley is scheduled to be a free agent this offseason and it looks more and more like the Packers are going to franchise him. Franchising him would be cost-effective because it would only cost about $6 million for 2012, and it would allow the Packers to see if Finley can reach his potential once and for all.
If it were me, though, I would sign Finley long-term. I know, I know, I kind of hate Finley. However, the truth is that Finley still has all of that talent that I described earlier in this article. He needs to be coached up to really reach all of his potential, so unless the Packers plan on doing that, they might as well let him walk because I really don't want to look at his face anymore.
On a more serious note, though, Finley's value will never be lower than it is right now (unless he continues on his pace and drops 30 passes next year). Finley should be given a contract that lasts about four to six years and that pays him out about $5 million to $7 million per year. That is a contract Finley would likely accept at this point and a deal the Packers should be willing to give out.
Injuries aside, no matter how bad Finley sucks in the next couple of years, the Packers will always be able to either cut him or trade him. We're living in an era of athletic tight ends taking over.
In my opinion, I can't imagine Finley having a bad enough year and a bad enough contract that would make not a single team want to trade for him. 
We can ink him long-term, and if it doesn't work out, we can trade him to some dumb team that will overpay for him. That's the plus side of not being able to lose talent (outside of injuries and age, obviously).
I just think, bottom line, that Finley can only get better, and we might as well sign him to a large deal while he still blows. Finley wants to stay in Green Bay, and as much as I don't want to see Finley play another snap in a Packer uniform, I would love it for him to return and show us all that he can live up to his potential.
Will 2012 be the year of the takeover for Finley?
Will we be saying T.G.I.F. in 2012? (Thank God it's Finley.)
I hope sure hope so.
But probably not...