Maryland Basketball: Five Keys to a Terps Upset over No. 5 North Carolina
Streeter Lecka/Getty Images
The Maryland Terrapins are about to start the real meat of their ACC schedule.
Maryland is now 3-4 in the ACC, after a tough two-overtime loss, at Miami, on Wednesday. The Terrapins managed to rally from 16 points down with seven minutes to play, to force overtime. However, they could not finish the job against a very small Miami lineup that was forced into play by the fouling-out of Reggie Johnson. Both Johnson, and Terps coach Mark Turgeon were ejected within a few minutes of each other, part of a crazy final ten minutes of regulation.
As a result, the Terps missed an opportunity to earn a solid ACC road win, and move above .500 in league play. Given their next opponent, it would have been a nice momentum boost to have won two straight.
Maryland's next game is against No. 5 North Carolina on Saturday, in College Park. The Tar Heels have righted themselves nicely after a 33-point loss at Florida State, on Jan. 14.
UNC has won each of their last four games by double-digits, and allowed less than 70 points in three of them. In Tuesday's win over Wake Forest, the Heels held the Demon Deacons to under 30 percent shooting and just 53 points.
Needless to say, Saturday will be a tough test for Maryland. However, with the game at home, the Terps have a small chance to pull the upset. Nobody gave Florida State a chance when UNC came into their arena, and look what happened there.
Maryland doesn't have the personnel FSU does, to be sure. However, there are some things they can do—like FSU did—to give themselves a shot at getting Turgeon his first signature win with the Maryland program.
Here are five things Maryland must do in order to knock off North Carolina.
Terrel Stoglin Taking Smart Shots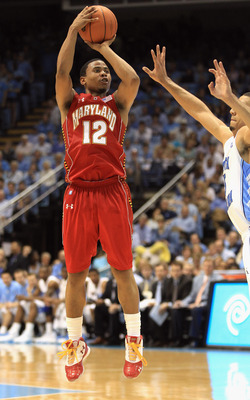 Streeter Lecka/Getty Images
There's no question that Terrell Stoglin is the No. 1 scoring option in the Maryland offense.
Stoglin scored 33 points and hit six three-pointers in the loss to Miami. His ability to hit shots from long range—while on the move and from all areas around the three-point line—creates a challenge for opposing backcourt defenders.
However, it is that same outside shooting prowess that can sometimes backfire on the team. It is not uncommon to see Stoglin take a quick, ill-advised three—generally a very low-percentage shot. It is these types of shots that play right into the hands of North Carolina.
UNC—the nation's leading rebounding team—will pull down most of those missed threes and instantly incorporate them into their fast transition attack. If Stoglin misses 15 shots (he missed 14 threes alone against Miami), that could easily turn into 20 transition points for the Tar Heels. That could almost offset his scoring total for the game.
Jay Bilas likes to say that a missed shot is the first pass in the opponent's fastbreak. These are not the type of assists Maryland fans want to see from Terrell Stoglin. It's unreasonable to expect Stoglin to make all of his outside shots, but the shots he does take need to be fairly high-percentage, to reduce the likelihood of UNC generating quick offense.
Quality Minutes from Alex Len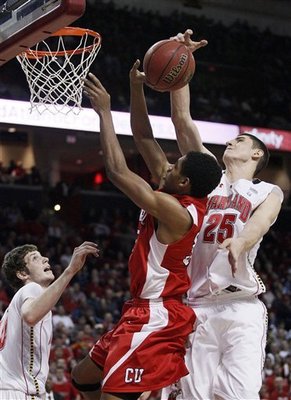 There's no question that North Carolina has a superior front line, with the trio of Tyler Zeller, John Henson and Harrison Barnes. Those three are going to get their share of points and rebounds, and in the case of Henson, blocked shots.
Alex Len is the one player on Maryland's front line who can potentially cause problems for those players, particularly on the defensive end.
While Len has been largely inconsistent in ACC play, he made valuable contributions against Miami, with 11 points, seven rebounds and four blocked shots in 31 minutes of action.
This game will be a big test for Len, in terms of both personnel he's up against and the pace of the game. Despite a double-double against NC State, Len was a relative non-factor late in that game, which helped the Wolfpack seal the win. In the rigors of ACC play, Len has been outstanding at times, but has looked lost at others.
Given the speed of this game, Len more than likely will not see more than 25 minutes of action. However, if he can be a consistent presence on defense in his time on the court, and limit the second-chance opportunities of the Tar Heels' big guys, he will help give the Terps a chance.
Photo from TestudoTimes.com
Compete on the Boards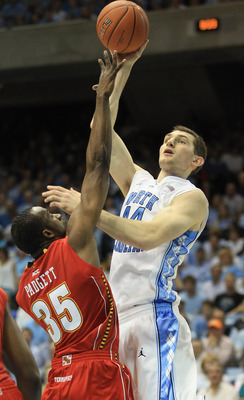 Streeter Lecka/Getty Images
North Carolina is not only the superior rebounding team in this matchup, they are the superior rebounding team in any matchup. UNC leads the nation in rebounding at 46 per game, 10 more than Maryland's per game average. John Henson is averaging double-digits in rebounds, with Tyler Zeller close behind at 9.7 a game.
What's particularly impressive is that UNC averages 16 offensive rebounds a game. In the Tar Heels' three losses—to UNLV, Kentucky and Florida State—they've averaged 12. If Maryland can hold the Heels to about that number, it will help their chances. If they allow more than 16, it will likely mean an additional 10 or more points for UNC—probably too much for the Terps to overcome.
Maryland does not necessarily need to win the rebounding battle—in reality that is very unlikely. However, the Terps do need to limit second-chances on the Tar Heels' end of the floor, and they need to get a few second chances of their own. In turn, that will help reduce the Tar Heels' ability to get out in transition for potential easy buckets.
James Padgett can play a significant role in getting some of those. Padgett is second behind only Zeller in offensive rebounding, at 3.7 a game. While the duo of Zeller and Henson will make it more difficult, Padgett needs to continue battling down-low and give the Terps at least a few additional scoring chances.
Capitalize When Kendall Marshall Is out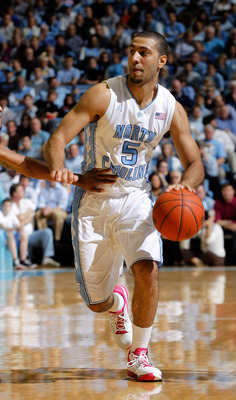 Streeter Lecka/Getty Images
Point guard Kendall Marshall is the catalyst of North Carolina's fast-paced attack. Marshall can get the ball up court in Aaron Rodgers-like fashion, moving the ball quickly to streaking players, perfectly in stride.
Marshall's ability to outpace defenses in transition makes him quite possibly the most important piece of UNC's offense.
If he is not in the game, the Heels' attack is a little more deliberate. When Marshall is on the sideline, Maryland needs to apply some pressure on the UNC backups, Stillman White and Justin Watts.
While Maryland no longer applies frequent pressure, they were able to apply it effectively at select times against Miami. It helped the Terps in their second-half comeback against the Canes. Guys like Sean Mosley and Nick Faust can create havoc for less-experienced guards, both in full-court and half-court situations.
Marshall may only sit for four or five minutes in the game. However, Maryland needs to use that time to force a couple turnovers, and give themselves a couple easy baskets of their own. It doesn't seem like much, but every basket counts when trying to take down a giant like North Carolina.
A Full Forty Minutes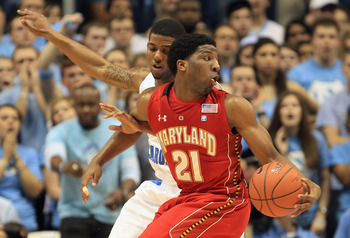 Streeter Lecka/Getty Images
In three straight games against Florida State, Temple and Duke, respectively, Maryland went toe-to-toe with a better team. The problem was—it was only for the first twenty minutes.
In each of those games, Maryland went into the half down by just three points, with reason to believe the Terps had a fighting chance to pull out a win. In all three cases, however, they were outscored by double digits in the second half.
That is generally common for underdog teams, but for it to happen in the same exact fashion three straight times shows the Terps' glaring need to maintain the energy and effective play for a full forty minutes to beat a really good team.
Against a team like North Carolina, this can be quite a challenge. Their unrelenting transition game and outstanding rebounding ability often wears team down. Case in point: Virginia Tech.
In that game, the Tar Heels trailed by eight early in the second half. Five minutes later, they were up by eleven. That's what UNC can do to opposing teams, turn the game completely on its head in just a few minutes.
To have a chance to win, Maryland needs to stay composed and value every possession, even when UNC gets on a bit of a run. The Terps do not need to take the first semi-decent three-point shot available, nor do they need to force the ball inside to challenge the Tar Heel big men.
They need to be constantly aware of the fact that any bad decision on offense is more than likely going to lead to two points on the other end.
Tough, but Possible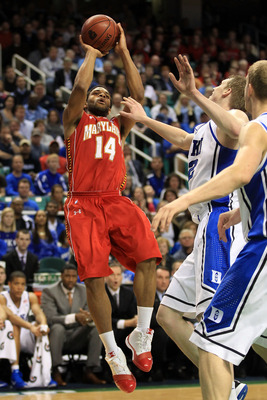 Streeter Lecka/Getty Images
Saturday's game will be Maryland's toughest test of the season to date. However, it is only the first in a tough second half of the ACC season. The Terps will play UNC again in Chapel Hill in late February. The Terps also travel to Duke a week from Saturday, and play two games against No. 18 Virginia.
An upset win against UNC would immediately boost the Terps' NCAA Tournament hopes, which are not particularly good as of now. Perhaps more importantly, it would give Mark Turgeon's young team a critical confidence boost and help them believe they can play with anyone in the ACC.
Just look at Florida State. Their blow-out win over UNC has pretty much turned their season around. Before the win, the Seminoles had lost to Princeton in triple-overtime and to Clemson by 20 points. After, they've won four straight—including a win at Duke—and are suddenly a legit threat to win the ACC outright.
Maryland is not Florida State, but an upset over North Carolina—and an opportunity to make a run at the NCAA Tournament—is still very possible.
Keep Reading

Maryland Terrapins Basketball: Like this team?