Alabama Recruiting: 3-Star Prospects Who Will Prove They Are Worth More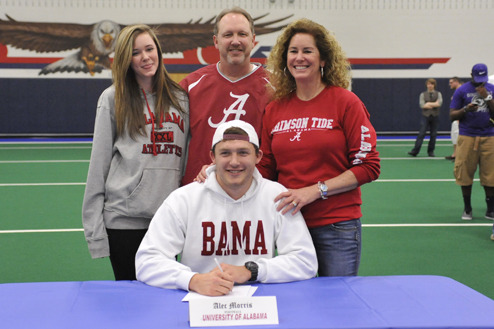 Allen High School (TX) quarterback Alec Morris.
Yet again Alabama raked in the chips from the 2012 recruiting game. The 4- and 5-star recruits are certainly a joy to behold, but some of the 3-star players will prove the rating system can be very flawed.
Many Alabama players have already proven to be much greater than their puny star ratings first let on. Greg McElroy, Marcell Dareus and Mark Ingram are some familiar 3-stars that are now playing on Sundays.
Here's a look at some 3-star prospects from the 2012 recruiting class that are studs in the making.
Begin Slideshow

»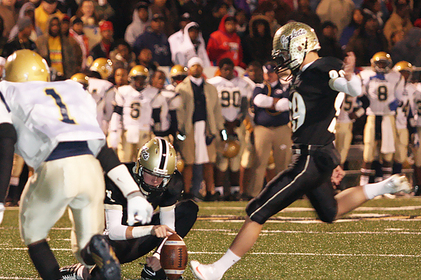 Kicker, 5'11", 175 lbs.
The only reason Adam Griffith isn't rated higher is simple one: Recruiting scouts don't hand out 5-stars to kickers.
It's silly that they don't, as kickers can be so crucial to a team's success. They are the most underrated part of a team.
Ex-UCLA Bruin and Lou Groza winner Kai Forbath only had a 3-star rating as well as being the No. 1 kicker in the nation years ago.
Griffith will prove to be a 5-star talent after he splits the uprights time after time and forces returners to take a knee.
Offensive Line, 6'6", 352 lbs.
Yes, you read that correctly. Three-hundred and fifty-two pounds and not a whole lot of gut as you can see from the photo.
Hill has the dream body of any offensive lineman, and all he needs is a bit of coaching. Jeff Stoutland, the Tide's new offensive line coach who took the reins this past season, is more than qualified for the job.
Stoutland was the main reason Barrett Jones transitioned from a right guard to an Outland Trophy-winning left tackle.
Brandon Hill is very reminiscent of D.J. Fluker (who had only one year of experience as an offensive lineman before he arrived at Alabama), as he is a well-built, raw talent. I will make the prediction that Hill will take Fluker's place when he leaves as the Tide's starting right tackle one day soon.
When he gets his time to shine, watch out.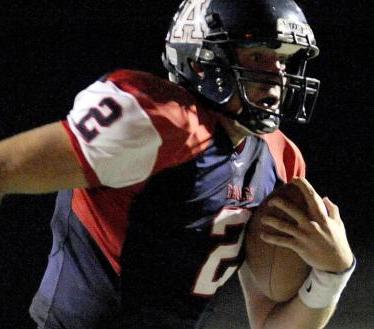 Quarterback, 6'3", 235 lbs.
Here is a very smart 3-star quarterback from Texas that shredded some of the best high school competition in the nation, and he's coming to Alabama. Greg McElroy, anyone?
The 3-star rating may turn out to be a blessing in disguise. With only one offer of significance (Wake Forest) other than Alabama, Morris knows his options are limited, and he will stick it out until he gets his chance.
He knows that he is a scholarship quarterback at the University of Alabama with one of the best head coaches in the history of the game. When no one else believed in him, Nick Saban offered his hand to Morris.
If there were any doubts about himself in Morris' mind, they are sure to be gone. Everyone knows that Saban knows talent, and when Saban offers you a scholarship...
He will ride the bench as long as it takes. He'll take a red shirt and warm the bench for 600 more days if need be.
Then, one day, he will take that first snap under center and become a star.
Morris is exactly what Saban wants. He is a gifted, hard-working quarterback with a lot of potential.
He's not a quarterback like Star Jackson. Morris will listen when he should and get good grades as he should (3.7 high school GPA). He will not become restless. He will not transfer. He will lead Alabama to glory one day.
Morris will be a starting quarterback at the University of Alabama, of that I am certain.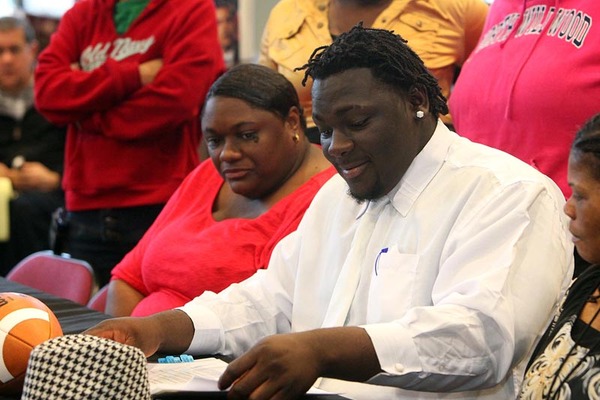 Nose Guard, 6'3", 330 lbs.
This guy weighs 330 pounds and runs a 4.9 40-yard, an incredible time for a guy his size. How in the world is he only a 3-star? Maybe it had something to do with him being stuck on a bad high school team.
He's bigger, stronger and faster than Marcell Dareus was coming out of high school. It seems the only thing missing is a bit of coaching.
After what new defensive line coach Chris Rumph has done with the line this year (especially with Nick Gentry and raw talent Jesse Williams), I can honestly say he'll get the best coaching college football has to offer.
He's destined to play nose tackle at the Capstone, and I see him easily leading the Tide's defensive line to yet another No. 1 ranking in rushing defense.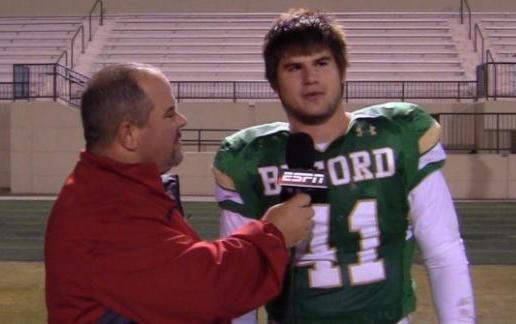 Tight End, 6'3", 245 lbs.
Like kickers, tight ends never get the sort of rating they deserve. Freitag is also the 20th-ranked tight end in the country, further displaying he is underrated.
He's not the cream of the crop, and that may be due to the fact that he'd be a better fullback at "normal" schools, but Alabama makes tight ends out of fullbacks.
Scout.com says he has good hands, yet is a bit slow as a downfield threat, but he loves to hit and make crushing blocks to spring the running backs to success.
I reckon it's safe to say he piqued running back commit T.J. Yeldon's interest.
Alabama uses a two tight end set, and I don't see that changing under Nick Saban, even with a new offensive coordinator. That leaves a lot of room for Freitag to get playing time.
Freitag could succeed Michael Williams as the supreme run-blocking tight end, or he could soften his hands up a bit more and play H-back.
He already has good size, but under strength coach Scott Cochran, this guy could hit 260 pounds easily and become one of the best run-blocking tight ends in the country.
When another Alabama running back travels to New York as a Heisman finalist I'll come back and say, "Yep, there's Kurt Freitag launching him into the end zone."
Cornerback, 6'0", 170 lbs.
There are a few reasons why Belue is only a 3-star junior college prospect, despite running a 4.30 40-yard dash while being a quality cornerback.
First, he only weighed a buck-sixty-five when the rating was delivered. He's not a big fellow and his weight will ensure that bigger receivers, tight ends and running backs will pose a problem.
Scott Cochran can fix that. Getting to 190-plus pounds is in his future.
Second, he's a JUCO player. Those guys have their ratings gimped from the start. Did you know Cam Newton was a 4-star JUCO prospect? He started as a 4-star prospect in high school. Winning the NJCAA national championship as a starting quarterback doesn't even raise a star rating.
I am a firm believer that Deion Belue is going to make waves in Tuscaloosa and will look very familiar to LSU's Tyrann "Honey Badger" Mathieu.