George Mason Basketball: How the Patriots Can Beat ODU on Homecoming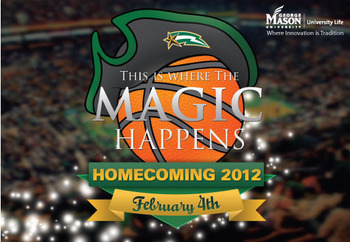 The George Mason Patriots are coming off of only their second loss of the year in the CAA; a disappointing 65-60 result to Delaware.
The team was finally caught after a number of subpar efforts, and their sluggish efforts offensively led to their downfall against a team they beat handily only two weeks prior. The loss dropped the previously first-place Patriots into third, due to tiebreakers.
However, Saturday is a new day, and for George Mason, it isn't your typical Saturday either. This weekend is Mason's homecoming, making their highly anticipated matchup with rival Old Dominion that much more important.
George Mason will tip off at 5 p.m. against the Monarchs on ESPNU. The Patriots and Monarchs met earlier this season, with Mason coming away with their first victory in Norfolk in eight years.
For Mason to complete the sweep, they are going to have to do a number of things, and I, of course, will gladly tell you them. But in the spirit of Mason's Homecoming theme, "Where the Magic Happens," or in layman's terms, Disney, I figured I'd use a more unique way to outline my keys to the game.
So without further adieu, here's how George Mason can come away with a much needed victory over Old Dominion, with a little help from our friends at Disney.
Come Ready to Play and Stay Focused Throughout
In all honesty, of the five keys I'm outlining, I'm expecting this one to be the least of my worries, but it's worth mentioning anyway.
One of Mason's biggest problems these past few weeks has been their seeming lack of interest in the lesser opponents they have come up against. Whether it was winless Towson or 1-8 Hofstra, the Patriot players actually looked disinterested at times on the court because they knew that they could win without their best effort.
What would happen in these games was that, yes, Mason pulled out victories, but they came increasingly closer to losing each one, needing late-game heroics to survive each game.
Mason's lackadaisical attitude finally caught up to them against Delaware, where the Blue Hens took a 17-point lead in the first half, putting the Patriots in a hole that they could not overcome.
Now as I said, I do not expect this to be the case for Mason on Saturday. For one, Wednesday night should be a wakeup call to the players that they need to "Be Prepared" for every game, no matter the opponent.
More importantly, Old Dominion is no slouch of an opponent either. The two-time defending CAA champions are starting to click lately and surely remembers how it felt to watch Mason celebrate on their court for the first time in eight years.
The last time these two teams met, the Mason players were as focused as I can remember them being all season, and when they hit the court, there was almost no doubt that they would come out victorious.
I fully expect Mason to come out and "be prepared for the death of the king," er, Monarchs, and play focused, Mason basketball for a full 40 minutes.
Strong Play from the Guards
For Mason to win this game, their backcourt is going to have to be "One Jump Ahead" of ODU's guards for 40 minutes.
Guard play for Mason has been very hot and cold as of late. When guys like Bryon Allen play well, such as in his 14-point performance against JMU, Mason's offense is nearly unstoppable. But when they struggle—be it no scoring, loose defense, or just lack of ball protection—the whole team suffers.
Although Mason's inexperienced backcourt generally gives the edge to almost every team they face, they match up decently with ODU's backcourt.
The Monarchs guards have their best days when they are hot from three-point range, but those days are few and far between, as evidenced by Trian Illiadis and his 27-percent clip from deep.
What Mason cannot allow is ODU's guards to get the best of them, either offensively or defensively. When these two teams met a month ago, Mason's guards had a field day, with Bryon Allen and Vertrail Vaughns scoring 14 and 13 points respectively, while holding Illiadis to only two points in his 27 minutes.
More importantly, the five Mason guards only turned the ball over four times. This enabled the Patriots to get those extra possessions that they needed to put away the Monarchs as the game went along.
If Mason's backcourt can generate some offense and maybe even get in touch with their inner Aladdin and thieve a few basketballs from ODU, George Mason will be tough to beat come Saturday.
Don't Panic When ODU Goes on a Run
College basketball is a game of runs.
Every team goes on one at some point or another. It's inevitable. The key is finding a way to stop those runs, and then finding a way to recover from it.
Mason did a poor job of this on Wednesday.
Following Delaware's early 13-1 run to give them a 12-point lead, the Patriots began to panic and force shots. Instead of recognizing that it was only midway through the first half and that they could likely outscore Delaware by 12 over the rest of the game, Mason tried to get all 12 points back in one shot.
The result was Mason digging themselves into an even deeper hole, and when it was all said and done, the Patriots lost.
When these two teams last met, despite the Patriots dominating nearly all of the game, ODU went on a run at the end of the first half. The Monarchs went on a quick 5-0 run before halftime that cut Mason's lead to only three entering the locker room.
Now, granted, I understand that a 5-0 run is a lot different than a 13-1 run and a run that still leaves a team behind is easier to recover from, but that nonwithstanding, Mason cannot allow an ODU run to take them out of their gameplan.
Especially if it's early in the game, the Patriots need to just say "Hakuna Matata" to a Monarch run and move on from it.
Jacking up shots in an attempt to score back all of the points you just allowed is not the answer to a run. Strong defense and smart offense is.
If the Patriots can stick to a "problem free philosophy" in answering ODU's runs, then they won't find themselves facing an insurmountable deficit like they did last time out.
Feed Off the Sold Out Crowd
For the second straight weekend, the Patriot Center will open its doors and invite Mason Nation to "Be Our Guest," and for the second straight weekend, Patriots fans will gladly oblige.
Last week's crowd was listed officially at 8,014 people, conveniently 15 people over how many I predicted to be there.
This week, once again, Mason has announced a sell out, and when you factor in a Saturday game, a rival like ODU, and homecoming, it really is no surprise.
Homecoming is generally the highest attended game of the season. Last year 9,840 people were in attendance for Homecoming, and I see no reason why the Patriot Center can't get close to capacity again this year.
The student section will be overflowing like it always is for Homecoming and the locals of Fairfax will most certainly come out in droves to support the Patriots in this huge game.
The Patriots—in particular, seniors Ryan Pearson and Mike Morrison—are a very emotional team. They feed off the energy in the crowd, and the more noise the fans make, the better the players perform.
For the Patriots to succeed on Saturday, they will need their sellout crowd to be as loud and raucous as possible. This will make ODU much more uncomfortable and get the Patriots more fired up to send the crowd home happy on Homecoming.
So as a fan who will be attending the game and will be as loud as can be, I'm urging everyone else who will be in the Patriot Center at 5:00 PM Saturday to do the same, because we can have a definite impact on the game.
Here's to hoping that Mike Morrison can slam a rim rocking dunk to get the crowd riled up early, and ride that momentum and emotion all the way to a victory.
Play Strong and Physical on the Boards
This will by far be the biggest key to the game.
Wednesday night, George Mason won the turnover battle against Delaware by a whopping 13. So how do you force 21 turnovers, commit only 8, and still lose?
You get outrebounded 43-29, that's how.
This has been a recurring problem for the Patriots. The scouting report on the Patriots is that if you are physical with them, you can dominate them on the boards, and if you control the boards, you control the game.
Mason has proven that this is not always true, as just last week, Ryan Pearson, after taking some halftime criticism from coach Roland Houston, went out and grabbed 13 boards in the second half.
Old Dominion's offense lives and dies off of their ability to rebound. The Monarchs are a notoriously poor shooting team, ranking 301st in the country in field goal percentage, but they win games off second chance points.
For Mason to win this game, they need to at least stay close to ODU in the rebounding battle, and need to limit big men like Chris Cooper to only one shot per possession as often as possible.
To do this, it is going to take a huge effort from every man on the court over the course of the entire game. This includes everyone, from big men like Erik Copes, Mike Morrison, and Ryan Pearson, to guards like Andre Cornelius and Sherrod Wright.
This is sure to be a physical game throughout, especially down low. Every player on Mason's roster is going to have to "be a man," on Saturday, fight for every rebound "with all the force of a great typhoon," and battle Old Dominion "with all the strength of a raging fire."
If Mason can match Old Dominion's physicality and find a way to limit their offensive rebounds, then "they are sure to win" come Saturday.
Prediction
This is going to be a close game throughout, and really, it may depend on who wants it more. Mason has proven this season, that when they want a game, they take it, and I expect nothing less from them this weekend, so really, "Why Should I Worry?"
Coming off a loss, Mason will be even more determined than usual to pull out a victory, and provided that they stick to these keys, I definitely see them being able to "Go the Distance" and leave the Patriot Center victorious.
As for a score, I'll go more conservative this time around and say that Mason uses a late run and beats the "Poor Unfortunate Souls" of Old Dominion 70-59.
Keep Reading