Chelsea vs. Manchester United: Previewing an Important Premier League Fixture
February 4, 2012

Clive Brunskill/Getty Images
Chelsea vs. Manchester United. These two English giants have combined to win the last seven Premier League titles, have faced each other in the Champions League and now they will get ready to play in a Premier League fixture that has a different importance.
This season has been difficult for both sides. Chelsea have struggled in a transitional year under Andre Villas-Boas. The Blues are currently in fourth place in the EPL, with Newcastle United, Liverpool and Arsenal all within striking distance of claiming the final Champions League spot.
Manchester United have been involved in a more interesting year. The Red Devils have played some strong football despite having no true No. 1 goalkeeper and a patchwork defense. United are now behind City by three points, but that differential could be wiped clean with a win.
In recent seasons, whenever we saw Chelsea and United play, both sides were locked in an intense battle to win the Premier League. It's unfortunate that we don't have that storyline for this matchup.
But that does not mean that we will see a boring game at Stamford Bridge. This game will only further determine what each side's hopes will be.
Here are the scores from the last time that we saw these two sides face each other in all competitions.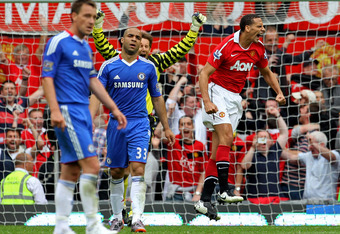 Alex Livesey/Getty Images
Manchester United 3 Chelsea 1 (Sept. 18, 2011—Premier League)
Manchester United 2 Chelsea 1 (May 8, 2011—Premier League)
Manchester United 2 Chelsea 1 (April 12, 2011—Champions League)
Chelsea 0 Manchester United 1 (April 6, 2011—Champions League)
Chelsea 2 Manchester United 1 (March 1, 2011—Premier League)
In each of their last four matches, Manchester United has been victorious over Chelsea. Last season, United ended Chelsea's run in the Champions League and their Premier League title hopes with 2-1 wins at Old Trafford.
Both sides have also had a fairly interesting run in form over the past several months. Here are each side's respective results from their last five matches.
Chelsea
Swansea City 1 Chelsea 1 (Jan. 31—Premier League)
Queens Park Rangers 0 Chelsea 1 (Jan. 28—FA Cup fourth round)
Norwich City 0 Chelsea 0 (Jan. 21—Premier League)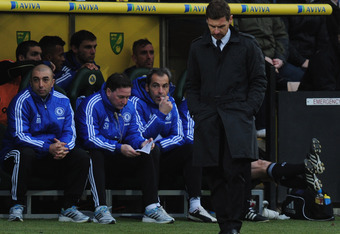 Jamie McDonald/Getty Images
Chelsea 1 Sunderland 0 (Jan. 14—Premier League)
Chelsea 4 Portsmouth 0 (Jan. 8—FA Cup third round)
Manchester United
Manchester United 2 Stoke City 0 (Jan. 31—Premier League)
Liverpool 2 Manchester United 1 (Jan. 28—FA Cup fourth round)
Arsenal 1 Manchester United 2 (Jan. 22—Premier League)
Manchester United 3 Bolton Wanderers 0 (Jan. 14—Premier League)
Manchester City 2 Manchester United 3 (Jan. 8—FA Cup third round)
Team News:
Chelsea:
After John Terry lost his captaincy for the English national team, the defender will be absent for this match with a knee injury. This opens the door for Gary Cahill to make his first start for Chelsea.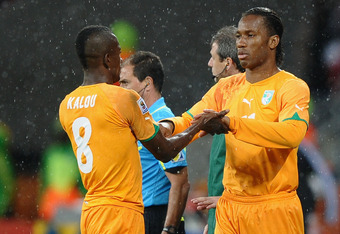 Laurence Griffiths/Getty Images
Ashley Cole will also miss this match due to a suspension.
To make matters worse for the Blues, they will miss Didier Drogba and Salomon Kalou for this match due to their African Cup of Nations duty with the Cote d'Ivorie.
Manchester United:
The Red Devils will probably have Wayne Rooney back and starting for this fixture after missing the FA Cup loss to Liverpool and United's win over Stoke in the last week.
It also looks like Nani, Ashley Young and Thomas Cleverley will all be back after missing various amounts of time due to injury.
Anders Lindegaard will be out with an ankle injury for at least the next month, meaning David de Gea will probably start after missing the match against Stoke during the week.
Key Players:
Chelsea:
Clive Brunskill/Getty Images
Throughout this last year, Fernando Torres has been one of the most disappointing players in the Premier League. The Spanish striker has only scored twice in the Premier League this season, and his spot for Spain in Euro 2012 is questionable.
However, Torres has previous success against United. Torres had already scored against United this season, though that goal was later overshadowed by a haunting miss.
In fact, Torres has scored in four of his last seven Premier League matches against Man United.
Manchester United:
He has been criticized constantly throughout this season, yet David de Gea will be starting for Man United in this crucial match.
This match will probably be a defining match in the young Spaniard's career and a strong performance is crucial in United's hunt for a title.
Of course, de Gea has already defeated Chelsea this season back in September, and another strong performance here will only do wonders for his confidence.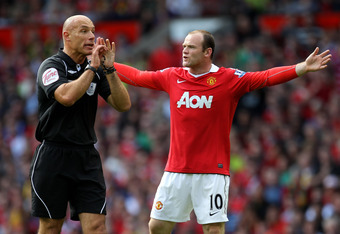 Alex Livesey/Getty Images
Interesting Stats:
Chelsea are unbeaten in their last nine Premier League matches at Stamford Bridge against the Red Devils, winning six and drawing three.
However, Chelsea have lost as many times in their last seven league games (three) as they had in the previous 53 matches at "The Bridge."
Man United have the best away record in the Premier League, accumulating 26 points so far and conceding fewer goals (seven) than any other team on the road.
United have scored just four goals in their last 10 visits in all competitions to Stamford Bridge.
Referee:
Howard Webb will be refereeing this match. Webb has twice refereed matches between Chelsea and United, with United winning both times—a 2009 match at Old Trafford, which United won 3-0, and last season's 2-1 win that essentially gave United the title.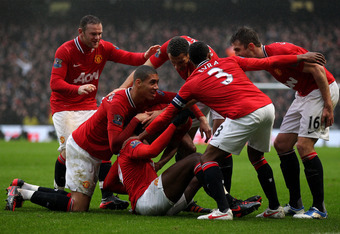 Alex Livesey/Getty Images
Webb has already given out 99 cautions this year, and with Chelsea being the most cautioned side in the EPL this season with 50 yellows and four reds, there is a strong possibility that at least one Chelsea player will be booked in this match.
The last time that Webb refereed a Chelsea match was their 1-1 draw at Tottenham last Dec 22nd. United lost 3-0 on Jan. 3 against Newcastle when Webb last refereed the Red Devils.
Prediction:
This match is obviously a very crucial match for both sides. Even with the home crowd advantage, Chelsea are facing an upward fight.
Chelsea have not played strong football in this year, yet they are the only Premier League side that has yet to lose in 2012. Yet, I doubt that streak will continue against United.
United have many key players returning and will be playing against a weak Chelsea defense. It also doesn't hurt knowing that United have the best conversion rate in the Premier League, scoring with 20 percent of their attempts at goal.
The last time that United won at Stamford Bridge in the EPL, it was in April 2002 with goals from Paul Scholes, Ruud van Nistelrooy and Ole Gunnar Solskjaer scoring in the win.
Considering United have have won five of the last six matches in all competitions against Chelsea, there is no other prediction that could be made except for a United win.
Chelsea 0 Manchester United 2
Follow me on Twitter @Andrew_Jordan