Shakeup in Boston: Gilbert Arenas and Other Moves to Get the Celtics Back on Top
February 2, 2012

Elsa/Getty Images
After the 100-64 thrashing of the Raptors last night, the Celtics have finally hit the stride Boston fans were hoping for, putting them over .500 at 11-10 on the season.  With Doc Rivers's veteran team grinding out win after win, all without their star point guard Rajon Rondo, there are reasons to be optimistic that the Celtics will make some noise once they reach the postseason.
Unfortunately for Boston, the East has proven to be more competitive than in years past.  Young teams like the Sixers and Pacers have shown vast improvements from a season ago, while teams like the Bulls and Heat have continued to show why they are the heavy favorites to come out of the East this season. 
What We Know 21 Games In.
The defense is still on par with past seasons.  On the season, Boston is statistically the second best defensive team in the league (only behind Philadelphia), holding opponents to 86.9 points per game on 41.9 percent shooting.  During this last 10 game stretch, they're defense has been even more staggering, holding teams to 81.1 PPG on 39.8 percent shooting.  And of course, for seven out of those ten games, they were without their best perimeter defender in Rondo. 
Although their defense has been stellar, Boston has been forced to grind out a significant chunk of their games this season due to a stagnant offense.  As a team, they've only been able to average 90.3 points per game, good enough for only  25th in the league.  Injuries to Pierce at the beginning of the season and, more recently, to Allen and Rondo, give an excuse for their poor scoring. Even when healthy, though, this jump-shooting team struggles to get easy baskets. and their bench players (outside of Brandon Bass) struggle to enhance leads when given chances to play.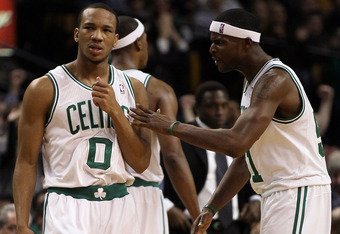 Elsa/Getty Images
If Boston plans to pull themselves back into title contention, it's logical to think GM Danny Ainge will try to swing a move to improve their veteran ball club for postseason success, whether it be through free agency or trade. 
Sadly enough, the Celtics have little to offer in a trade, and not much space in terms of the salary cap.  Young players like JaJuan Johnson, E'Twaun Moore, and most notably Avery Bradley have not performed well enough to be enticing in a trade.  Beyond them, the aging Jermaine O'Neal and the remaining $6.2 million left on his expiring deal may be Boston's greatest asset in a trade with teams in need of front court depth or cap relief for next summer. 
The Celtics, who currently have $83.3 million committed in salaries this season (third highest behind the Lakers and Magic) are way above the cap, making free agent offers limited to the veterans' minimum.  What Boston does have going for them is that the team still has a legitimate shot of reaching the finals behind a playoff-tested group that has had championship success. That is likely their best selling point in convincing a free agent to join their club. 
Help via Trade:
O'Neal and Bradley for Mo Williams and Brian Cook. 
Given how well the Clippers have been playing, along with Williams apparently embracing his sixth-man role with the team makes this deal unlikely.  But there is no question that the Clippers are in serious need of some front court depth, where the undersized Reggie Evans and the out-of-position Ryan Gomes are playing.  A one year lease on O'Neal fulfills that need.  In addition, the Clippers rid themselves of the remaining two years and $17 million of Mo's contract and can promote promising second year guard Eric Bledsoe to a more prominent role.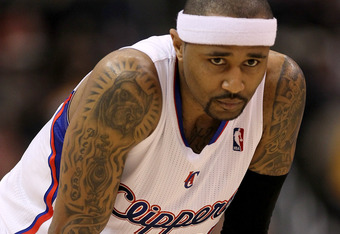 Stephen Dunn/Getty Images
The addition of Williams speaks for itself.  He's instant offense and provides a solid third guard behind Rondo and Allen.  His ability off the ball adds some much needed versatility to the Celtics back court.  The downside to this trade is the glaring whole at center this leaves for Boston, a void that would most likely be filled by Chris Wilcox, Greg Steimsma, or Brandon Bass (in spots). 
O'Neal, Johnson, & 2012 1st Round Pick for Anderson Varejao
What Varejao lacks on offense, he makes up for in all other facets of the game.  Besides his defensive motor, Varejao is an athletic big that can outrun the majority of centers in the league, and can add easy buckets for the Celtics in transition.  In addition, Varejao would become a long-term solution to the team's defensive leadership, a void that will need to be addressed if Garnett chooses to retire following this season.  You could even argue that he fills Boston's center position better than Kendrick Perkins did over his tenure with the Celtics. 
With Cleveland entering its third year of the post-Lebron rebuilding process, Varejao and the remaining four years and $35 million on his contract may be worth moving to give the Cavs more spending flexibility to use on future free agents.  Yet, a trade for Varejao may be nothing more than wishful thinking, as the young Cavs are playing decent ball at 8-12 this season, with Varejao posting career numbers in points (10.4) and rebounds (11.4). 
Help via Free Agency: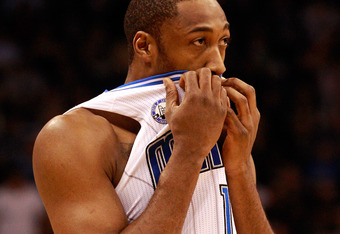 Sam Greenwood/Getty Images
Gilbert Arenas
If Boston is truly desperate for some backcourt scoring off the bench, they may be willing to turn to often-injured Arenas to fill the void.  Arenas's miserable campaign last year with the Magic (8.0 PPG), in addition to his questionable attitude and inability to stay healthy, makes him a high risk for any team willing to look at him.  But the opportunity for a trip to the finals may motivate the 30-year-old Arenas, and allow him to play his way back into shape, helping this team in the second half of the season and into the post-season. 
JR Smith
Smith is lightning in a bottle on offense and would be an ideal pick up for the Celtics.  His three point shooting and athleticism makes him an ideal wing man off the bench to relieve both Allen and Pierce.  Unfortunately, due to Boston's cap restrictions, Smith would have a better opportunity to make more money by signing elsewhere.  It would be unlikely that Ainge and company would be able to convince Smith to join a team in dire need of his talents.  In addition, the recently acquired Mickael Pietrus has filled in nicely as a free agent acquisition, making the more talented Smith a less important target.
Aaron Brooks
Brooks hasn't been mentioned as much as players like Wilson Chandler, Kenyon Martin, and the aforementioned JR Smith, who are waiting to return to the NBA from China.  Similar to Arenas, Brooks would become Boston's third guard in the rotation, and seems like a natural fit to lead the second team offensively, similar to guys like Eddie House, Nate Robinson, and Delonte West before him.  He's only 27, and has experience as a reserve guard from last season (behind Kyle Lowry in Houston and Steve Nash in Phoenix).  It was only three seasons ago Brooks was averaging 19.6 points per game, in his then-third year in the league.